SUP – A New Stand Up Paddle Outfitter Launches on the Colorado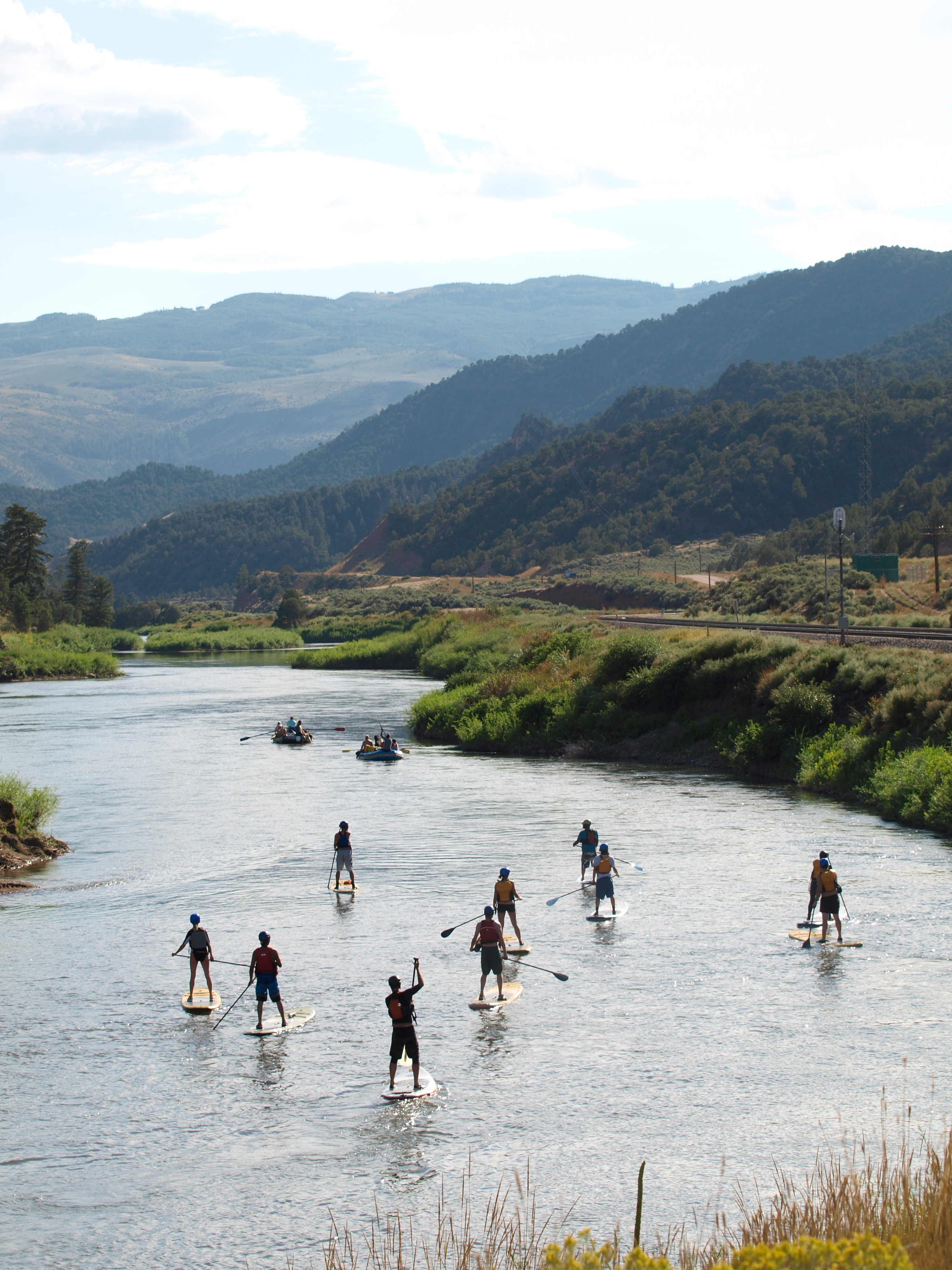 SUP? Yeah, Stand Up Paddle Boarding. A great new sport that I have seen and I am getting ready to learn. I have been admiring all of my beach friends for the past two years and just recently purchased my own SUP. Along with this great sport comes a new outfitter, the first dedicated outfitter on the Colorado River and one of the first in the West!  Stand Up Paddle Colorado is a dream that started to become a reality when Scotty Stoughton met Javier Placer last spring at State Bridge. Javi has been guiding internationally for over a decade and is one of the first river runners to jump on a SUP over 4 years ago on the Arkansas River.
Javier Placer-Rodriguez – Co-founder, is an accomplished 12-year river guide with international experience, Javier has safely guided thousands of thrill seekers. Certified in Class III – Class V whitewater in Costa Rica while working 3 years for the internationally renowned outfitter, Rios Tropicales.  He guided extensively on the Reventazon, Pacuare, Sarapiqui, Corobici and General rivers as well as worked on multi day sea kayaking tours subcontracting for international outfitters such as Mountain Travel Sobek.   He guided in California for Earth Trek Expeditions running tours on the South Fork and Middle Fork of the American River.  In 2001 Javier moved to Colorado and began working for Kodi Rafting and worked as a head boatman (2002), trip leader, and safety kayaker and guide instructor until 2005.  He commercially ran the Arkansas River (Numbers's, Town, Brown's Canyon, Royal Gorge), Clear Creek (Lawson, Dumont, Town to Kermitz), Blue River, Upper Colorado (Pumphouse to State Bridge) and the Dolores River.
From 2006 to 2010 he worked for River Runners as a senior guide, trip leader, safety kayaker and guide instructor running different sections of the Arkansas River (Pine Creek, Numbers's, Narrows, Town, Milk Run, Brown's Canyon, Big Bend, Big Horn Canyon and the Royal Gorge).
In addition to being an active guide, kayaker and at the forefront of the emerging river sport Stand Up Paddling in Colorado, Javier is a graduate from the University of Colorado and a proud loving father of his hula hooping river diva daughter Camille!
Scotty Stoughton – Co-founder, Originally from the coast of New Jersey, Scotty has made a home in the mountains near Vail Colorado for over 15 years.  Surfing took Stoughton around the globe from Fiji to Kauai but the clean outdoor healthy lifestyle grounded him near the Colorado River.  With over 20 years of surfing experience to draw from, Scotty continued to search for a Colorado water sport that matched the excitement and freedom of wave riding.
During a visit to Kauai in 2009 he got his first taste of stand up paddle boarding and he has been hooked ever since.  The following spring it was time to take SUP'ing into the rivers.  At that time the sport was unheard of and rarely seen on the rivers of Colorado.  But with a C4 inflatable in hand, a life jacket and helmet, it was time to take the plunge.
Since then he has spent the last 2 summers logging hundreds of days and miles on the rivers of Colorado.  Stand up paddle boarding has been a life changing experience with benefits ranging from relief of chronic injuries to the meditative peaceful mindset the sport delivers.
Scotty is also the owner of Bonfire Entertainment (event production company), a partner in the SnowBall and SnowGlobe Music Festivals, a partner at State Bridge Riverside Amphitheater, a founder of Campout for the Cause, (annual festival benefitting the international disaster relief non profit All Hands, and local kids camp).  He is also the front man for Colorado reggae / indie – folk band Bonfire Dub.
His passion for the sport and belief in the healing opportunities stand up paddle boarding can uncover has led him to co create Stand Up Paddle Colorado.
I was instantly hooked on SUP'ing 3 years ago and have dedicated myself to bringing the sport safely to so many interested friends, family and newcomers. Over the last few years so many have approached me for lessons, to borrow boards, and to try this sport on the rivers. After each introduction, every single person was hooked. All the smiling faces, happy spirits, and kid like enthusiasm further pushed me to take the sport to the next level.
Stand up Paddling is a sport for all ages and interests. Whether you want to experience 'walking on water' at a leisurely pace, work on balance and strength, clear your mind or tone your core, this sport is for you.
Our goal is to provide a safe and unique experience to every visitor, we feel so blessed to have the opportunity to enjoy the Colorado River and her surroundings and we want to share the love. We'll be launching overnight trips complete with guest artists leading the campfire jams, plus SUP & yoga.
MtnTownViews.com is MTN Town Magazine's daily journal blogging about Colorado's mountain towns.   Like them on Facebook and Follow on Twitter. 
 © 2012, MTN Town Magazine. All rights reserved. Republication, in part or entirety, requires a link back to this original post.