Street Swell – A growing MTN Town Business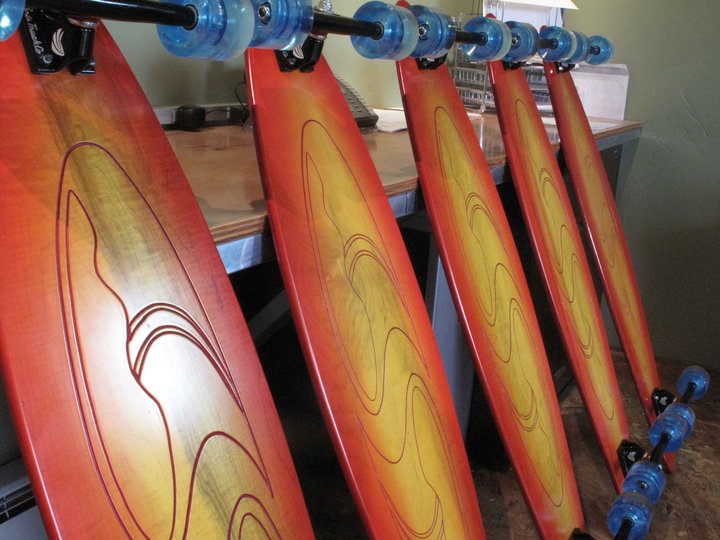 It's funny how something can inspire us. In the case of John Cummins it was his daughters new Razor Scooter's that were all the rage when they were younger. John wanted to be able to go out with his girls but felt riding a Razor wasn't going to cut it; Big men on small Razors just looks uncomfortable. He had his skateboard but it was more for the park and not the bike path. A friend of his was racing longboards and introduced him to the new board style and its great cruising abilities. John was intrigued and showed the board to his friend, Jeff Smith, who was a woodworker and began building their design in his garage in Eagle-Vail.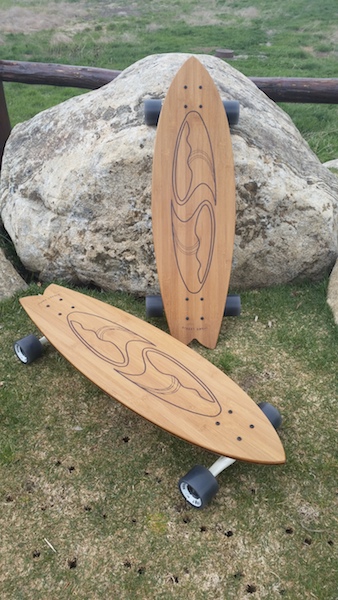 Street Swell in Gypsum, CO
The product shortly became a family business.  His Dad, John brought his skill as a cabinet builder and his brother Joel assists in designing the boards, the family started producing out of his father's shop. Today they are moving their production to Gypsum and producing beautiful high performing carving and cruising boards with exotic hardwoods such as Canarywood, Peruvian Walnut, Birch and Canadian Maple that John hand picks him-self. The designs range from carving boards, cruisers and a serious street surfer, the Daisy Cutter, that is a full six feet three inches in length.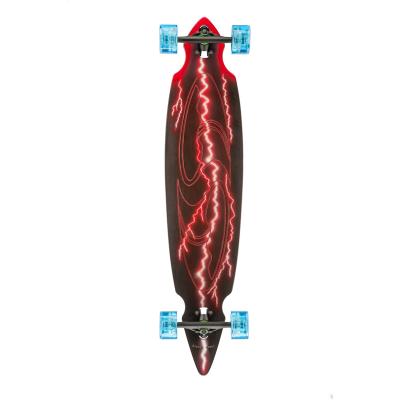 The Marathon Red is Badass!
All are produced with a top deck covered with fiberglass, and silica sand applied between the finish coats for a permanent clear grip finish. Most tops and bottoms are then finished with an automotive quality 2-part acrylic polyurethane with bottom buffed to a high gloss finish. The result is nothing less than spectacular and lives up to their subtitle, "art meets gravity".  If you're interested in a custom design then you have also found the right place as custom boards are their specialty.

Producing One-of-a-Kind Boards too! 
In addition to their longboard lineup the company has started the production of a high end mountain bike without the uber high end cost. The Street Swell Fantom is an extremely light carbon fiber hardtail mountain bike. Agile, stiff, responsive and fast, the Fantom debuted in Vail Colorado's summer race series. John has a passion for supporting local groups and entities, the Vail High School team is one of them and the bike was designed with the riders in mind. The Street Swell Fantom is a carbon fiber mountain bike frame sourced with tapered head tube, internal cable routing and an inner-triangle rear brake caliper mount and is protected by a two year manufacturer warranty. The Fantom is assembled to your specifications in Eagle County, Colorado.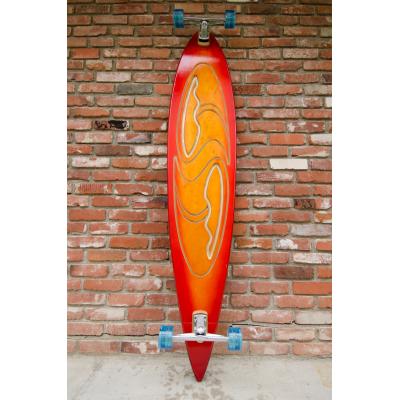 The Street Swell "Daisy Cutter"
All of their boards are made by hand and they make what they sell. Products are available for order online and the sales team is able to answer any of your questions via telephone. If you would like to try a board or the bike contact them. For the longboards you can head to The Board Life in Denver as they are not currently found in area shops.
~MTN Town Magazine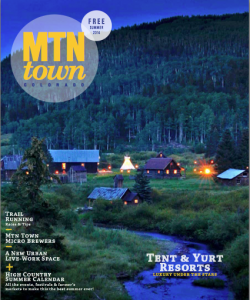 MTN Town Magazine
's  is Colorado's mountain town and resort authority. Like us on 
Facebook
 and Follow on
Twitter
. Click the cover to read the Spring 2014 issue.© 2014 MTN Town Magazine. All rights reserved. Republication, in part or entirety, requires permission.