Stillhouse Junkies – Local Mountain Town Musicians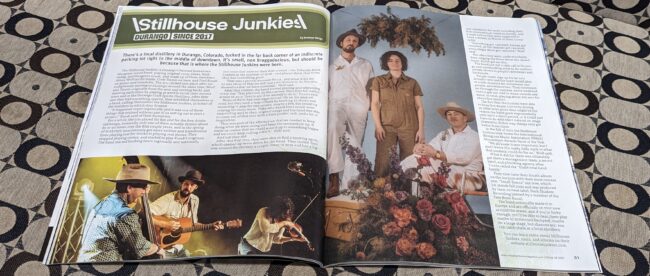 Stillhouse Junkies – Local Mountain Town Musicians keeping live music a priority in Durango and beyond.
Story by Jennaye Derge
Photos by Renee Cornue Studio
As seen in Mountain Town Magazine Issue 38
There's a local distillery in Durango, Colorado, tucked in the far back corner of an indiscrete parking lot right in the middle of downtown. It's small, non-braggadocios, but should be because that is where the Stillhouse Junkies were born (liven up the story with some of their music, Here).
The Stillhouse Junkies is Durango's beloved hometown bluegrass-toned band, playing original roots, blues, funk, swing, and bluegrass music, and made up of three members: Alissa Wolf on the fiddle, Cody Tinnin on bass, and Fred Kosak on guitar and mandolin. The trio clicked into place after serendipitously moving to Durango around the same time (Wolf and Tinning originally from the area and moving back), and meeting each other by playing at weekly social jams around town and at the Durango Craft Spirits Distillery. After they saw they had something special, they solidified themselves as a band, calling themselves the Stillhouse Junkies, in honor of the distillery in which they formed.
"It happened super organically and it was one of those things that evolved without any of us setting out to start a project," Kosak said of their formation.
For a while, the trio played for fun and for the free drinks (although, ironically, only one of them actually drinks) about 85 or 90 times over the first couple years, and in the spring of 2018 they unanimously got more serious and transitioned from playing just for drinks to playing real shows. They stopped playing covers, and started to play Kosak's originals. The band started booking tours regionally and nationally, and once they entered their first contest – the Telluride Band Contest in the summer of 2018 – and placed third, they knew they had something good.
"That was a pivotal moment for us…and what it did for us was show us that we still had a lot of work to do, but also showed us that we have potential," Wolf said.
After that contest, the band started playing and rehearsing every day. They planned, by themselves, their first full national tour in 2019 "just to see if we wanted to do it," Tinnin said.
None of them had ever experienced life on the musical road, but they took a leap of faith by booking 25 shows and expecting to play for one person, maybe a few, but ended up playing for many more. Folks who heard their music were responding well to their original songs and the band was able to come out of that tour with a little pocket cash, and a lot of inspiration.
"That was part of the affirmation that we needed to keep doing what we were doing and keep the momentum up. It made us realize that we could scale it up to something bigger and we could keep rolling with it," Wolf said.
And roll they did.
After that first tour, they were able to find a booking agent, which opened up more doors for the band. They circled their way around the country a couple times in 2019 and had a big tour scheduled for 2020 including their first international round in Europe, and a week before they were supposed to head overseas in March of 2020, Covid-19 hit.
"Everything got canceled; Europe got canceled, all the festivals got canceled, every single show got canceled," Wolf said.
But after they were, understandably, done singing the blues about the closed doors, Kosak got an idea:
The band put out a rally call to Durango and surrounding areas to do outdoor private shows in people's driveways and backyards.
People could sign up for 30 min acoustic sets and the band would play at a safe distance for sometimes one person, sometimes two. They continued on through the summer, every weekend until it got too cold to stand outside any more; in total, playing about 250 sets for about five months.
The fact that the Junkies were able to keep live music a priority during an otherwise glum time might be the reason the band grew exponentially over such a short period, or it could just have to do with their natural on-stage chemistry. Either way, things only got better from there.
In the fall of 2021 the Stillhouse Junkies took home the International Bluegrass Music Association (IBMA) Momentum Awards Band of the Year.
"We all knew it was important, but I don't know if it really, fully, sunk in what that moment could do for us," Wolf said.
What it did for them was ultimately get them a management team, a record label, and a booking agency, what Tinnin called the "traditional band family."
They now have their fourth album on the horizon with their most current one, "Small Towns" out now, which hit stands fall 2022 and was produced by their current label, Dark Shadow Recording (owned by a member of the Sam Bush Band).
The band eventually made it to Europe and are officially on tour now around the states, and if you're lucky enough, you'll be able to hear them play maybe in someone's backyard, maybe on a large stage, but chances are, you can catch them at a local distillery.
You can learn more about Stillhouse Junkies, tours, and albums on their website or follow them on Instagram @stillhousejunkies www.stillhousejunkies.com
Stay in Touch with Events and Music in Colorado's mountain towns with our: Colorado Events Calendar
Story Sponsor

MTN Town Media Productions | Celebrating the Colorado mountain lifestyle for over 10 Years
Copyright 2023 MTN Town Media Productions all rights reserved.