Steamboat's Bud Light Rocks the Boat FREE Concert Lineup Announced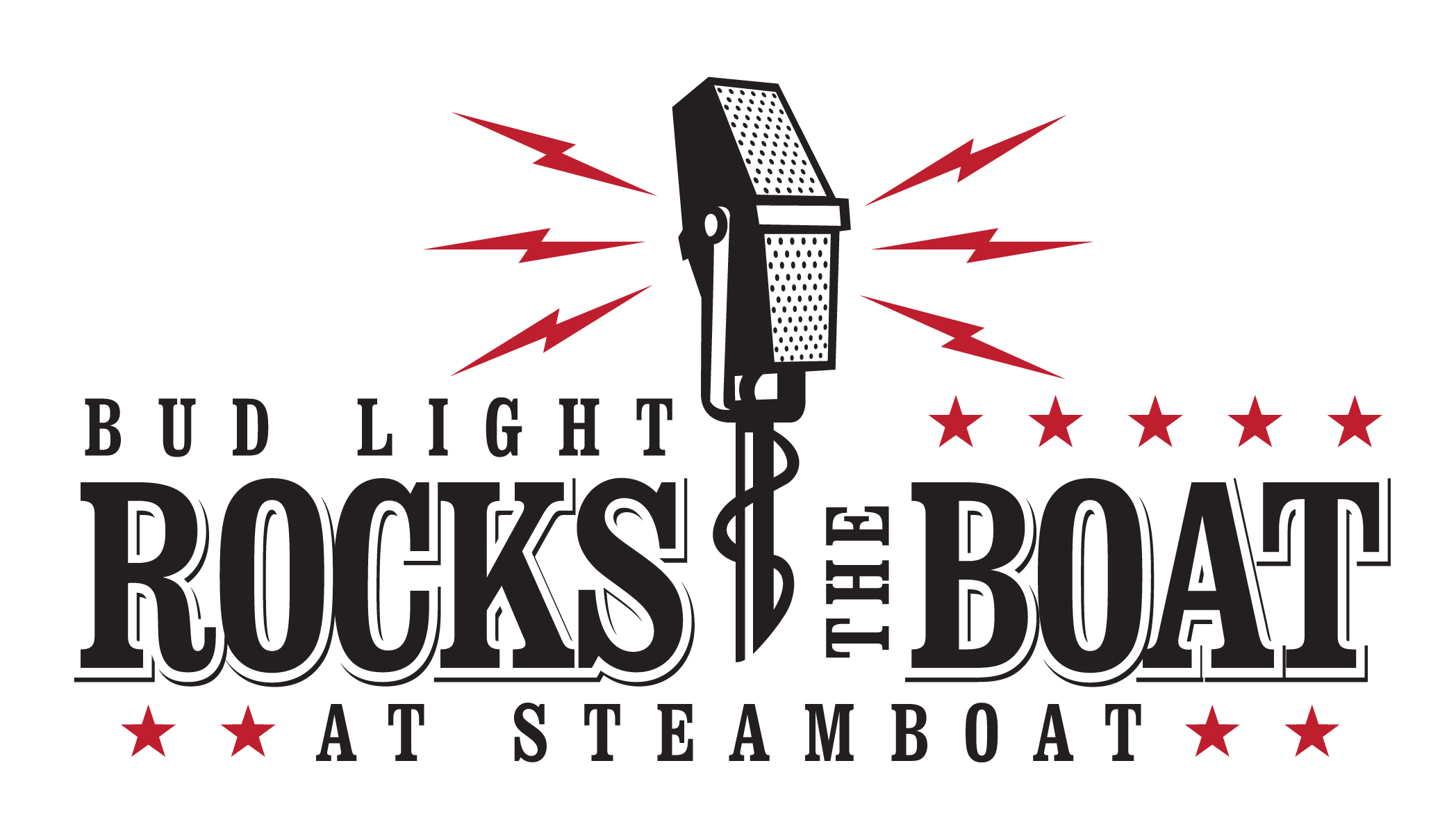 Steamboat Resort opens for the season on November 21st  and live music will fill the mountain during Steamboat's 50th Anniversary Season! The Bud Light Rocks the Boat Free Concert Series kicks off the 2012/2013 winter next weekend featuring free concerts from the hottest bands around  from Opening weekend through Closing Day.
"This is an amazing line-up of talented artists as we head into our 50th season and the 14th year of free music in Steamboat," said Rob Perlman, senior vice president of sales & marketing for Steamboat Ski & Resort Corporation. "There isn't a better way to enjoy an incredible outing in the mountains than by combining Champagne Powder® snow with plenty of sunshine and a free concert by some of the hottest bands around. It's even more fun when it's your 50th too!"
Steamboat gives you a dozen reasons to be in Ski Town, U.S.A.® for opening weekend as the Dirty Dozen Brass Band kicks off the resort's 50th Anniversary Season in their typical New Orleans groovin' big brass band style. Celebrating their own 35th anniversary, the award-winning Dirty Dozen Brass Band is a world famous music machine, whose name is synonymous with genre-bending romps and high-octane performances. A big anniversary requires big style and the Dirty Dozen Brass Band definitely delivers just that.
Steamboat heads into the New Year and its 50th Anniversary Celebration in January with a smoking show from Robert Randolph and the Family Band that delivers their trademarked American funk and soul grooves led by pedal steel guitarist Robert Randolph. Southern Rock and healthy dose of outlaw honky tonk mixed in with a little bit of bluegrass is Blackberry Smoke, performing after the annual Cowboy Downhill. February marches in with traditional Mardi Gras style when New Orleans resident Anders Osborne blows the roof of the Steamboat stage with his guitar fireworks and well-traveled voice.
During March and April, the Dunwells, MarchFourth Marching Band and Leftover Salmon close out the Bud Light Rocks the Boat Concert Series with their high-energy on-stage performances that cross musical genres and styles in the heart of Gondola Square. The following outlines the current concert schedule:
BUD LIGHT ROCKS THE BOAT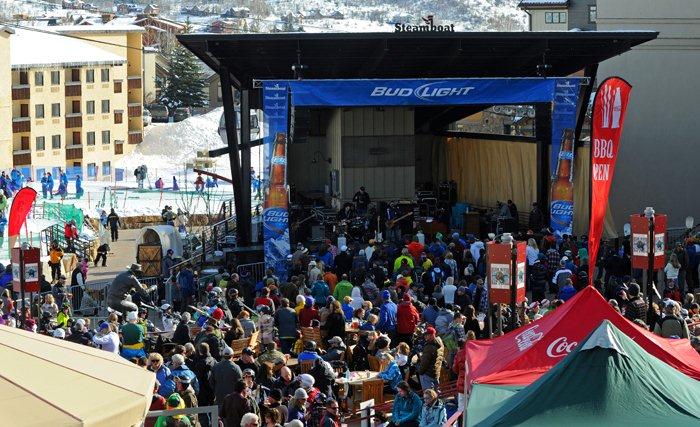 Dirty Dozen Brass Band Saturday, November 24th
New Orleans' most passionate and well-known brass band that finds the funk regardless of which genre they decide to delve into. In 1977, The Dirty Dozen Social and Pleasure Club in New Orleans began showcasing a traditional Crescent City brass band. Thirty-five years later, The Dirty Dozen Brass Band is a world famous music machine, whose name is synonymous with genre-bending romps and high-octane performances. They have revitalized the brass band in New Orleans and around the world. The city of New Orleans even has an official Dirty Dozen Brass Band Day.
Robert Randolph and the Family Band Saturday, January 12th
A virtuoso on the pedal steel guitar, Robert Randolph set the music world on fire in 2000 when he began playing his first club dates in New York City. Randolph started playing the instrument as a church-going teenager in Orange, NJ, a small city just outside of Newark. He regularly attended the House of God Church, an African-American Pentecostal denomination that had been implementing steel guitars (or "Sacred Steel") in services since the '30s, with the pedal steel in particular being introduced during the '70s. Randolph learned to play by watching other steel players during church services; years later, he updated that sacred basis with a secular mix of funk and soul, giving a new multicultural facelift to an instrument that had often been associated with country music.
Blackberry Smoke Monday, January 21st Cowboy Downhill
Building on the Lynyrd Skynyrd Southern rock template, with a good dose of outlaw honky tonk country and a little bit of bluegrass, gospel, and R&B mixed in, Blackberry Smoke formed in Atlanta, Georgia, in 2000 and know how to party. Quickly building a loyal fan base on the Southern tour circuit, Blackberry Smoke opened for top-tier acts like Lynyrd Skynyrd, ZZ Top, the Zac Brown Band, George Jones and others. The group released a debut album in 2004, followed by a self-released EP New Honky Tonk Bootlegs in 2008. A full-length album, this one also called Little Piece of Dixie, was released in 2009 by BamaJam Records. In 2012, the band signed with Zac Brown's Southern Ground Records and released their latest album, The Whippoorwill.
Anders Osborne Saturday, February 9th Ski Mardi Gras
The Swedish-born, longtime New Orleans resident is among the most original and visionary musicians performing today. In a city overflowing with stellar artists, bands and performers, Osborne is one of the Big Easy's favorite musical heroes. Live, Osborne is a force to behold. His wildly energetic, physical live performances find him ripping notes out of his guitar, forcing out riveting steel-on-steel slide solos, pouring his entire soul into his vocals. His ability to ignite an audience is legendary. Blues Revue describes Osborne's music as "an articulate and spellbinding tapestry of sorrow and joy." New Orleans' Times-Picayune says Osborne's music is "genuine, focused and uplifting…guitar fireworks and a well-traveled voice." The Newark Star-Ledger simply says, "This guy is in his own universe. Comparisons are meaningless." Now, with a new label, a new recording, and a new appreciation of life itself, Anders Osborne will show Steamboat how Mardi Gras is celebrated in the true New Orleans style.
The Dunwells Saturday March 23rd
Utterly natural. There's no more fitting description for both the music of The Dunwells as well as the story of their magical rise from the pubs of Leeds, England to an American record deal and a stunning debut album in just two short years. The group is two brothers, two cousins and totaling five best mates who simply love to sing and play music, and do so together. When they make music, the results exemplify the equation that the sum of the parts can be even greater than the whole. Striking an organic blend between acoustic and electric roots music laced by luscious vocal harmonies by all five members, their songs and sound feel both bracingly fresh while at the same time as warm and familiar as a dear long-time friend. Now with their first album under their belts, The Dunwells are primed to take their music as far and wide as they can. And one can hear that solidarity in the music they create together.
MarchFourth Marching Band Saturday, March 30th
MarchFourth Marching Band is a mobile big band spectacular, propelled by electric bass, a diverse percussion ensemble and brassy horn section. Visually enhanced by costumed dancing beauties, acrobatic stilt walkers, unicycles, fire arts, life size marionettes, and many more theatrics, M4 invokes dancing in the streets and beyond! The sound is huge, melodic, and dynamic, taking audiences on a musical journey around the globe. MarchFourth writes and performs its own material, and also draws inspiration from an eclectic range of worldwide influences, such as Eastern European gypsy brass, samba, latin, funk, afro-beat, big-band, jazz, and rock music, as well as television, film, circus, and vaudeville. With exceptional musical quality and energy, and the spectacle of the dancers, M4 "rocks" with the best of them, entertaining the audience with an over-the-top explosion of performance, color and charisma.
Leftover Salmon Sunday, April 14th
Looking back over the past 25 years of rootsy, string-based music, the impact of Leftover Salmon is impossible to deny. Formed in Boulder at the end of 1989, the Colorado slamgrass pioneers were one of the first bluegrass bands to add drums and tour rock & roll bars, helping Salmon become a pillar of the jam band scene and unwitting architects of the jam grass genre. If Leftover Salmon had never played another note after leaving the stage in 2005, the legacy would have been secure; the members' names etched in the books of history. But today, more than two decades after Salmon first took shape, the band has a new album, Aquatic Hitchhiker, due May 22 on LoS Records, a new banjo phenom named Andy Thorn, and a new lease on an old agreement. Today, Leftover Salmon is: Vince Herman (vocals, acoustic and electric guitar, mandolin); Drew Emmitt (vocals, mandolin, acoustic and electric guitar, mandola, fiddle); Andy Thorn (vocals, acoustic and electric banjo, National guitar); Greg Garrison (vocals, acoustic and electric bass, acoustic guitar); Jose Martinez (drums, percussion).
The Bear River Terrace showed that it is the place to be, providing the ultimate viewing spot for all the Bud Light Rocks the Boat concerts this past season. Rocks the Boat Concert Series and Ski Mardi Gras is presented by Bud Light and the Steamboat Ski & Resort Corporation. For more information, check out www.steamboat.com/concerts and get ready to Rock!
~MTN Town Magazine
Photo Credits: Steamboat Ski & Resort Corporation
MtnTownViews.com is MTN Town Magazine's daily journal blogging about Colorado's mountain towns. Like them on Facebook and Follow on Twitter.
© 2012, MTN Town Magazine. All rights reserved. Republication, in part or entirety, requires permission.