Praising the Pedal – Breckenridge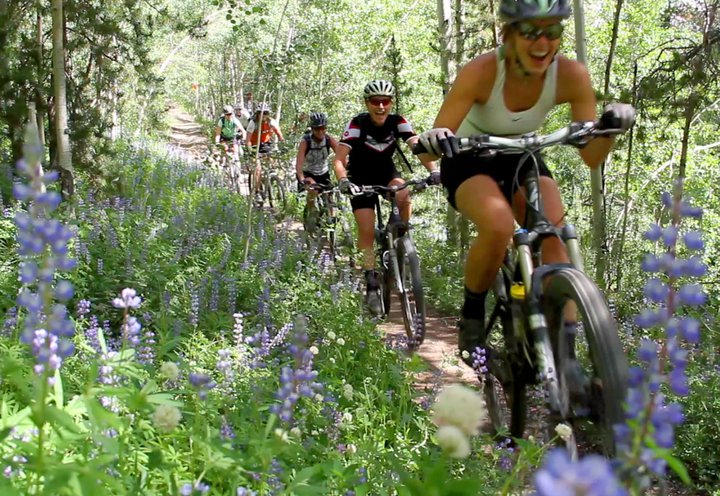 Get ready folks 'cause when the streets clear of Independence Day parties, bikes take over in Breckenridge, Colo. Following the July 4th holiday weekend,
Breck Bike Week
hits the Blue River Plaza with a host of free activities including demos, daily Tour de France viewing parties, yoga for cyclists, kids' races, trailbuilding days, guided group rides and much more. The July 6-10 event showcases all types of cycling – road, mountain, cruiser, commute – and the events welcome riders of ages and abilities.
[youtube=http://www.youtube.com/watch?v=1C6FJoKbr30&feature=player_detailpage]
"Breckenridge strives to kindle a new passion for sports, especially mountain and road biking, through events like our annual Bike Week," said Warner. "Bike Week brings the best manufacturers to town so that visitors and locals can experience the latest and greatest equipment. We marry the high-tech side with easily-accessible activities such as paved bike paths and poker rides. We love bikes and bike events."
A sample of 2011 Breck Bike Week offerings:
Free Road and Mountain Bike Demos: Trek, Trek WSD, Yeti and more will offer free demos during Bike Week. The bike concierge (available daily during the event) provides maps and area info so riders can make the most of their time with the industry's top rigs.
Group ride with CTO Director Al White and Breckenridge Mayor John Warner: The USA Pro Cycling Challenge brings the return of professional cycling to Breckenridge and the state. Hear how cycling impacts tourism and set out on a ride through town. 
Mechanic Panic: Alternating common tasks – derailleur adjustment, wheel truing – with wind-sprints and push up contests, top mechanics race it out to see who can handle the red zone and keep their cool under pressure.
Bike Rodeo:  The evening starts with some fun, kid-focused events, then adults stay late and to take part in a series of wacky competitions inspired by the old west and traveling carnivals.  
 Poker and Go Fish rides: Hit the dirt and collect cards on an all-for-fun, 20-mile marked ride highlighting the best singletrack in Breck. Families can choose the less intense version and all can celebrate at the after party with food, prizes and music.
Yoga for Bikers: 4:15 – 5:30 p.m. Increase your riding efficiency and bike handling skills through mindful yoga geared towards cyclists. Breck Bike Week participants get in FREE! For more details: www.metayogastudios.com or 970.547.9642 (YOGA)
Ripstoke trials show: Athletes use technical skills to finesse their bicycles over seemingly impossible obstacles at the Riverwalk Center. Think aerial wheelies, rear-wheel-balancing maneuvers and six-foot drops to flat land. $5
Why Breckenridge for biking? The town's easily-accessed trail network leads to well over 1,000 miles of mountain biking across Summit County. Many trails (which serve as routes for both amateur and professional races) are preexisting paths and flumes used by miners in search of gold. Road cyclists can explore the surrounding counties via mountain passes, bike paths and state highways.
Casual riders can hop on a cruiser and join the weekly ride or explore historic downtown. In-town bike lanes – one of the many efforts that led to Breck's designation as a silver-level Bicycle Friendly Community – make it a snap for any ability to saddle up. Prefer to sit back? Tour the shops and restaurants with Breckenridge Pedicabs. Guests can visit for events including
Breck Bike Week
and the inaugural USA Pro Cycling Challenge. Or, take a vacation to the next level with a volunteer day on the trails.
There is a reason Breckenridge is a bike friendly town! Come and check it out for yourself and find out why! Connect on 
Facebook
 for
Breck Bike Week
news and updates.