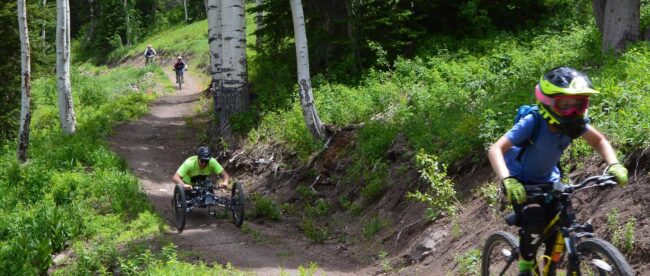 Powderhorn Bike Park has seen many improvements and upgrades making this a summer and winter outdoor destination "Must Visit".
When the Powderhorn Bike Park on Colorado's Grand Mesa opened in 2015, it was not exactly what anyone would call family-friendly.
During its inaugural season, the park earned a reputation for hard-core, rowdy riding on just two trails — intermediate Blue Ribbon and Pinball, a black trail with a highly technical upper section that many, including professional riders, classify as double-black.
This changed in 2018 when the resort opened Mutton Buster, a beginner trail that winds downhill for four miles, dropping over 1600' in elevation at a forgiving and meandering pace.
"While our original trails appealed to core, experienced riders, we saw an incredible shift when we opened Mutton Buster," explains Powderhorn's Ryan Robinson.
"We now see a ton of families and less-experienced downhill riders. These riders have pretty much become an equal demographic to the core riders. It's been incredible to see."
Since then there have been a plethora of changes and upgrades. Here is a nice overview of all their improvements and additions to Powderhorn's terrain:
Built Hither and Yon, two short downhill trails but that can be ridden as a figure eight in combination with Stagecoach, our uphill trail. This is a great starting point for visitors new to downhill, even easier than Mutton Buster. If for some reason bikers ride these trails but don't feel comfortable, they can download on the chairlift as a bail-out option.
Built a new blue flow trail, Prospector. Prospector is a wide machine-built trail and ventures the furthest west of any of the other Bike Park trails, getting into some of the beautiful terrain on the West End area of Powderhorn. It is now our most popular trail with lots of optional jumps, hips, and rollers. A great trail for a wide variety of skill levels.
Built a new green trail, Ramble On. Ramble On intersects with Mutton Buster in a few places, adding variety of lines off the top. Ramble On is slightly more difficult than Mutton Buster, acting as a great step from the easiest trails to the blues. Ramble On also incorporates large wooden bridges over Mutton Buster and Pinball intersections, making for one of the more memorable rides at Powderhorn.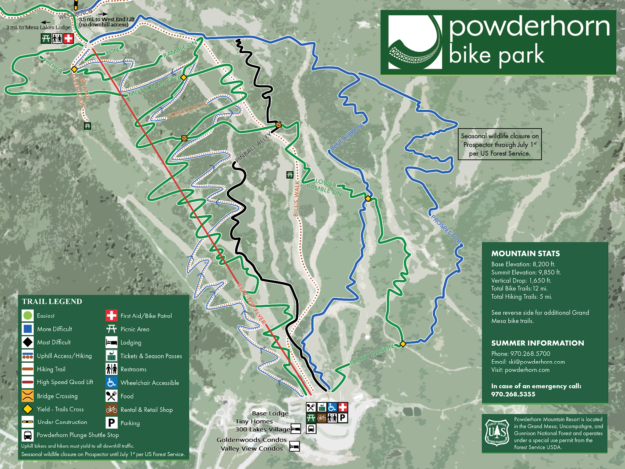 Big Pinball improvements. We rebuilt the bottom jump line. We also cut standing dead trees, milled them, and built bridges over the most technical upper sections. It is still an advanced trail but is now open to a wider user group.
Nearing the completion of the Rim View Connector trail, which takes riders from the top of the Bike Park, up and over the rim of the Mesa, to Anderson Reservoir. From that point, riders can continue on to Deep Creek trail and connect with the Palisade Plunge, or connect to the Rim View trail and West Bench trails as a loop back to the Bike Park.
Introduced the Powderhorn Plunge Shuttle offering daily rides from the town of Palisade to Powderhorn and Mesa Top or Shirttail Point trailheads to ride the Palisade Plunge or Plunge to Powderhorn. The Palisade Plunge offers the "bucket list" ride but the Plunge to Powderhorn is a great intermediate alternative beginning on the easier section of the Palisade Plunge then connecting with Deep Creek, Rim View, and West Bench trails, and ending at the base of the Bike Park, 17 miles and 2,500 vertical feet later.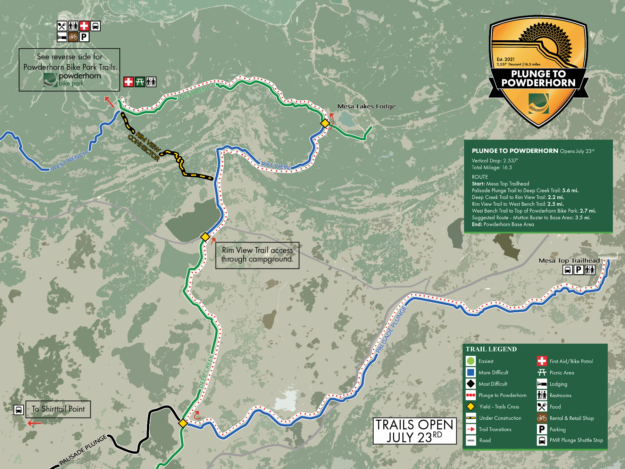 Why Downhill Biking is Different
It's tempting to think of downhill biking as mountain biking without the climbs. Yet, both the trails, which feature banked curves, obstacles like jumps, rocks, roots and ladders, and the bikes, are unique to this sport.
Here's what you need to know.
1. Downhill biking really is downhill. It's a lift-served, gravity-driven sport that is surprisingly physical, despite eliminating the uphill climb. Riding the lift to the top of the mountain isn't just a way to save energy or wimp out. If you're riding a downhill specific bike, it's almost a necessity.
2. Downhill bikes are different from other mountain bikes. These bikes are designed to go downhill with agility, power and stability. They are not built to be pedaled uphill.
To keep the bike steady at high speeds and on steep trail, downhill bikes are heavier with additional suspension to smooth out bigger jumps and drops. Even the brakes and gearing on a downhill bike are different.
What's most noticeable, however, is that the seat on a downhill bike is usually positioned as low as possible. This is because downhill riders stand on the pedals while balancing and shifting their weight, with gravity providing momentum.
3. Downhill riders, of all abilities, wear full-face helmets and pads. Downhill biking is no more dangerous than any other type of biking, but the speeds and distance gained off of obstacles is greater. This means if you fall, you might fall harder.
Tips for Success
Birgit Morris grew up in the Grand Valley and graduated from Palisade High School in 2017. She started mountain biking with her dad when she was about eight years old and her first downhill biking experience was at Powderhorn in 2015.
She's now a national champion collegiate mountain biker who competes in four disciplines: cross-country, short track, dual slalom and downhill.
Morris especially enjoys downhill. "I love the thrill, the adrenalin, the aspect of taking risks and not knowing what is around the next corner. With downhill, you never know what to expect."
Here are Birgit Morris's tips for getting started, enjoying the sport, and staying safe.
1. Start slow. Morris suggests starting easy and progressively building from green to blue to black trails.
2. Follow riders who are better than you are. Morris grew up following her father on mountain bike trails and thinks it's a good way to learn. She suggests observing the lines other riders take, their style, their technique and how they shift their weight. Try to improve by matching their movements.
3. Don't go too big. The snowsports world has a terrain park mantra that is equally applicable to downhill biking: pre-ride, re-ride, free ride. Whenever you ride a new trail, start slow and scope out the trail. On the next ride, pick up the pace with caution. Finally, on the third ride, boost it up.
4. Have fun! While Morris admits that she feels "a little bit scared" when riding downhill, she believes the fear adds to the challenge which adds to the fun. When starting out, make sure the fun outweighs the fear.
Follow these additional tips to help build the fun from one run to the next: Rent a downhill bike and pads. Ask for tips or take a lesson. Ride with friends who will help you. Go at your own pace and walk if you feel uncomfortable. Stop when you need a rest. Take snack and water breaks. Enjoy the views and the cool mountain air.
Downhill Biking at Powderhorn
The Powderhorn Bike Park has five top-to-botton trails, three connector trails, and a new trail linking the Bike Park to the larger Grand Mesa trail system, covering 1650 vertical feet, served by a high-speed quad chairlift. The Park is open to all ages and abilities. Rental bikes and body armor are available.
In addition to rental gear, Powderhorn offers downhill mountain biking lessons and clinics. Lesson, ticket, and bike rental packages begin at $149, Reservations are recommended.
Depending upon snowmelt and weather, the Powderhorn Bike Park is open Thursdays, Fridays and weekends from mid-June through August, and weekends only through September.
In addition to the bike park, Powderhorn offers scenic chairlift rides, hiking and parking lot camping during the summer.
To learn more head to their website: www.powderhorn.com
by Kristen Lummis, The Brave Ski Mom
Read more about great Colorado destinations for outdoor activities: Mountain Town Magazine Treks & Travels
Story Sponsored by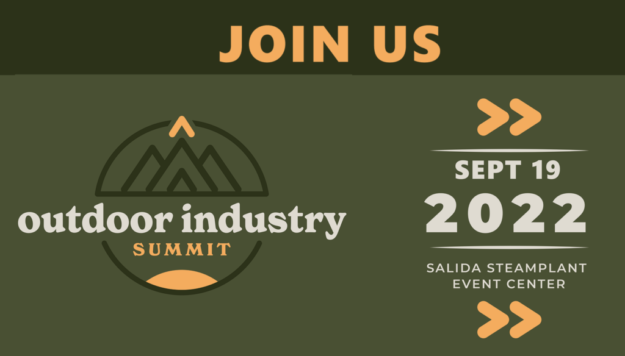 MTN Town Media Productions | Celebrating the Colorado mountain lifestyle
Copyright 2022 MTN Town Media Productions all rights reserved.