Peak 9 Breckenridge – Follow The Après Ski Trail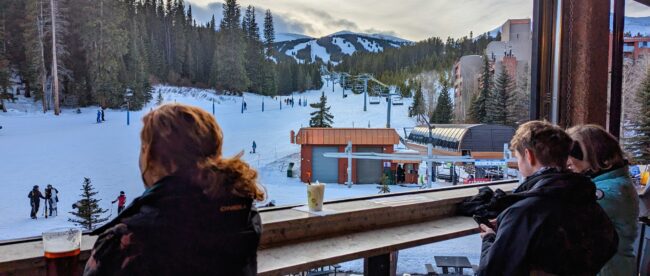 After a day of shredding, ripping, turning and legs a'burning at Breckenridge Ski Resort head to Peak 9. From the top of Breckenridge Ski Resort's Peak 9 you can ski, ride and trek your way down to some of Breckenridge's Best Après Ski and Happy Hour spots.
Copper Top Bar & Restaurant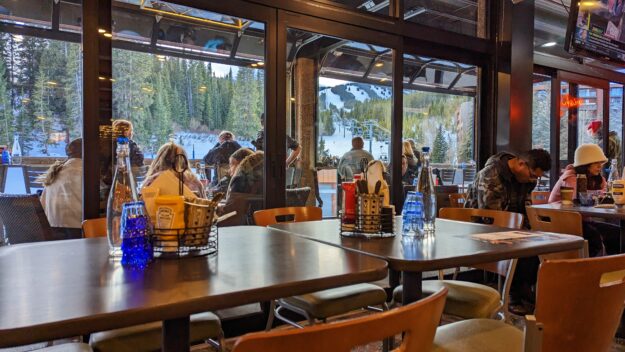 As you approach the Beaver Run SuperChair be prepared to turn in. Head up the stairs to the Copper Top Bar & Restaurant. Come in with a group big or small. Here you can enjoy Après all day! The Copper Top has one of the best mountainside decks in Breckenridge with views all the way to the top of the mountain. You can people watch all day and look out for your friends while enjoying their Signature Bloody Marys (with bacon and ALL of the fixings), as well as signature Mules in copper mugs, of course!
Hours: DAILY from 11am-5pm
The Maggie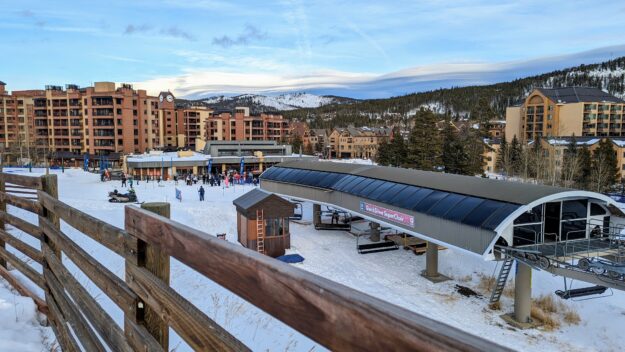 After some fun at the Copper Top Bar & Restaurant slide down to The Maggie, just below the QuickSilver SuperChair. You can start your day with breakfast options from The Waffle Shop and finish there as well with signature appetizers, weekly specials and a full service bar.This is a classic spot to find a lively après scene, complete with musicto end your ski day.
Hours:
Waffle Shop at The Maggie 7:30am-3:30pm
The Maggie 9am-3:30pm
The Maggie Bar 10am-5:30pm
Sauce on the Maggie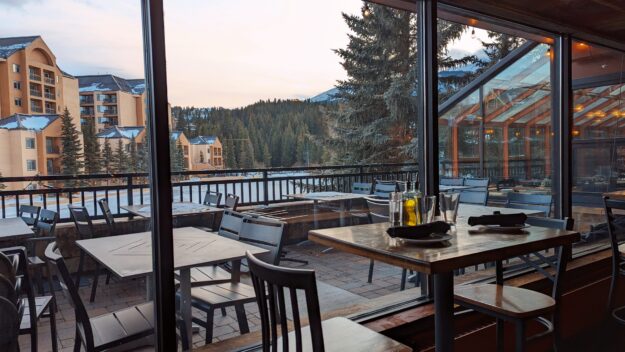 Sauce on the Maggie is the perfect spot to grab Happy Hour and Carb Load for your next day out. Located steps away from the QuickSilver SuperChair in the Village at Breckenridge. Their Happy Hour features 25% off 10″ pizzas, $8 small plates, $6 house glasses of wine, $1 off specialty cocktails, $1 off all premium draught beer and $6 well drinks. Enjoy beautiful, elevated views of Maggie Pond while spending time with your friends and family.
Hours: M – W 4pm – 9pm, Th 3 – 9pm, F – Sat 11am – 10pm, Sun 3 – 9pm
Cabin Juice Elevated Eatery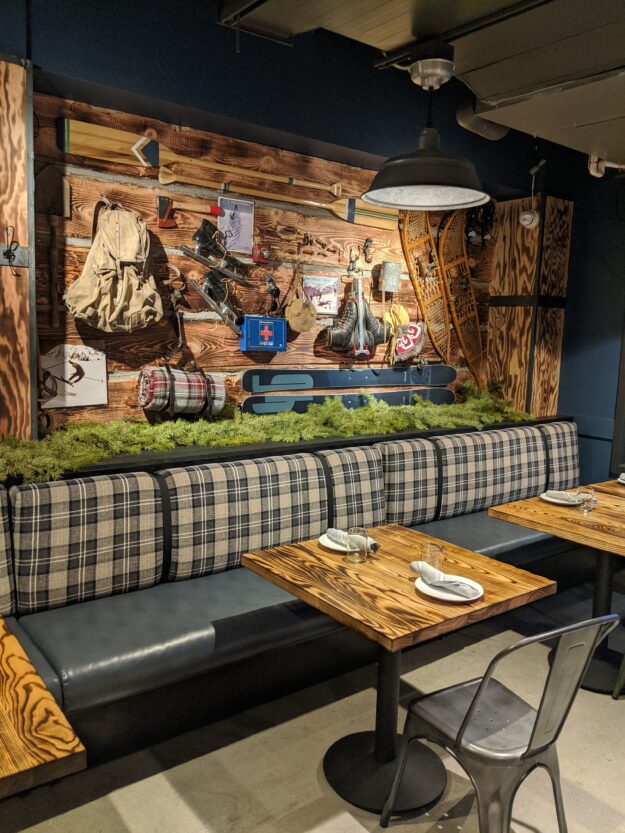 A few steps further down from the QuickSilver SuperChair is Gravity Haus and their fantastic restaurant Cabin Juice. Pop on by in your ski boots after a day on the mountain and belly up to the Cabin Juice Elevated Eatery solid wood bar top for a hand-crafted cocktail from Breckenride's most talented bartenders. This spot has the perfect vibe for Apres with a plush area to sit a reminiscence about the day. There is an excellent small plate menu to compliment your cocktails. Their Après drink menu offers $1 OFF ALL DRAFT BEERS and a $20 SHOT SKI SPECIAL.
Hours: 3 – 5pm Daily
MiCasa Cantina & Restaurant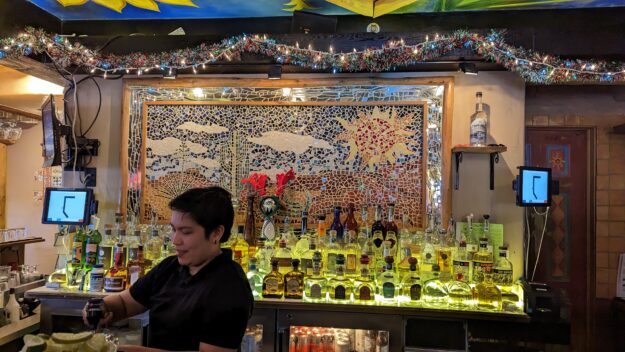 If you're hankering for some Mexican food, beer, and drinks then head straight across Park Avenue to Micasa Mexican Cantina & Restaurant. They are a locals favorite for Apres all year long. Their Happy Hour Tacos and Quesadillas are a deal at $5 for three tacos or $8 for cheesy Quesadillas with chicken and or vegetables. Drink specials include Pabst Pints $2.50 & Pitchers for $8, Tecate Cans $3.00, Modelo Especial $3.00, Casa Margarita $7.00, $1 off Specialty Margaritas and $1 off Well Cocktails.
Hours: 3 – 6pm
After you sojourn through the above-mentioned bars and restaurants turn East on Park Avenue and head over to Main Street Station. There you will find Quandary Grille, Bold Restaurant & Bar as well as the Continental Divide Winery.
Quandary Grille Tequila Bar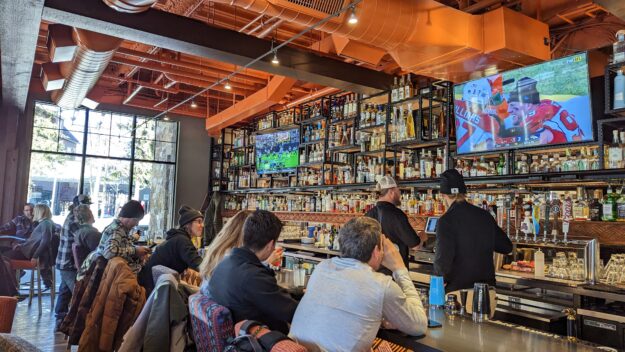 Breck's newest Tequila Bar sits right next to the Maggie Pond and offers panoramic views of Peak 9 and Peak 10. Their bar is filled to the ceiling with delicious tequila offerings as well as classic cocktails, beer and wine offerings. Après specials include 25% off most apps, $1 off draft beer, $8 Casa Margs, $1 off signature cocktails, $6 Glasses of House Wines, $1 Off All other By the Glass Wines and $6 Premium Wells. The restaurant has large TV's so you can catch your favorite game too.
Happy Hour: 3 – 5pm
BoLD Restaurant & Bar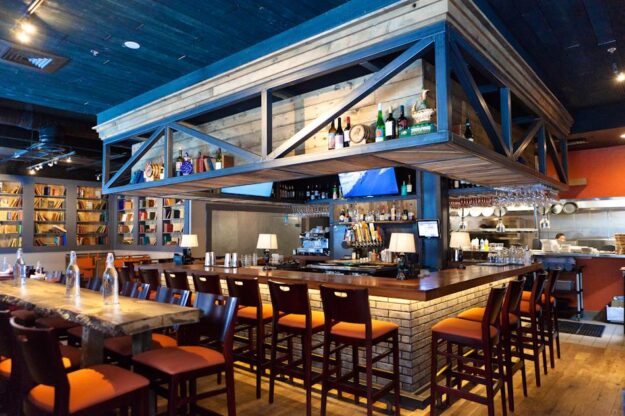 The family-owned BoLD Restaurant and Bar serves a classic American breakfast and brunch, a Mediterranean-inspired lunch and dinner. Happy Hour starts early and offers $4 all Craft Drafts, $5 House Wines, $4 off all Signature Cocktails, $4 off all Appetizers and $14 Bold Burgers, Sandwiches and Wraps (2 – 4 p.m. daily).
Happy Hour: 2 – 6 p.m. daily
Continental Divide Winery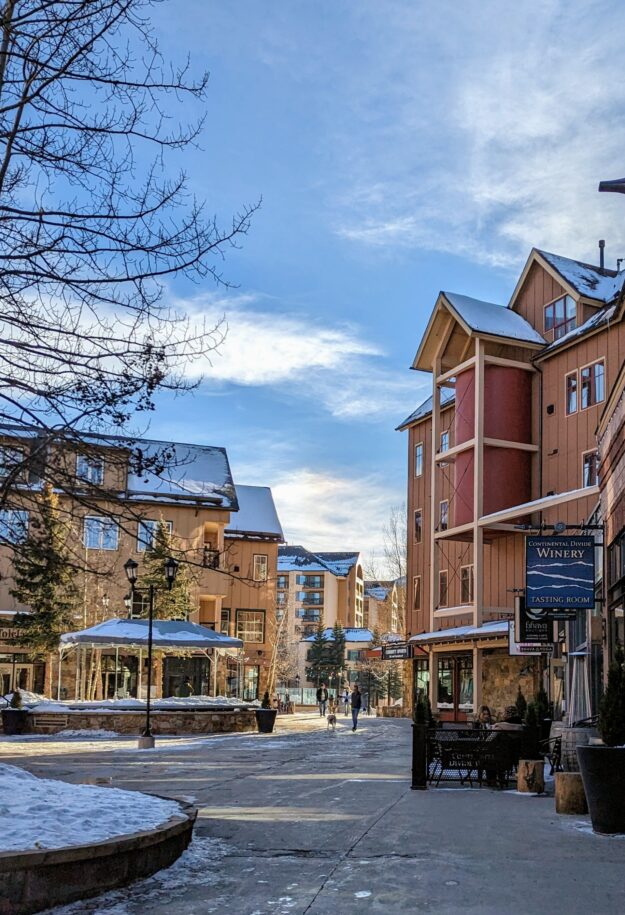 Continental Divide Winery produces all of its wines in a state-of-the-art winemaking facility in Fairplay. Their relaxing, Breckenridge tasting room offers Wines by the Glass or you can enjoy one of their tasting experience selections.
Hours: Breckenridge Tasting Room:
Sunday – Thursday: 12:00 pm – 8:00 pm
Friday:12:00 pm – 9:00 pm
Saturday:11:00 am – 9:00 pm
Open Daily except for Christmas Day
From there, you have an entire town filled with great eats, treats, and cocktails galore! For more ideas of what to do in Breckenridge head to our partner publications website: www.mountaintownbreckenridge.com
Story Sponsored by Lindblom Groupe

MTN Town Media Productions | Celebrating the Colorado mountain lifestyle for over 10 Years
Copyright 2023 MTN Town Media Productions all rights reserved.