Mountain Town Magazine Issue 35 – We are still skiing and yes, there are still avalanches.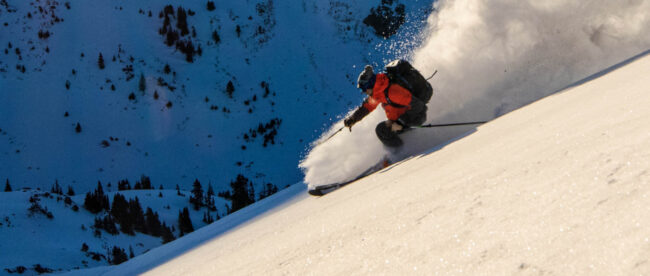 Sometimes living at altitude is weird. I live just below the 10,000-foot mark which means I and the friends who live around me experience a larger share of winter than most of the world. This is the time of year I open up Facebook and see pictures of daffodils and flowering trees on each person's page.
Many of us who call the mountains home garner a small bit of sadistic joy freaking out friends living at lower elevations with pictures of our patio furniture covered with huge snow dumps in April, May and sometimes even June and July. Spring in the mountains offers everything from fresh pow laps, bike rides on gravelly roads and dry, south-facing single track, rafting, fishing, golf, and more.
Mountain Town Magazine Issue 35 2022 is here and we have a lot to say about Colorado's mountain town communities and the people who live here. Liam Doran Photography is the genius behind our beautiful cover shot and captures our passion for spring skiing.
This time of year the snow is fickle, actually it is fickle most times of the year in Colorado. We dedicated space in this magazine to bring attention to Avalanche conditions, the CAIC and our Search and Rescue heroes. Yes, at this time of the year there are still avalanches.
Click the Cover to Read the New Issue:
Our friend Jeff Meyer sat down with our writer Dori Welch and discussed, for the first time, his heart wrenching experience of losing a friend to an avalanche while out enjoying a day of snowmobiling. We hope his story and his reminders help keep you and your friends safe.
There is a fabulous article on Search and Rescue. Our community's neighborhood superheroes will dangle out of helicopters, drag heavy gear through deep snow or fast moving water and ski, snowmobile or trek in frigid temperatures through the night risking their own lives in order to save others. These unpaid, compassionate people are a family of folks who do it for no other reason than to save another soul. Our writer, Shauna Farnell, spent some time interviewing them to bring you a fantastic story, Saving Lives Under the Radar.
We have articles for families, suggestions for great places to eat, and fun ideas for things to do in Colorado's mountain towns. Local folk and entrepreneurs are highlighted too. Check out Claudia Carbone's article about evening adventures under our bright full moons. She has a bucket load of suggestions for an exciting night out.
We hope you enjoy our publication. COVID has not stopped us and we love crafting each issue for you and your friends to read.
I love Colorado and its incredible mountain towns!
Cheers to Spring,
Holly Battista-Resignolo
Publisher
Stay in touch with all of our mountain town communities with our Event Calendar: www.mtntownmagazine.com/events-calendar
Mountain Town Magazine | We are Colorado's Mountain Town Magazine
Copyright 2020 MTN Town Magazine all rights reserved.
Visit our Story Sponsor