Colorado Biking Events from Outside Events Cycling announced for 2022 Season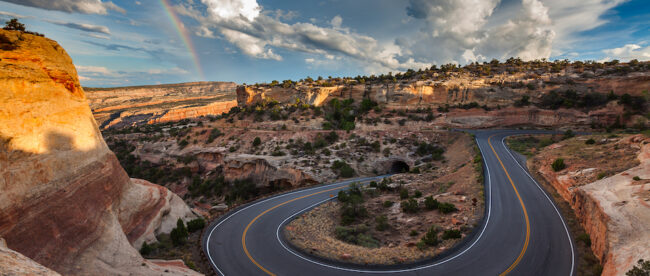 Colorado Biking Events from Outside Events have been announced for 2022. Colorado and New Mexico have nine iconic events in store for the cycling enthusiast.
Transitioning from skiing to summer season is always a little sad. Another great season is in the books although several Colorado Ski Area lifts are still turning. Our attention is now being pushed to the cycling season and we have started seeing some great cycling events showing up in our inbox.
We are happy to share Outside Events Cycling Series, formerly Roll Massif, returns this month with a series of nine cycling events on iconic courses in Colorado and New Mexico. From May through September Outside Events Cycling Series will offer riders a range of terrain, distances, challenges and will suit most abilities with road, gravel and mountain bike events.
The 2022 event lineup includes five road rides, two gravel races and two 12-hour mountain bike races. The series kicks off May 14th and runs through September 17, 2022.
"The Outside Events Cycling Series has an event for every type of rider and ability level," said Scott Olmsted, Outside Cycling Series. "From finishing a long course ride to racing timed segments, all participants enjoy the camaraderie and energy of the group along with challenging themselves on rugged terrain while being rewarded with scenic views. Each event in the Outside Cycling Series is a celebration of the cycling community and we're looking forward to welcoming all riders for an extraordinary season."

Scott Olmsted, Outside Cycling Series
The full event lineup includes:
Wild Horse Gravel – De Beque, CO – May 14, 2022
Ride some wild west gravel this May at Wild Horse Gravel and choose your own adventure on Colorado's Western Slope with 65- or 30-mile courses. Afterward, kick back around the campfire for a country cook-out and local music at the world-class basecamp of the High Lonesome Ranch. New for 2022: Race the 65-mile long course and compete for a $5,000 cash purse, split evenly between women and men, and awarded to the top three finishers.
Elephant Rock (Road) – Castle Rock, CO – June 5, 2022
The final year of the event, riders won't want to miss the send-off to the Colorado cycling classic, Elephant Rock. With three road courses (45, 62, and 100 miles), a great family ride and a kids race, the Elephant Rock Cycling Festival and Colorado Bike Expo promises lots of bikes, bands and camaraderie. Relive your rides and celebrate 35 years of Elephant Rock this June.
Sunrise to Sunset (MTB) – Castle Rock, CO – June 4, 2022
The Winter Park Sunrise to Sunset event taps into the area's mountain bike roots in the same 12-hour endurance race style. The event is all about balancing camaraderie and challenge. Ride the singletrack as a relay with your team or race the sun solo. While some events cater specifically to beginners or experts, Sunrise to Sunset allows riders to set their pace and truly the ride.
Crooked Gravel – Winter Park, CO – July 23, 2022
The high alpine gravel of Crooked Gravel awaits in Winter Park this July. Choose between two separate courses, 30- or 67-mile rides, and tackle over 5,000 vertical feet of winding climbs and wide-open descents. New for 2022: The 67-mile long course will be a timed segment with a $5,000 cash purse up for grabs.
Sunrise to Sunset (MTB) – Winter Park, CO – July 23, 2022
Looking for a 12-hour endurance trail race that is equal parts challenging and fun? Elephant Rock's Sunrise to Sunset is just that. Kickback with your friends and ride the flowy track of Philip S. Miller Park this summer and register to ride as an individual or form a team. And don't miss your chance at the Iron Tusk: Race for 12-hours then hit the Elephant Rock century Sunday for a chance at this prestigious award.
Copper Triangle (Road) – Copper, CO – Aug. 6, 2022
There's never a bad time to train for a true alpine cycling classic like Copper Triangle. Start high in the Rocky Mountains and only go up from there. The 79-mile loop crests three Colorado mountain passes totaling 6,500 feet in elevation gain. New for 2022: A friendly QOM & KOM timed segment on Vail Pass with podium presentations for the top three men & women.
Enchanted Circle (Road) – Red River, NM – Aug. 27 2022
The Enchanted Circle Bicycle Tour is a scenic, southwest cycling experience with rolling hills, fast descents and rewarding climbs. With an 85-mile loop or the iconic 100-mile century, this New Mexico course travels along the Enchanted Circle Scenic Byway and climbs Bobcat Pass, one of the state's highest mountain roads.
Tour of the Moon (Road) – Grand Junction, CO – Sept. 10, 2022
Want to take an epic trek through the Colorado National Monument? Check out Tour of the Moon, made famous from the 1980's Coors Classic. Tackle the 41-mile loop or metric century. Registration is capped by the National Park Service so don't miss out on this spectacular ride.
Read our article on the Tour of the Moon: www.mtntownmagazine.com/classic-rides-the-colorado-national-monuments-tour-of-the-moon
Tour de Vineyards (Road) – Palisade, CO – Sept. 17, 2022
Head to Palisade this fall and enjoy the vineyards, orchards and mesas of Colorado's Western Slope at the 27th annual Tour de Vineyards. Take the leisurely 23-mile route along the Palisade Fruit & Wine Byway, or opt for the 58-mile loop up and over Reeder Mesa. After the ride, stick around to enjoy the Colorado Mountain Winefest to finish off the weekend.
Getting out on the saddle again will banish the end of ski season blues! Register for an event and make getting out often your goal for a great performance.
An FYI too (p.s. – not a paid post) – Outside Events is a part of Outside Inc. the world's leading creator of active lifestyle content offers an all-access membership program, Outside+. Get one free entry to an Outside Events Cycling Series ride and 20% off additional ride registrations with Outside+. In addition to this event benefit, the annual membership includes dozens of perks worth more than $500, from exclusive content to online courses and access to Trailforks Pro.
Learn more about Outside+.
~MTN Town Media Productions.
Feature Photo Credit: Grand Junction Visitors Bureau
Stay in tune with all of Colorado's mountain town events and festivities, head to our Events Calendar: www.mtntownmagazine.com/events-calendar
Mountain Town Magazine | We are Colorado's Mountain Town Magazine
Copyright 2022 MTN Town Magazine all rights reserved.
Visit our Story Sponsor and Pet-Friendly Hotel – Mountain Lodge Telluride