Luis Benitez – Boldly Guiding Colorado Outdoors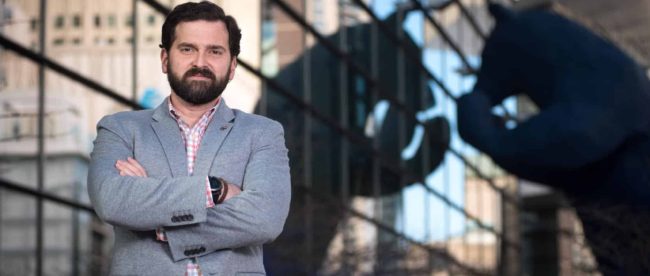 In Colorado, there's a man who can describe the scenes of Everest like it's his job. It did, actually, used to be his job. As a mountaineering guide, Luis Benitez has stood on the rooftop of the world six times not to mention numerous times on the "lesser" ceilings of Kilimanjaro, Vinson, Puncak Jaya, Elbrus, Denali and Aconcagua. 
Mountains beyond mountains beyond mountains: that's what you can see on a clear day from the summit of Mount Everest. That clarity is a rarity, so the view from the top is really not the point of the climb. It's the joy of doing something insanely hard and then sleeping the sleep of a satisfied soul.
He's not drawn to mountains for the panorama. That wouldn't explain why Erik Weihenmayer, the first and only blind guy to climb Mount Everest, wanted to summit with Benitez in 2001. Both men would agree: character-building happens when you grate your mind, body and spirit against Mother Nature's most goliath, formidable mountains, or frothing, ravenous rivers. This raw handiwork reminds us feeble humans of our smallness, of the fact that, in order to grow, we must first be humbled.
Born and raised in the Midwest, Benitez grew up hanging out and working at his PawPaw's outdoor gear shop. His grandfather's cronies would sit around sipping coffee and recapping their tall tales of fishing glories, harrowing hunting accounts, nerdy gear comparisons and the dreams of new adventures. Benitez soaked in every word spoken by these wizened, smile-lined old farts. He grew to understand that life was made richer by fresh air – and he learned one hell of handshake.
So an asthmatic Benitez got busy collecting his own great-outdoors stories, exploring the Ozarks around his home and the high places of Cotapaxi, Ecuador, where his father's family is from. The kind of kid that looks you in the eyes, Benitez could hold his own tagging along on skiing and climbing excursions in the Andes with family friends, who guided foreigners into the wild.
After high school, Benitez announced to his parents that he wanted to pursue guiding as a career. His mother, a primary school art teacher, and father, an aerospace engineer, would have preferred he'd be a doctor, lawyer, priest or politician even. But that would have to wait. The mountains were calling, and Luis had to go.  
Thanks to his bilingual skills, he landed a guiding gig in South America. As his body grew stronger and his mind, sharper, his education came from Outward Bound, where he flourished in everything from fire-building to rappelling, wilderness first aid to developing an ethical awareness of the responsibility that comes with playing outside.
And play outside he did. While he racked up adventures in the high places, his charisma and imposing build instilled confidence in his clients. He quickly gained a reputation in the corporate realm as being the go-to guide, often flying with CEOs in their private jets to climbs spanning the continents. He'd carved a path straight into his dream life, and the world was under his tiptoes.
But it was a flawed world, and Benitez's role in it would shift one frigid morning over breakfast at 18,753-feet above sea level. He was at Advanced Base Camp on the border of Tibet and Nepal in the middle of a trek up to Cho Oyu, the sixth highest mountain in the world.
On September 30, 2006, Benitez and a mixed group of guides, sherpas and climbers from around the globe paused over their coffee as the sound of firecrackers ripped through the thin air. They opened the dining tent overlooking Nangpala Pass a quarter mile away to see 75 Tibetan refugees fleeing for their lives, as fast as one can flee up an icy, snow-packed mountain with little oxygen.
The firecrackers, it turned out, were in fact the sound of guns coming from the People's Armed Police of China, border guards tasked with handling the refugee "situation." Dozens of Tibetans were arrested, including children as young as five-years-old. One 17-year-old nun, Kelsang Namtso, was not so lucky, shot down to the snow in a heap of robes.
Benitez watched in horror from a distance. Murmurings around the camp suggested the climbers should keep quiet about the evil they'd just witnessed. Climbing Cho Oyu is big business for the Chinese as well as the guides, sherpas and outfitters, who make a living leading trips up there. Human rights took a backseat to the bottom line.
But Benitez's moral compass was on the fritz. He couldn't let ego destroy his true north: the incident must be relayed. Immediately. He crawled into his tent with a sat phone and dialed up an editor friend at Reuters. There was no time to fact check, Benitez said. Trust and run the story. His friend listened, obeyed, and the story broke on ExplorersWeb.
When his fellow campmates heard the story had been released, they were outraged. Benitez got his clients out of Tibet safely but knew his guiding days in China were over. At the time, he was the director of operations for New Zealand-based mountaineering company, Adventure Consultants, and, not wanting to compromise their permits, resigned.
In the ensuing months, he testified before the US Congress, the EU Parliament, the Spanish Supreme Court and the Hague International Crimes Tribunal. The verdict was crimes-against-humanity charges against the Chinese President. While the news came and went in the Western world, Benitez's voice for the Tibetan refugees did not escape the notice of one short-statured but notable man.
While packing for a trip to climb Mount Everest (from the Nepalese side), Benitez's phone rang. The person on the end of the line explained he was calling on behalf of the Dalai Lama, who would like to meet with Benitez to speak about his heroic efforts standing up for the Tibetan refugees. Flattered, Benitez politely thanked him for the invitation, explained he was on his way to Everest and would stop by Dharamsala – maybe – after his climb.
He hung up the phone. A wave of regret flooded his mind. He'd just declined meeting his holiness, the Dalai Lama. Before he could freefall into a pool of misery, the phone rang again. This time, a new person on the end of the line playfully called out Benitez: pop quiz, Mister Benitez. When his holiness wants to meet you, what do you say?
Benitez apologized profusely, insisting he'd be there before his climb. Upon arrival in Dharamsala, Benitez was ushered into a room with his holiness. Benitez's idea of a handshake and a blessing turned into a 45-minute conversation. With the help of a translator, the Dalai Lama asked Benitez how this experience had affected his life.
Benitez responded that it wasn't how he pictured his career going. The Dalai Lama listened to the translator, then smiled, replying that he also didn't picture himself living as an exile away from his people. He added that sometimes we don't choose our paths, rather, our paths choose us. It's up to us to decide how we want to engage and move forward.
Mic drop. Humbled for life, Benitez left his holiness' presence a changed man. He turned his gaze from faraway peaks to his hometown of Eagle, Colorado, where he ran for town council. He'd been honing his voice for years, and now he had one damned good story to tell. The natural-born storyteller started accepting speaking engagements, gaining the ears of decision makers across the country.
He started Endeavor Consulting, a firm that trains executives through experiential leadership programs. He also served as the regional director of Outward Bound and designed leadership development programs for Vail Resorts. The next stage he'd step onto came in 2015, almost a decade after the Cho Oyu incident when the governor of Colorado called him to talk about a new position.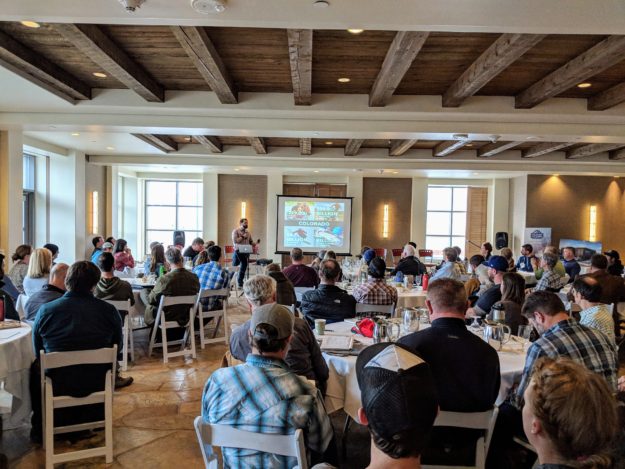 Luis Benitez Sharing the Numbers
The Colorado Outdoor Recreation Economy
229,00 Direct Jobs
$28.0 Billion in Consumer Spending
9.7 Billion in Wages & Salaries
$2.0 Billion in State & Local Tax Revenue
This time, there was no awkward hesitation. Yes, of course he'd be honored to take on the role as the director of the office of the outdoor recreation industry, which generates $28 billion and nearly 300,000 jobs in Colorado, according to the Outdoor Recreation Association. Governor Hickenlooper had been alerted to Benitez's integrity and impressed by the gentle giant when they'd met at various functions. It was only the second position of its kind in the country, right behind Utah's directorship.
Speaking of Utah, Benitez got to work transitioning the Outdoor Retailer trade show from Salt Lake City to Denver. The move happened in January, and a projected $110 million is expected to flood into the state this year with two other shows coming down the pipeline in July and November.
Beyond focusing on Denver, he's also turning the spotlight back on the people of rural Colorado. Having grown up in a family-owned business, he knows the importance of supporting small enterprise, of getting mom-and-pop manufacturing businesses the funding and resources they need to make it in our mountain towns.
"I get to retell all the amazing stories the people of our state create," he says. "I have a significant responsibility to tell that story correctly, and I take that very, very seriously."
While we've all moved to mountain towns so we don't have to take ourselves too seriously, Benitez says we can't just hide out in paradise while someone else tackles the job of protecting the wild places and open spaces that make us so deliciously rich.
"Don't just think you can live in a small town and not get involved with the outdoor economy," he says. "If there is something you like or don't like, get involved."
No more sitting on the sidelines, says our director of all things outdoors. Because those views of mountains beyond mountains beyond mountains aren't the point. It's the joy of taking on the biting winds of Washington, the freezing (or boiling) temperatures of climate change, and the mighty task of educating a nation, of paving a global way for the outdoor industry to grow rightly, ethically.
As Robert Frost reminds us, there are miles to go before we sleep. So somebody get this man a cup of coffee. As for you, forget the espresso. Get yourself a shot of Luis Benitez, Stronger Than Espresso and Tequila!
by Joy Martin, passionate Colorado resident dwelling in Durango
~MTN Town Magazine
MTN Town Magazine | We are Colorado's Mountain Town Magazine
Copyright © 2018 MTN Town Magazine all rights reserved.