Tailwind Nutrition: "All You Need. All Day. Really."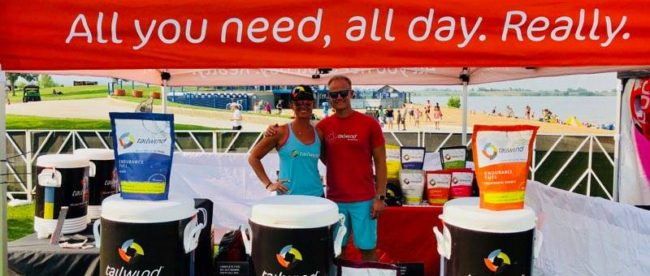 A revolution in sports nutrition is happening deep in the Animas Valley of Southwest Colorado, where Tailwind Nutrition is changing the way endurance athletes fuel their feats. From the pros to everyday adventurers, traditional sport fuels (think gels, bars, shots, baby food, electrolyte pills and peanut butter sandwiches) have been turning tummies into war zones for years. Bayfield-based, Tailwind Nutrition, says enough is enough. To think it was all started by a man with his head in a trashcan.
Tailwind's whirlwind story begins in 2011 when co-founder, Jeff Vierling, found himself upchucking Muesli at the finish line of the Leadville 100. It was the last straw for the ultra-athlete, who was sick and tired of insufficient fueling products "hijacking the blood, sweat and tears" of his training.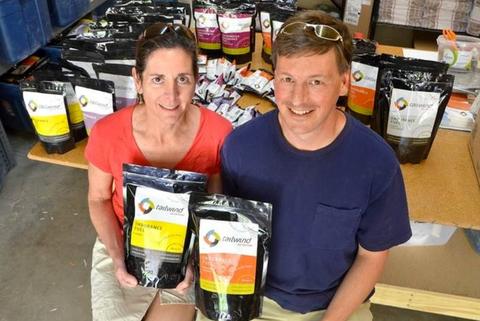 So he did as any problem-solver without a background in biochemistry would do: he started researching the science behind sports nutrition and the inner-workings of the complex, fickle digestive tract. He learned that our bodies can only process 200 to 300 calories an hour; anything more and the inevitable gut-bomb syndrome kicks in. He also found that protein doesn't improve endurance during exercise (hasta la vista, peanut-butter-sandwich theory).
His goal was to craft an easy-to-use endurance product that tasted good enough to want to drink, would maintain his energy levels and ultimately propel him to the finish line in fine, vomit-free form. So the wizard got to work, tossing stuff into his cauldron of a KitchenAid mixer.
The end result was a clean, simple recipe of all-natural, organic, vegan-friendly, gluten/wheat/soy/dairy-free ingredients that could be mixed with water, providing steady, small doses of fuel that pass right through the stomach. The mix matches what the gut is designed to absorb, so that, once in the bloodstream, the glucose fuels muscles directly, without taxing the digestive tract, states the website.
As a bonus, it comes in many flavors and can be scooped into hydration packs or bottles and won't leave a gooey residue or weird aftertaste. Thus, Tailwind Nutrition was born, touted to be "like having the wind at your back, not like a kick in the gut at mile 45."
He separated the white powder mix into Ziplocs and passed out the baggies to biking buddies at local trailhead parking lots. Despite its suspicious appearance, the biking buddies loved it, and Jeff and his wife, Jenny, started selling the product out of the back of their truck at races around the Four Corners.
In 2012, Tailwind made its legitimate debut at the Iron Horse Bicycle Classic in Durango. The product was nearly an overnight success, sending the husband and wife back to their kitchen for midnight sessions whipping up more batches.
After Iron Horse, they launched a website for easier ordering with competitive, sensible pricing based on the fact that, for a 10-hour race, the body needs roughly 2,500 calories. For the same amount of calories from other energy products, racers would spend around $29. Tailwind costs $17.50 per 2,500 calories.
Demand had spiked beyond their mom-and-pop approach, so they opened a manufacturing facility in Bayfield. They got a logo, official packaging and a team of employees, who to this day take turns fulfilling and shipping the bags replete with the customer's name and a handwritten note of thanks.   
"Personalization is in our DNA," says Jenny, who also doesn't have a sports nutrition background. "We feel vested in every single customer who buys Tailwind."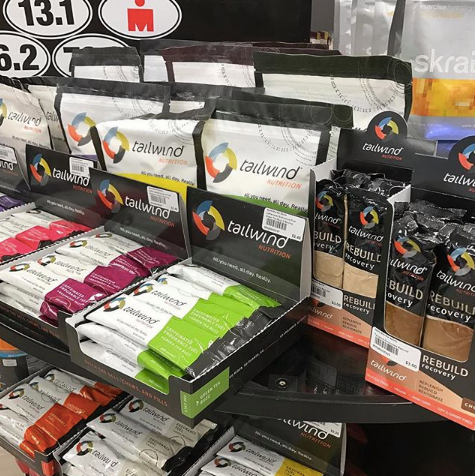 Six years after Jeff's horrific trashcan experience, Tailwind Nutrition has evolved into an institution for endurance athletes around the world. Coming this March, Tailwind will release their newest product called Rebuild, a surprisingly-tasty recovery drink with a mathematically-developed, patent-pending balanced ratio of carbohydrates and complete proteins – just what the body needs in that crucial restorative period 30-minutes after a hard workout or endurance effort.
To further their sports nutrition revolution, Tailwind just received a $250,000 grant from the Colorado Office of Economic Development and International Trade (OEDIT). Through OEDIT, the State invests in businesses that show strong potential for growth and manufacturing, which leads to job creation and more funds for local communities.
To learn more about Tailwind or to order this tried-and-trusted game-changer, checkout: tailwindnutrition.com. To find a store click here www.tailwindnutrition.com/stores/ and enter your zipcode.
by Joy Martin, avid runner, biker and Durango resident
~MTN Town Magazine
MTN Town Magazine | We are Colorado's Mountain Town Magazine
Copyright © 2018 MTN Town Magazine all rights reserved.