Loveland Ski Area on Valentines Day – Marry Me at 12,050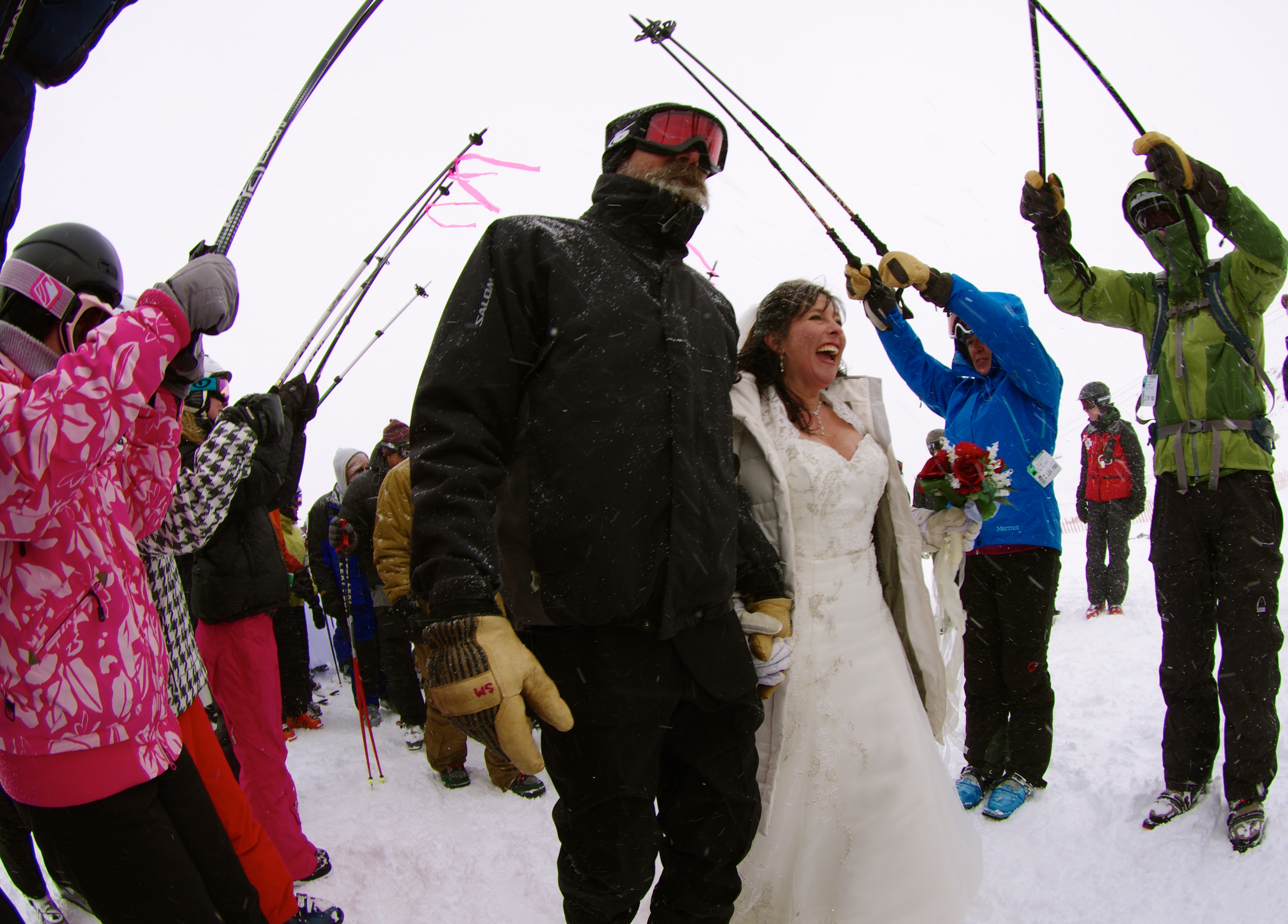 A mountain top wedding ceremony, there is nothing more romantic then that in my book. What's really cool is seeing 80 couples recite their vows for the first time or renew their vows at Loveland Ski Area's 22nd Annual Valentine's Day Marry Me & Ski Free Mountaintop Matrimony.  The mass wedding ceremony will take place at noon on the deck of the newly remodeled Ptarmigan Roost Cabin at the top of Chair 2.
Harry Heilman, Registered Minister with The Universal Life Church, will join skiers and snowboarders in snowy matrimony in the ski themed ceremony at an elevation of 12,050 feet.
Participation in the ceremony is free to all couples with valid lift tickets.  "We see a lot of people returning year after year to renew their vows and it means a lot to us to be a part of their family traditions," said Duncan Maxwell events & promotions coordinator.  "Watching the newlyweds get married and ski down the hill as a couple for the first time, many of them in full wedding attire, is always the highlight of the day.  Each year we have a lot of locals participate and this year we have a couple traveling all the way from Australia!"
The casual reception will take place on the Basin Patio at 1:30pm with Summit County radio station, KSMT The Mountain, emceeing.  The reception will feature wedding cake, libations and a cider toast for all participating couples and registered guests.  Couples and guests that have not pre-registered can purchase lunch and admission to the reception for $15.  Couples wearing ski-wedding attire will be entered into the best dressed contest with prizes from Rocky Mountain Bride Magazine, The Hotel Chateau Chamonix, The Alpine Restaurant & Bar, Coors, Coca-Cola, KSMT MTN Town Magazine-Colorado and Loveland Ski Area.
You can literally take her breath away on this day. Congrats to everyone and best wishes for a beautiful loving life together. Happy Valentines Day!
~MTN Town Magazine
Photos Courtesy of Loveland Ski Area
MtnTownViews.com is MTN Town Magazine's daily journal blogging about Colorado's mountain towns and resorts. Like them on Facebook and Follow on Twitter. Click the cover to read the Winter 2012-13 Issue.
© 2013, MTN Town Magazine. All rights reserved. Republication, in part or entirety, requires permission.