Island Getaway's That Best Suit Your Mountain Town Personality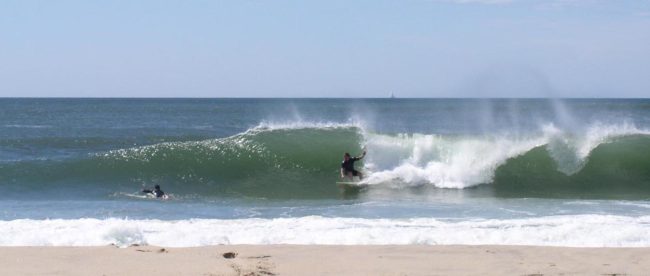 Which island oasis best suits your Colorado mountain town's personality? Breaking down the 28 Caribbean island nations into vacation destinations can be overwhelming. We'll do the work for you based on your mountain town residence and properly place you in lush landscapes this winter prime for preferred trend, privacy and activities. This is the first of a three series article. Stay tuned!

Minturn to Trinidad & Tobago
You're a tale of two towns-extremely tiny, yet a driving force in the Vail Valley. You're authentic, old school, present a rocking Main Street, rustic, and have strong local community. The dual-island nation of Trinidad and Tobago (you will be need a passport between countries) but of one government and country is your winter escape for all the qualities that make you Minturn. Trinidad is the business, financial and surprising fashion capital of the Caribbean. Tobago is much more laid back and focused on land and beach preservation. You understand, you are remote, yet accessible and intriguing, just like Trinidad and Tobago.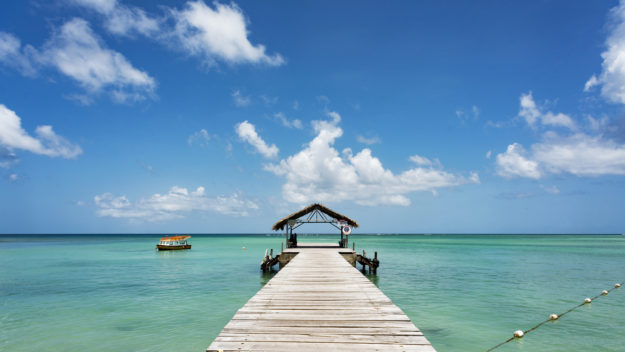 Island Size                  Roughly 2,000 square miles       
Population                 1.37 million    
Best Way to Arrive
Port of Spain, Trinidad, is a hub of transportation for the Southern Caribbean with multiple airlines servicing Piarco International Airport (POS).
Choice Activities
Trinidad goes off for Carnival if you need an escape the first week in March. Try your hand on the Steel Pan, the drum originated on the island. Experience the nightlife that goes until the wee morning hours and don't forget calypso and limbo. For the adventurer in you, try your hand on a stick shift jeep up roads steeper than most paved in the Rocky Mountains. In Tobago, the world famous Pigeon Point Heritage Park offers food, drink and a multitude of water sport along with gorgeous beach. The island is known for snorkeling, scuba diving and pristine beaches.
Where to Stay
The world's first upside down hotel is located on Trinidad. The Hilton Trinidad & Conference Centre is a favorite amongst corporate and airline staff for its proximity to airport, city and beach, but more importantly a good night's sleep before you start adventuring to more remote areas. For the Minturn vacationer, go Air B&B and to more remote beach areas of the country. Tobago is an awesome two-night stay and easily accessed via a cheap, 25-minute flight. Magdalena Grand Beach & Golf Resort, Blue Waters Inn and Kariwak Village Holistic Haven and Hotel are all very different from one another and worth an investigation. (www3.hilton.com, bluewatersinn.commagdalenagrand.com, kariwak.com)
What to Eat
Bake and Shark, the island's street food of fried flatbread with fried shark loaded with nearly a dozen options of condiments.  
Don't Miss
The views of Venezuela, you're less than seven miles from the coast of South America. The dual islands are known for their Leatherback turtles both onshore and while snorkeling.
Eagle to Grenada
Eagle is family-friendly, extremely accessible, well-educated, and health and wellness are at the forefront of your daily routine. Your gem in the Caribbean is Grenada. Swap out views of the Sawatch Mountains for views and activities around at Mount St. Catherine rising to a peak of nearly 2,800 feet. For adventurers, this translates to incredible hiking, waterfalls, beautiful, bountiful agriculture, just like home in Eagle County.  Grenada HashHouse Harriers runs through countryside, beaches, or up the mountains and is certainly wacky and spot on for families. The local markets, boats to other remote islands, cradle of spices and bounty of activity entice you to explore.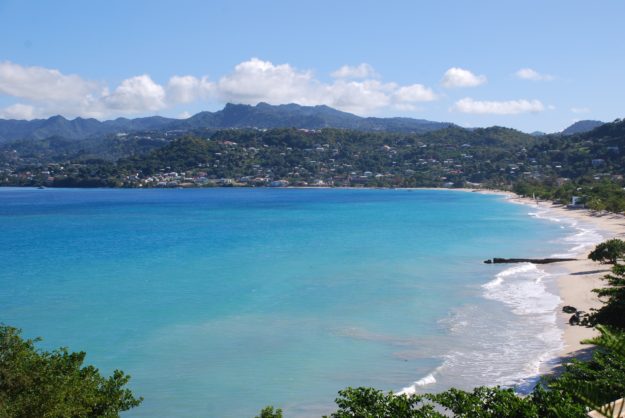 Island Size:     100 square miles    
Population:    110,000 people 
Best Way to Arrive
American Airlines has a non-direct flights through DIA that are the easiest amongst the airlines and you can snag a round trip ticket for under $500.
Choice Activities
The "island of spice" inherited its moniker from the island's rich soil and ability to grow abundant plants and trees. Experience the land in a multitude of ways-through farm, forest and to Annandale Waterfalls with Sun Hunters and their ATVS,
Depart for Annandale Waterfalls and Forest Tour compliments Sun Hunters;  visit Gouyave Nutmeg Processing Station to see the island's true gold and how the community-based legacy is still a vital part of the Grenada; dine at Belmont Estate, a an agritourism experience with chocolate and other farming, roasting and more; play on Grand Anse Beach, one of the most famous beaches in all of the Caribbean with an impressive 2.5-mile stretch of sand-the land is the true uniqueness of this island.
Where to Stay
True Blue Bay Resort is not on the sea, but the rooms, pool, dive shop, restaurant and docks are a standout in the bay. A new Kimpton property will open in 2020, but until then the Calabash Luxury Boutique is one of the island's highest end offerings for families. Low key, perfectly situated, family-owned Kalinago Beach Resort has nearly 30 rooms, one of the best locations directly on Morne Rouge Bay and plenty of family activity choices and programming and beverage and cuisine in which to choose. (truebluebay.com, kimptonhotels.com, kalinagobeachresort.com)

What to Eat
Callalou soup, a Caribbean leafy, green soup, but Grenada's has the extra good spice; Roti, flour-based wraps filled with a variety of meats or veggies such as fish, vegetable or popular curry chicken; the island's curried goat; lambie, a conch soup; the island is called the island of space so get in on the over dozen native spices such as nutmeg, pepper, tea, etc.
Don't Miss
The Saturday Farmers Market at the Grenada Spice Market and also the Friday night food truck gathering at Wall Street with classics such as an island burger out of a van, lambie, plenty of beer and more.
Telluride to Dominica
Isolated, private, stunning, nature-oriented; one could be talking about Telluride or the island of Dominica. The few that do live year-round in this insanely special spot are the blessed and have great appreciation for tranquility, off-track luxury and true remoteness. Set your plans for Dominica, the "Nature Island of the Caribbean." Dominica is the most mountainous island in the Lesser Antilles, the northernmost of the Windward Islands and has ridiculous natural wonders such as Boiling Lake, a UNESCO World Heritage site, and the world's second-largest hot springs, now that speaks to the peeps of Telluride.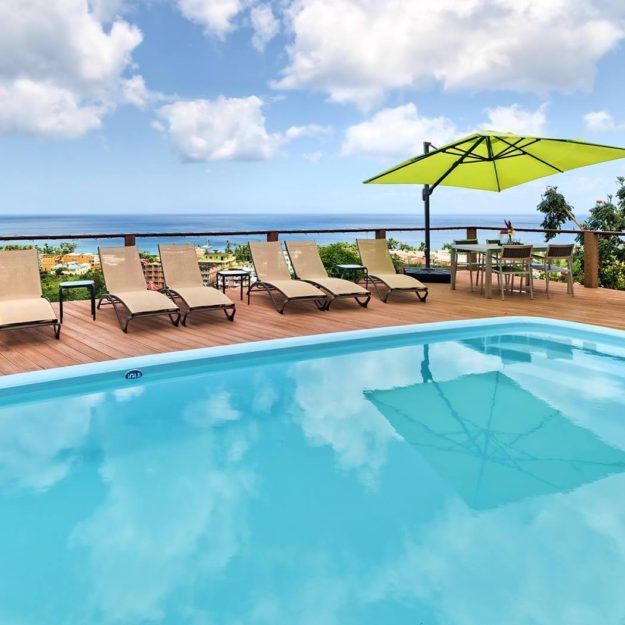 Island Size: 290 square miles
Population: 71,000 people
Best Way to Arrive
This might be one of the most remote of the island paradises to access, might sound familiar to those from Telluride. There are no direct flights, truthfully, you likely will have to take three flights, but it's worth the trip for the solitude and serene setting.

If you're feeling like that might be too much and want a more comfortable way to travel, think private jets. Whether you're planning an island vacation with your favorite people or thinking of going solo, chartered planes like Jettly Private Jets could help you get there and back in the lap of luxury. Plenty of websites nowadays offer bookings for seats on these private flights (or even the entire flight).
Choice Activities
Dominica's coastline is picturesque with white-sand beaches on the west side of the island. The island is consistently ranked as a top diving destination for coral reefs and volcanic activity. Wildlife sightings include a pod of sperm whales that live in the area year-round, and turtles that nest in the sand. Explore the Emerald Pool Nature Trail, Titou Gorge, tour Fort Shirley, explore the island via Jeep Sarai Tour, stroll Champagne Beach, navigate Indian River or visit the Bois Cotlette Estate for the island's best sampling of agritourism and buildings from the 1700s.

Where to Stay
The Champs, Hotel, Restaurant & Bar is tiny, intimate, keen on detail and personal attention and perched on the hillside in Picard. Secret Bay is the most luxurious option, away from the major population center, also located on a cliff top overlooking the Caribbean there are just six villas and bungalows immersed amongst the five-star experience and amenities of the resort. hotelthechamps.com, secretbay.dm

What to Eat
The cuisine on the island is similar to that of Trinidad. There are salt fish dishes everywhere on the island and popular produce includes yam, plantain, tania, potato and pea.

Don't Miss
Dominica is also the only island to have a remaining population of Kalingo natives, making up roughly 3,000 to 4,000 members of the island community. Their influence is spectacular and hands-on throughout the island.
Steamboat Springs to Turks and Caicos
You're a bit isolated, but you're culture is world-renown. Cowboy, rancher, entrepreneur, you're a lover of hot springs, fly-fishing, all-mountain sports; but you also understand luxury and respite. The islands of Turks and Caicos are synonymous with offshore financing and tourism with pristine beaches, some of the best in the Caribbean.  Posh resorts dot the landscape of the seven islands. Swap champagne powder for champagne sand, little rain and low elevation. These islands are stunning, and the white sand and aqua waters will remind warm your bluebird-raised soul.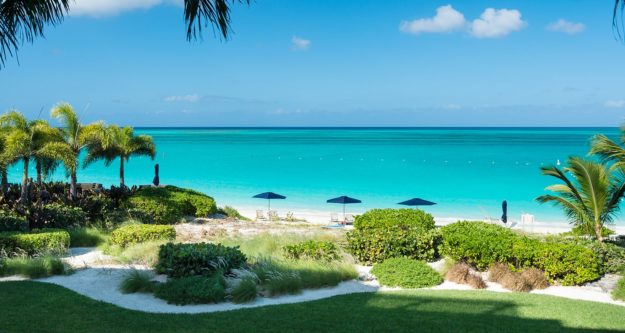 Island Size:     238 square miles    
Population:    31,500 people 
Best Way to Arrive
Southwest Airlines even flies to these island gems, with a layover. It's a private plane or commercial plane, either way; it's a bit of a haul, but some of the closest islands to the United States. You can also take domestic ferries between the islands.

Choices Activities
You come for the beaches. Start with seven-mile long Grace Bay Beach on Providenciales then explore smaller and more diverse options on other islands including Leeward Beach, Mudjin Harbour, Long Bay Beach, Half Moon Bay and a dozen more. Boating options include, fishing, diving, snorkeling, kite surfing, sightseeing, and tours to inhabited parts of the islands, yachts and much more.

Where to Stay
Grace Bay Beach is a popular spot. The Palms Turks and Caicos is a 72-room, all-suite beachfront resort with lux amenities-an infinity pool and swim-up bar, al fresco award-winning Parallel 23 restaurant, croquet lawn, tennis courts, and complimentary water sports. Bianca Sands on Grace Bay is a full-service luxury resort with 30 oceanfront suites, fully equipped kitchens, outdoor infinity heated swimming pools, two Jacuzzis, Italian inspired courtyard, poolside bar, fitness center, and lighted tennis courts. Ocean Club Resorts is comprised of two all-suite, deluxe beachfront resorts perfectly situated on Grace Bay Beach known for "stay at one, play at both" policy, the resorts offer a variety of activities and amenities including watersports, bike rentals, three fresh water pools and more. (thepalmstc.com, biancasandsongracebay.com, oceanclubresorts.com)

On the other side of the island are Shore Club Turks and Caicos, the first and only development on the secluded Long Bay Beach. Perfect for families are four 8,800-square-foot, luxury, oceanfront villas with six-bedrooms, five in the main house and one detached, each villa boasts its own heated pool, private courtyard, expansive terraces, etc. theshoreclubtc.com
Also on Grace Bay Beach is Gansevoort Turks + Caicos with 91 guestrooms and the newest addition to the destination resort Gansevoort Villas, seven brand new four- and five-bedroom oceanfront villas overlooking the bay at Turtle Tail, just a short drive from the resort with expansive indoor-outdoor living areas, a sunken outdoor fire pit lounge area, an over-the-water swimming platform with direct ocean access, and incredible services and amenities including an ocean-view fitness center and access to the resort's restaurant, bars, spa and boutique. gansevoortturks.com
What to Eat
Local grouper, snapper, jacks and tunas that are usually pan-poached and fried. Conch is extremely popular as well as drought resistant plants that tolerate the island's soil-maize, okra, beans, squash, papaya and plantains.

Don't Miss
Chalk Sound National Park. The lagoon is selfie-perfect aqua and birds and flora and colorful. Grab a stand up paddleboard or a kayak for the best excursions in the Park. turks-and-caicos.org/chalk-sound

by Julie Bielenberg
Low maintenance, high-yield! Julie Bielenberg is a Denver-based writer. She has three young children aged ten years and under-Hank, Dora and toddler Addy. Bielenberg and her family are on the road 80 to 90 nights a year in search of travel and leisure activity for outlets and assignments. Julie is known for being extremely low maintenance and a high-yielding journalist. She contributes over 75 travel stories per year to various outlets including: AAA, USA Today's 10Best, 5280 Magazine, Family Vacation Critic,Westword, Colorado Meetings + Events, Mile High Mamas, Mountain Town and Mountain Meetings Magazines, Real Food Traveler and many more. slowandgo.org
Mountain Town Magazine | We are Colorado's Mountain Town Magazine
Copyright 2019 MTN Town Magazine all rights reserved.