Frisco Fat Bike Race – Fun!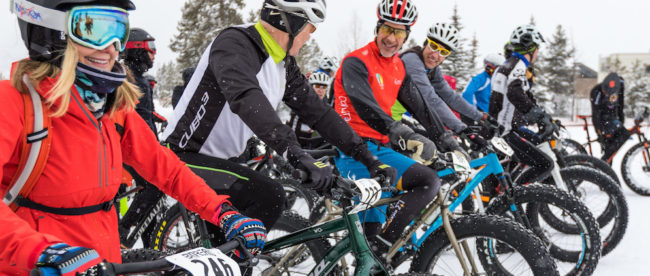 The Town of Frisco and the Frisco Nordic Center have been producing some amazing events. Here is another one for them to add to there list and yours: the 3rd Annual Frisco Freeze Fat Bike Race. On Saturday, February 23, the Frisco Freeze Fat Bike Race will kick off at 3:00 pm at the Frisco Nordic Center. Rebel Sports will be onsite at the race with fat bikes available for demo on a first come, first served basis.
This will be the only chance this season to ride a fat bike on the Frisco Nordic Center trails, as fat biking is otherwise not permitted at the Frisco Nordic Center. Racers will complete 3 laps for a total distance of 14k of racing along the groomed trails of the Frisco Nordic Center, starting and ending near the Frisco Nordic Center lodge.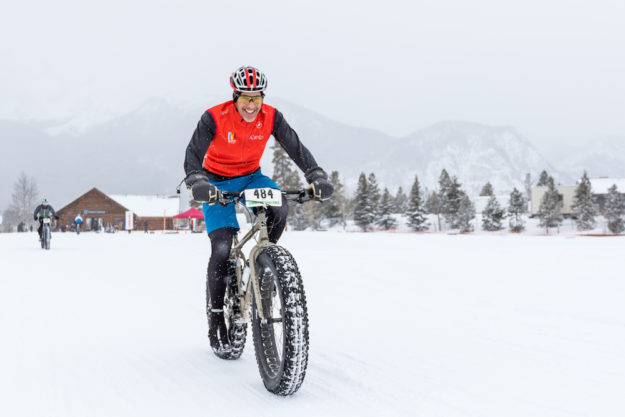 The race course will be also open from 2:00 pm – 5:00 pm on the day before the race, Friday, February 22 for racers to pre-ride. The fee to use Nordic Center trails is $25, and anyone arriving to pre-ride the course on Friday must first pay and check in at the Frisco Nordic Center Lodge. There will also be an opportunity to pre-ride the course from 2:00 pm-3:00 pm on Saturday, February 23 for registered racers. This is included in the race registration fee.
There will be six categories of racers: Pro-Open Men, Amateur Men 18-39, Amateur Men 40-49, Amateur Men 50+, Junior Boys 17 & Under and Open Women. Awards will be given to the top three racers in each category, and the awards ceremony will take place immediately following the race at the Frisco Nordic Center. Registration fees are $40 in advance and $45 day of. Youth 17 & under will receive a $10 discount on race fees. Online registration and more information are available at FriscoNordic.com. Participants may also register by calling 970-668-2570.
A little bit about The Frisco Nordic Center; The facility sits 9,100 feet about sea level, and trails are groomed by a state-of-the-art Prinoth snowcat for both classic and skate skiing techniques, and snowshoeing. The Center offers a wide variety of instruction from FNC's professionals; top-grade rental skis and snowshoes; and a handsome log day lodge with a small retail store for the necessities, snacks and drinks.
Photo Credits: Joe Kusumoto