Fat Biking Fever in Crested Butte and Beyond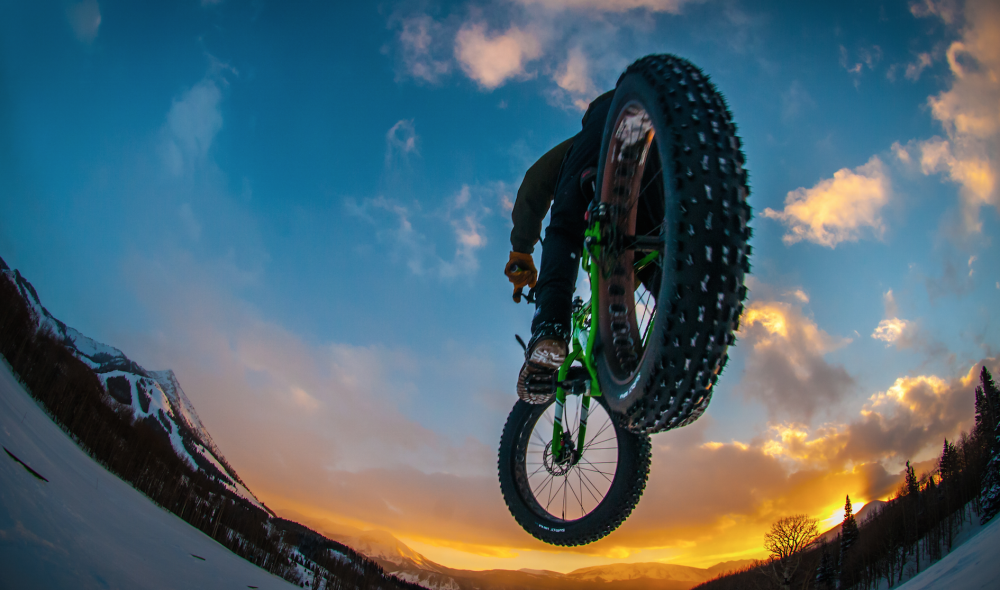 Fat Biking fever is sweeping through mountain towns around the US as winter destinations look to expand on activities other than skiing and the ever-loved après scene.
It's no surprise that Crested Butte is leading the charge considering the town is a bike mecca in the summer. It feels like a prerequisite to own at least 3 different bikes to live here. The town rallies around biking with Crested Butte Bike Week every June, Bridges of the Butte and the Chainless, not to mention spontaneous townie tours erupting for anything from full moons, fundraisers, parties, and even 4/20 when there isn't snow on the ground. Some people have a summer townie and now a fat bike winter townie while some people are even riding fat bikes in the middle of summer on dirt trails, because, why not? Did you know the fat tires provide more natural suspension?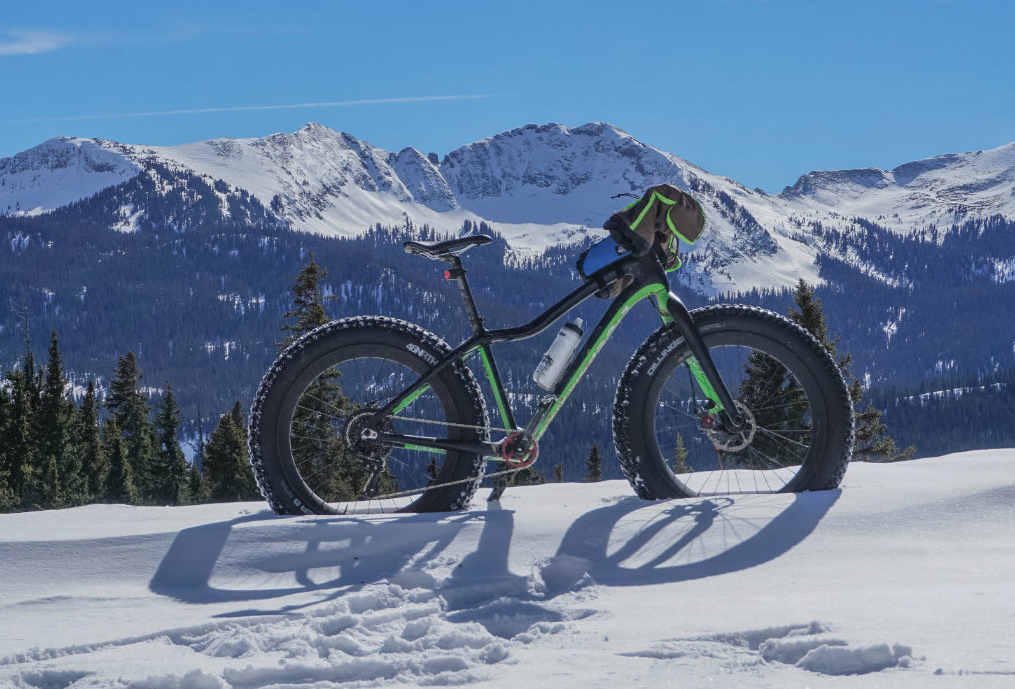 Crested Butte, CO, a name synonymous with mountain biking, is one of many towns incorporating fat biking into the winter sports scene. with rentals available at four locations in town and even the Nordic Inn including a free rental with your stay. Crested Butte Mountain Resort (CBMR) allows winter fat biking on the resort outside public lift operating hours. The local Crested Butte Mt. Crested Butte Chamber of Commerce has spearheaded the fat biking initiative by coming out with a local fat biking guide, grooming fat-bike specific trails open to all users, and most importantly, announcing the inaugural Borealis/Odell's Fat Bike World Championships coming up January 27-31, 2016.
With winter's climate becoming more variable, it's becoming easier to ride throughout the winter. Popular mountain biking trails like the Upper Loop have been riding well into December. Hartman Rocks, a big single-track system just south of Gunnison, is only 40 minutes away and often has sunny skies and low snow. It's no secret that you do not want to be fat biking in fresh snow unless you like the feeling of slogging through sand and pushing your bike. Riding single track, either groomed or on a mountain bike trail, is really where people familiar with mountain biking will love fat biking.
With Fat Bike Worlds coming up, as the aforementioned Borealis/Odell's event is affectionately being called, the town is gearing up for a grand weekend January 27th through the 31st. "We've been hosting Fat Bike races for the last 4 years in Crested Butte so Worlds is a chance for us to step it up a notch and showcase it to our community," says Dave Ochs, the Director of the Chamber of Commerce. "We are bike culture here in Crested Butte, and fat biking is just a way to bike all year around, so we see this kind of becoming a winter version of CB Bike Week," he continued. The Chamber expects all types of riders from seasoned pros and world-class athletes to beginners looking just to try fat biking to attend the event. There will be 18 vendor tents over 4 days of activities and races and you'll have access to fat bikes just by registering to race, you don't even have to own one.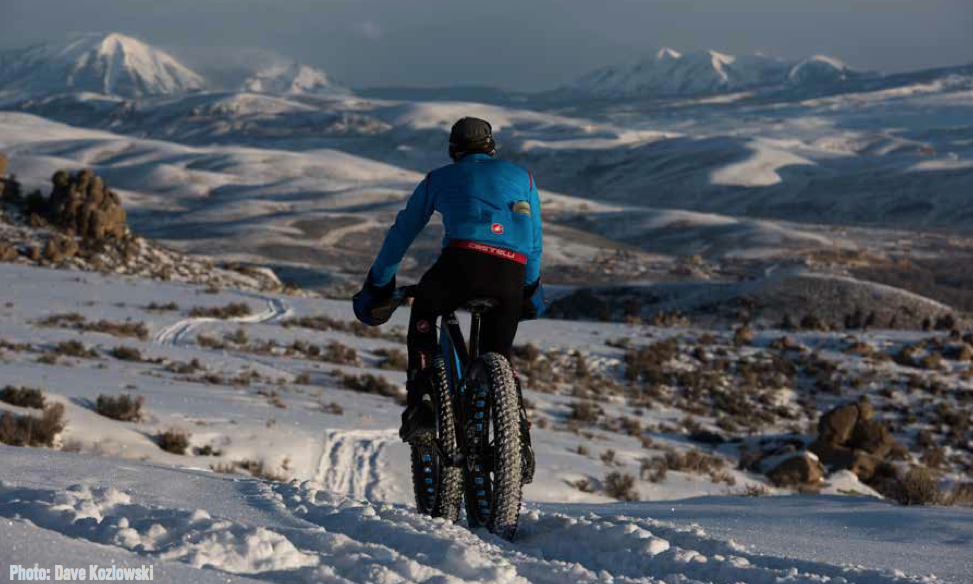 We know Crested Butte has more than its fair share of ridiculous endurance mountain biking athletes, and Neil Beltchenko, a recent Colorado Trail Race winner and 3rd place finisher of the Trail Divide race, looks at fat biking as more than just another winter recreational option. "With Crested Butte's name in mountain biking," Neil says, "it's natural for Crested Butte to host this Worlds event." But what about getting used to the actual sport? Neil explains, "There really isn't much difference to mountain biking other than wearing warmer clothes; don't forget to wear slightly bigger shoes so that you keep the blood flowing in your feet on those extra cold days or nights." If you haven't tried this sport yet it seems like you should be getting into it, right? "Just going out on groomed trails is a novel experience in itself, but people are really getting into it on established trails like the Upper Loop trail system," says Neil. "There are enough people with fat bikes in town riding the Upper Loop we are going to be able to maintain the trails just by riding them through the winter, not to mention the single track Lily Lake loop that the Chamber has been grooming is so ridiculously fun, " he adds with a smile. Both loops will be connected into events at Fat Bike Worlds, and are ready to ride right now in Crested Butte.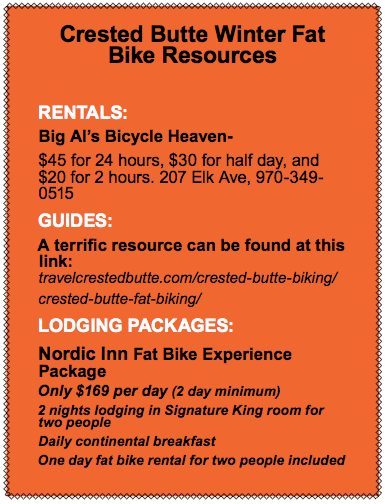 As with any new sport, there is a transition period and what one might call growing pains. There have been questions about access and trail use balancing between backcountry snowmobile users and the Crested Butte Nordic Center. "It kind of feels like snowboarding," says John Norton, the director of the Gunnison- Crested Butte Tourism Association and long time ski industry expert, touching on the beginnings of a new sport. If you don't know by now, snowboarding saved skiing in the '90s not just by rejuvenating the numbers on the hill but affecting ski design and technique. "There isn't just one solution to filling empty beds during winter in Crested Butte, we need a growing number of alpine skiers, Nordic skiers, fat bikers, back country skiers and others to fill those spots." People are respecting that the fat biking is bringing in business. Not to mention, "When we need a rest from skiing on the mountain, a fat biking day may be just the ticket to keep us outside and in good health," Norton adds.
Be sure to check out the Nordic Inn Crested Butte Fat Bike Experience Package.  This winter they have teamed up with a local bike shop to offer you a great deal for your stay and ride in Crested Butte: Fat Bike Experience Package – Only $169 per day (2 day minimum) -2 nights lodging in Signature King room for two people, Daily continental breakfast, One day fat bike rental for two people included. Use promo code FB16. With plenty of trails to ride in the area check out this guide for more information: CB Fat Biking Guide
So what are you waiting for? If you love mountain biking or are just looking to switch up the winter activities, fat biking is something you need to try. With the winter climate becoming ever harder to forecast, fat biking isn't just fun in the winter months, it's common sense! John Norton, a man who understands the boom and bust nature of mountain towns and sport fads, explains: "I'm not suggesting that fat biking is going to replace skiing—in all
its forms–as the anchor sport here. But I do believe it could join skiing as an anchor sport." That might seem like it's saying a lot but what can you say, Crested Butte and bikes go together like skis and a chairlift and fat bikes are here to stay. Get out here and get on one!
~Written by William Dujardin, WestElkProject.com
Featured Image by Trent Bona Photography
MTN Town Magazine– We are Colorado's Mountain Town Magazine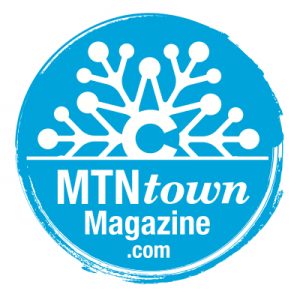 MTN Town Magazine Copyright © 2015 MTN Town Magazine all rights reserved.