Escape to An All Inclusive Resort in Cabo San Lucas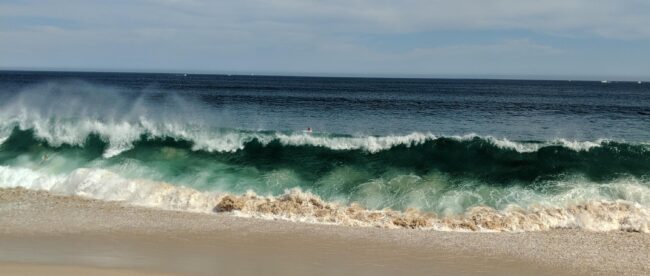 Escape to An All Inclusive Resort in Cabo San Lucas? Looking to gather with a group of friends and family in a relaxing tropical locale? My daughter and I discovered the perfect winter getaway for a friend and family celebration at Villa del Palmar Cabo San Lucas in Cabo San Lucas. 
When you live in a resort community where others are dying to vacation, it seems silly to some to want to escape. Living in a mountain town is a dream come true. There are beautiful views, outdoor activities, and a connected community, but sometimes you dream of soft white sand rather than fluffy snowfall and sunny warm weather to tan your pale, winter skin.
I dug out the summer clothes and said goodbye to spring skiing to escape to the famous tropical destination of Cabo San Lucas. This Mexican town is a mecca for college spring breakers. Our scheduled week of Spring Break doesn't align with our community's resort-driven calendar. (A little secret, most mountain town public school calendars accommodate area workers and businesses since this is our region's most significant tourism week). For us, the Spring Break holiday is pushed into mid-April. Once college students return to school, beach resorts offer great rates and an off-season feel. Escaping from crowds is a joy.
Picking a hotel in a foreign country can be daunting as you're researching a place based on a stranger's biased reviews. We tend to go with word of mouth and had heard locally that the Villa del Palmar Cabo San Lucas was a fantastic all-inclusive resort with a swimmable beachfront that perfectly accommodates large groups. We were going to have a lot of people.
This trip was our final holiday as parents and high school "Seniors." We wanted to vacation as one big group of parents, some grandparents, kids, and young adults.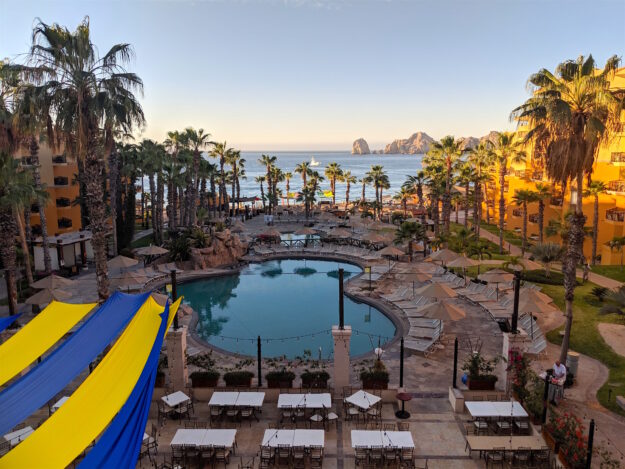 The Villa del Palmar Beach Resort & Spa Cabo San Lucas could serve a mass of people. Since our group booked different types of rooms, I could see the style and set up of accommodations for families big and small. Everything from comfortable hotel rooms to Penthouse suites was available, and they were beautifully furnished with kitchens and space to kick back and relax.
The food was astonishingly good, given the reputation of all-inclusive resorts. Guests could book a room only offering a classic hotel room or add an All-Inclusive package for unlimited food and drink. Guests were issued a wristband to be worn at all times giving access to unlimited food and beverages without the need to carry a wallet. There were seven main restaurants to choose from and a market to stock your room (not part of the all-inclusive package). All were sit-down restaurant establishments except for the sports bar with order-to-go pizza.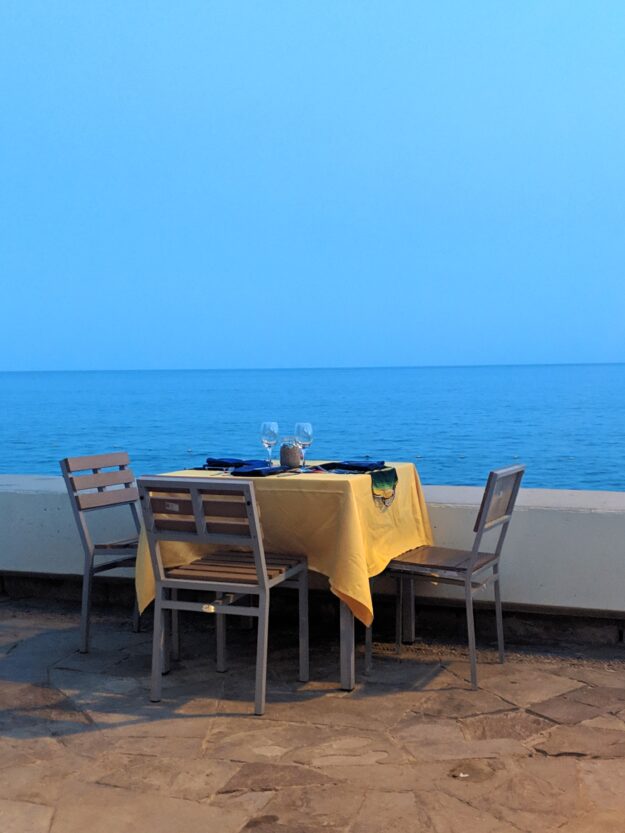 The largest restaurant was an open aired sit-down dinner and breakfast with a breathtaking morning buffet. A second excellent beachside cafe, the Carbon Grille, was opened for dinner and served outstanding grilled meats, seafood, and vegetables on the cutest miniature tabletop grills. Bars were all over the resort and would hand you a drink whenever you asked. Beachside bar service was available during daylight hours too. My favorite was Sushi Original, a little sushi shack at the resort with the freshest fish and an eye-catching presentation. It beat most of the sushi restaurants I have experienced in our mountain towns. Local food vendors and restaurants were only a few minutes walk from our location, but the resort's offerings were so good we did not feel compelled to wander off.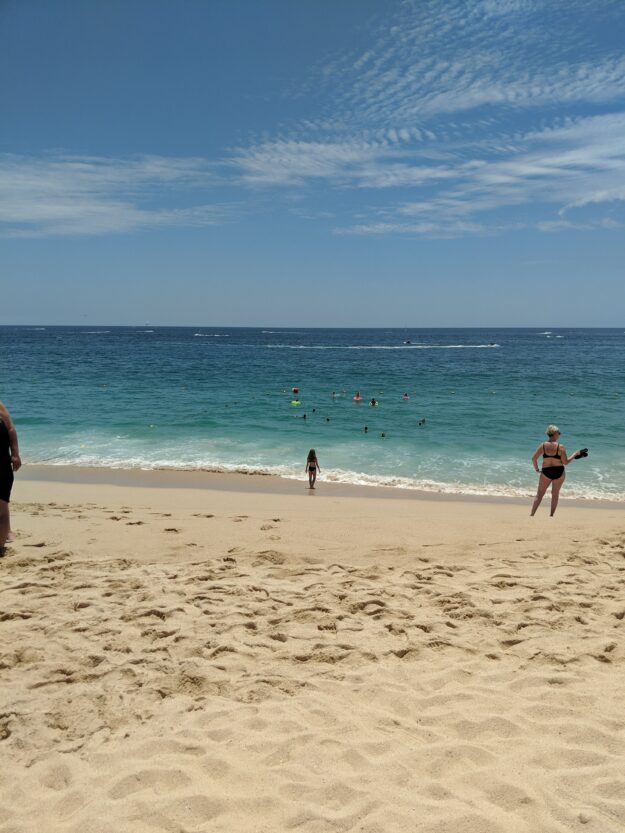 The water on the beachfront wasn't the soothing, flat of azure waves that people imagine when they think of beaches. The beach at the Villa del Palmar drops off quickly, causing the water to rise up and crash down with spectacular force. Some could be injury-inducing if you weren't paying attention. Since our group was an active, daring bunch, we grabbed tubes and rode the biggest waves before being washed out in the sand. They rope off the ocean swimming area so you can't swim too far out to where area riptides exist. There are no lifeguards, but the resort's security lets you know when the ocean is dangerous and should not be entered for recreation.
On the beachfront, many vendors were expected in many foreign beach town communities. Some find them irritating, constantly selling their wares, but I loved browsing the beautiful products and hearing well-thought-out sales pitches while I practiced my Spanish. For those who didn't want to see vendors, there was an area to escape their attention.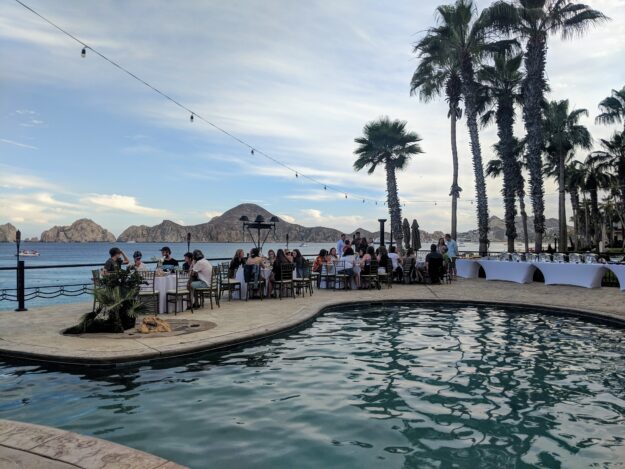 The Villa Del Palmar Cabo San Lucas offered many activities. Their offerings included nightly musicals, salsa dancing, swim lessons, fashion shows, and more. Several pool areas were available on the resort grounds for those who wished to swim. There was an adult-only pool, a shallower pool to cool down, and a kiddie pool area too. The giant whale slide in the kid's section was surprisingly fast and could possibly take off your bathing suit, so be warned but have fun.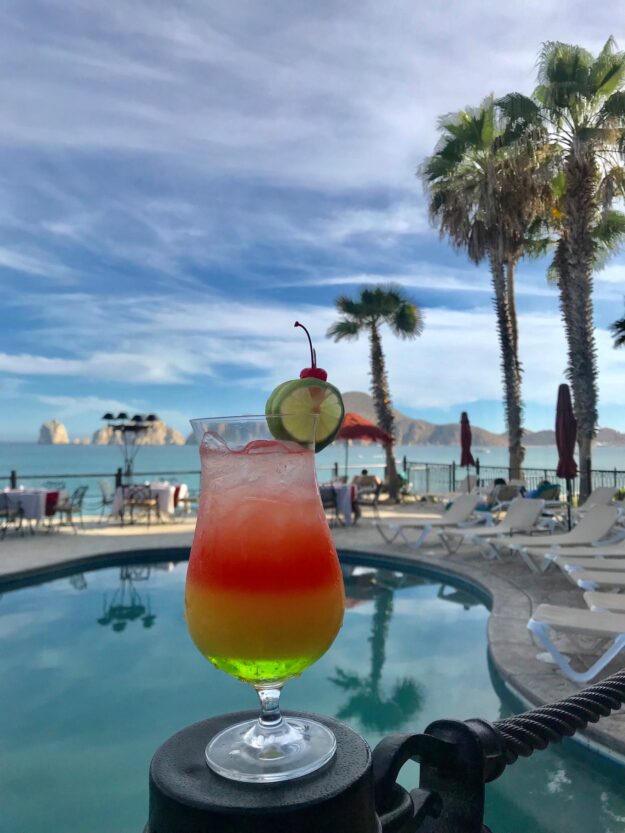 Drinking is a part of group travel to Mexico, and the legal age of consumption is 18. Because the drinks are cheap and vacation means sleeping, choosing an all-inclusive resort was an intelligent choice. Nightclubs included great entertainment, expensive drinks, dancing, and occasional strip shows. Many clubs on the main strip were a cab drive away. Once dropped off, you could begin the club crawl. We voted El Squid Roe our favorite among all the clubs we visited because of the venue's multi-themed floors, games, music, and dance opportunities.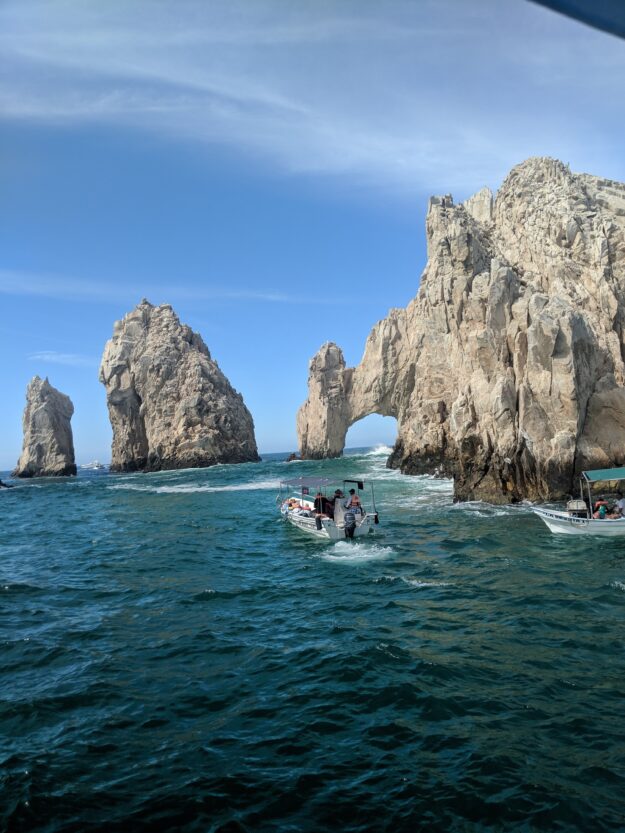 There are a ton of opportunities to recreate. Paddle Boarding, sunset cruises, parasailing, snorkeling cruises, fishing, ATV Tours, golf, and more are all available. We had our entire group of 50 head out with Cabo Blue on their Trimaran Sailboat for a cruise and snorkeling adventure. The crew was fantastic, along with the lunch and beverage selection.
While visiting any foreign location, the first thing people should be concerned about is crime. As a traveler, it is of the utmost importance to be aware of the dangers and stay updated on area news. Personally speaking, I neither saw nor experienced crime whether I was in the private, secured resort or downtown Cabo San Lucas.
Visiting Cabo's downtown was a lovely beach walk away. Stores and gift shops, the marina, restaurants, clubs, pharmacies, and hotels dotted the streets. The local residents were very friendly and accommodating.
If you're looking to escape to an All Inclusive Resort in Cabo San Lucas, we vote yes on going to an all-inclusive resort, especially Villa del Palmar Beach Resort & Spa Cabo San Lucas. It made our stay fun, hassle-free, and a trip to remember for a long time to come.
by Holly GoSpritely
Suggested Contacts:
Villa del Palmar Beach Resort & Spa Cabo San Lucas
Cabo Blue Trimaran Cruises
Airport Shuttle Service
www.loscabosairportshuttles.com
For More Travel Ideas: Treks & Travels
Story Sponsored by Ski Cooper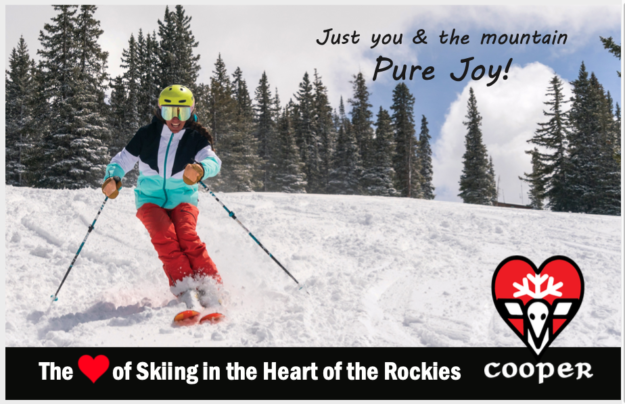 MTN Town Media Productions | Celebrating the Colorado mountain lifestyle
Copyright 2023 MTN Town Media Productions all rights reserved.