Colorado MTN Town Events December 7 -10, 2012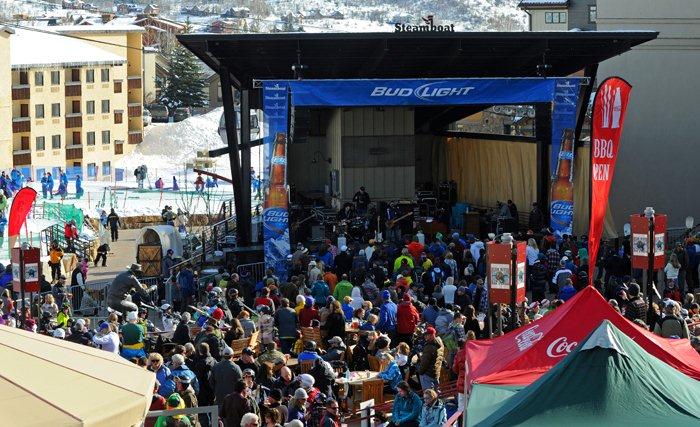 The events are non-stop at Altitude in Colorado! The MTN Town Weekender Newsletter went out. If you haven't subscribed click here SUBSCRIBE  In the meantime here is the 411 for the Weekend:
DO

It's a Far-Out 40th Birthday at Copper Mountain this weekend!

FRISCO EVENTS

Wassail Days,The Lighting of Frisco and The Best of the West Chili Cook-Off all this Weekend!

VOWS

Get married in the mountains.

 

EAT

Winter Park Resort has some Great Cafes.

STAY IN TELLURIDE

Great lodging and accommodations. Telluride.com

LISTEN

Some Chill Music over the Holiday.
PREMIERE MOUNTAIN TOWN EVENTS
December 7 – 30, 2012
Wheeler Opera House, Aspen
For more information please visit http://www.wheeleroperahouse.com/
December 7 – 30, 2012
Backstage Theatre, Breckenridge
For more information please visit http://www.backstagetheatre.org/pages/index.htm
December 7 – 30, 2012
Sheridan Opera House, Telluride
For more information please visit http://www.sheridanoperahouse.com/
December 7 – December 28, 2012
The Polar Express, Durango
The award-winning book comes to life on this magical journey to the North Pole and back! The journey begins November 16 and runs through December 28. All passengers will enjoy hot chocolate and a treat served by your personal chefs who will also read the Polar Express story on the way to the North Pole to pick up Santa! While Santa visits each car, your chefs will lead you in specially selected Christmas carols on the return to Durango. All the kids aboard the train will receive a special gift from Santa! F or more information seehttp://www.durangotrain.com/events/2012-polar-express
December 7, 2012
Light Up Carbondale, Cabondale
Children and adults of all ages are invited to light up downtown Carbondale and welcome Santa. The trees that line Main Street will come to life when Santa reaches the 4th Street Plaza. This is a chance to mingle with friends and family and tell Santa what you would like for Christmas. There will be carolers, and free hot chocolate and cookies to keep you warm.

December 7 –  2012
Telluride Arts Bazaar, Telluride
The Telluride Arts Bazaar was established in 1983 and has developed into a lively holiday tradition that today features the work of over 40 regional artists. The Telluride Arts Bazaar features work of the regions' many excellent artisans. A variety of works are available, including handmade jewelry, sewn and knitted clothing and accessories, toys, sumptuous local foods, house-wares, candles and so much more. The Bazaar offers an opportunity to buy thoughtful, truly unique, high quality hand crafted gifts AND support local artists, artisans and a vibrant local economy. For more information please visithttp://www.visittelluride.com/festivals-events/calendar/2012-12-07/clone-telluride-arts-bazaar
December 7 – 14, 2012
Breck Snowflake Challenge, Breckenridge
Starting back in the 1960s a group of locals started the winter carnival known as ULLR Dag Days, (it's pronounced "dog") now known as ULLR FEST. One of the features of the festivities was a local snow sculpture contest that was held on Main Street in front of and next to local shops and restaurants. In the late 1980's the event evolved into the Colorado State Championships when TEAM BRECKENRIDGE took the sport to the next level, ultimately helping to start the International Snow Sculpture Championships here in Breckenridge, now in its 21st year! But the size and complexity of the event required that it be consolidated into one sculpture park, and the zany delight of Snow Art was lost from Main Street. For more information please visithttp://www.gobreck.com/breckenridge-snowflake-challenge
December 7-9, 2012 
Holiday Art Bazaar, Telluride
This year we made space for nearly ten more artists to showcase their work. Great holiday gifts that notonly sustain our local economy, but support Telluride's art community and local artisans. Come, shop, and enjoy the spirit of the season with all your favorite local artists and Telluride Arts. Something for everyone and everybudget. Location: Telluride High School http://telluride.com
December 8, 2012
Opening Day for skiing on Aspen Highlands, Aspen

December 8, 2012
Ski & Snowboard Demofest, Winter Park
This years' Ski & Snowboard Demofest is a one-day event featuring some of the best manufacturers in the industry giving you a chance to try their new equipment for the 2012/13 season. A variety of manufacturers will be on hand to introduce you to their new products. This is a FREE demo located at the base of the Zephyr Express lift. Participants must be 18 years or older with a valid drivers license, or under 18 with parental consent, to participate.  For more information and registration please visithttp://www.winterparkresort.com/events-and-activities/events-calendar/event-details/2012/12/1208-demofest.aspx
December 8, 2012
Groovy Chase Snowshoe Race, Copper Mt.
The Gobbler Chase Snowshoe Race has been rescheduled to coincide with Copper's 40th Anniversary Celebration on December 8 with a new name, the GROOVY Chase Snowshoe Race! For more information please visit http://www.coppercolorado.com/winter/events_and_activities/calendar/133253448
December 8, 2012
HANUKKAH at the ST. REGIS ASPEN RESORT, ASPEN
Daily, Rabbi Mendel Mintz will kindle lights of the Menorah in the lobby and recite the traditional Jewish blessings over the candles.  On the 15th, after the last candle is lit, traditional latkes and treats will be served. Time: 4:45pm – 5pm http://www.stregisaspen.com/resort/food-drink/festive-events/
December 8, 2012 
An Evening with Jerry Joseph, Telluride
Rocker Jerry Joseph, of Stockholm Syndrome and the Jack Mormons, plays the historic Sheridan Opera House for an intimate seated show on Saturday, December 8, 2012. Joseph is one of those songwriters that juststrikes down to the heart of things. Even when they're being tender, they nail you in the soul's solar plexus, shaking us with words and wires and something inescapably human. Joseph is one of those rockers with an emotional scalpel that cuts deep every time. He wears his influences on his sleeve —  lvis Costello, Neil Young, John Lennon, Steve Earle — but tailors them in ways that are always distinctly himself, probing the politics of love and nations with equal dexterity.
http://www.sheridanoperahouse.com
December 8-9, 2012
Copper Mountain's Far-Out 40th Birthday Bash, Copper Mountain
Copper Mountain Resort is celebrating its 40th Season! WOW they just keep getting better with age!!! This is the weekend to get to Copper for their far-out 40th Anniversary bash. $40 is all you need to get your groove on! There are some killer specials throughout the weekend including, you guessed it, $40 lift tickets, $40 Woodward Intro Sessions at the Barn, $40 off Ski & Ride School Lessons, $40 rentals for two, and many more deals! http://coppercolorado.com
December 9, 2012
Holiday Home Tour – Buena Vista
Visit 5 lovely homes in Buena Vista. Closing Reception 3:00-6:00 at Trail West Lodge
Tickets with maps are $10 each on sale at the Chamber and all of the local banks. They will be available at the chamber December 11th 1:30 to 2:30. Proceeds for this event will be used for such projects as maintaining the historic St. Rose of Lima Chapel which houses the Chamber and beautification of the town. Come a day early and enjoy our Holiday Food and Spirit Tasting..Visit our restaurants, historic saloons, new brewery and whiskey distillery to taste specialty foods and spirits.
December 10 – 16, 2012
Vail Snow Daze, Vail
Winter doesn't start until we say it does. Kick – off the ski season with an action-packed week at Vail Snow Daze – the biggest early season party in North America. Leading up to and including Dec. 15, the day Vail opened in 1962, guests can enjoy a week of live entertainment beginning Dec. 10-16. This year, in honor of Vail's 50th anniversary, the resort is taking Snow Daze up a notch with a stellar lineup of bands, including headline act Wilco, the Grammy Award-winning Chicago-based alternative rock band, along with The Shins and Michael Franti & Spearhead. For more information please visit http://www.visitvailvalley.com/general.asp?id=217