Colorado Glamping – Ways to Experience America's Hottest Travel Trend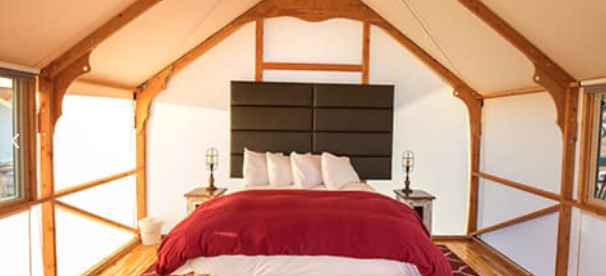 "Glamping" – the portmanteau of "glamour" and "camping" – brings together luxurious accommodations and the beauty of the natural world. While luxurious tents often first come to mind, accommodations in a variety of styles are now available at glamping destinations around the world, ranging from domes to yurts to tiny homes and tree houses.
Imagine being surrounded by nature and tranquility with all the comforts of luxury accommodations of a 5-star resort – comfortable beds, flat screen TVs, built-in kitchens, gourmet cuisine, AC, hot tubs, and saunas. Sounds amazing doesn't it?
While it is trendy, glamping is not a fleeting trend. The number of camping households recently reached 80 million in the US market, with relaxation and de-stressing being the primary motivators behind this travel craze. A new report by KOA shows that 30 percent of North American travelers have taken a glamping trip over the past two years. In fact, studies project the glamping market in the US to reach revenue of $1 billion by 2024.
Like camping, younger and more diverse people glamp more than other groups. Sixty percent of leisure travelers who reported that they had glamped in the past two years are from the millennial or Gen Z generations, meaning they were born after approximately 1980. Millennials make up the largest group of glampers at 48 percent.
Travelers in states such as California, New York, Colorado, Washington, and Texas are leading the glamping charge, and new glamping operations are popping up all across the globe. The options are seemingly endless, so we've put together a list of ideas fo glamping options for you and your significant others in Colorado and Montana.
Colorado Glamping:
Sun Outdoors Rocky Mountains
The new Sun Outdoors Resort in Granby, Colorado offers furnished yurts and Conestoga wagons for an unforgettable Glamping experience. Guests can also bring their own tents to sleep under the stars or rent one of River Run's tents to make life even easier. The resort also offers three distinct vacation rentals featuring open-concept spaces to make guests feel at home.
The High Lonesome Ranch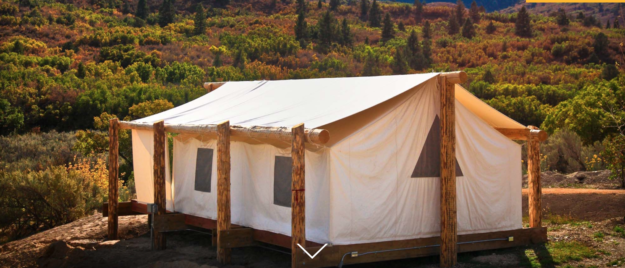 The High Lonesome Ranch in Western Colorado is home to diverse wildlife and provides a vast playground for sports and wilderness activities. It also offers glamping in safari-style tents. Thermostatically controlled heaters take the chill off the night air. Fire pits make good gathering spots to watch starry skies. Private, locked marble baths are close by for each of the tents. The 1,200-square-foot log pavilion with a roaring stone fireplace nearby provides a great space for festive group meals, happy hours, gatherings and more.
www.thehighlonesomeranch.com/lodging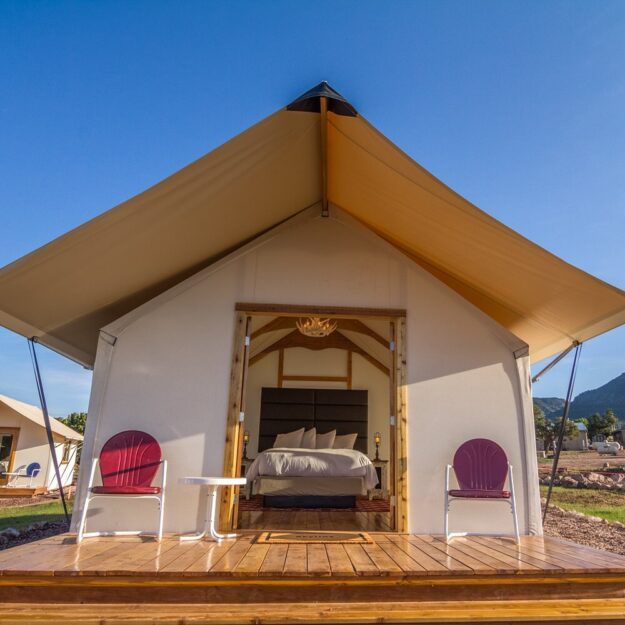 Royal Gorge Cabins
Royal Gorge Cabins are owned and operated by Echo Canyon River Expeditions, one of the oldest and largest tourism companies in the Royal Gorge region. The resort offers a variety of whitewater rafting adventures on the Arkansas River, full-service restaurant and bar, event space, luxury cabins and beautiful glamping tents., pictured top left.
We have other ideas for unique Colorado Tent and Yurt Stays here in our amazing state too. Check it out: Colorado Tent and Yurt Stays – Glamping! www.mountaintownmagazine.com/colorado-tent-and-yurt-stays-glamping/
by Steve Snyder
For other ideas on where to stay in Colorado's mountain town communities head to: www.mountaintownmagazine.com/category/stay/
Story Sponsored by


MTN Town Media Productions | Celebrating the Colorado mountain lifestyle
Copyright 2022 MTN Town Media Productions all rights reserved.