Clear Creek County – Exit for Colorado Adventures, Fabulous Food & Lots of History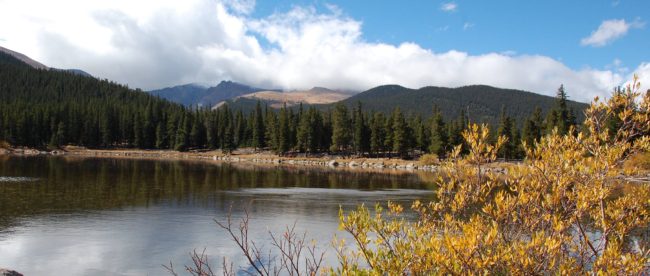 Exit for Colorado Adventures in Clear Creek County, it's easy as you head to or from the Colorado high country. Coming from the Colorado west, there is hardly a mountain town community member who does not pass through the county of Clear Creek at some point each year.
If you're not familiar with its location, all you have to do is exit the Johnson Tunnel heading east on I-70 (Interstate 70), and for about 30 miles along that stretch of asphalt, you will find yourself in Clear Creek County.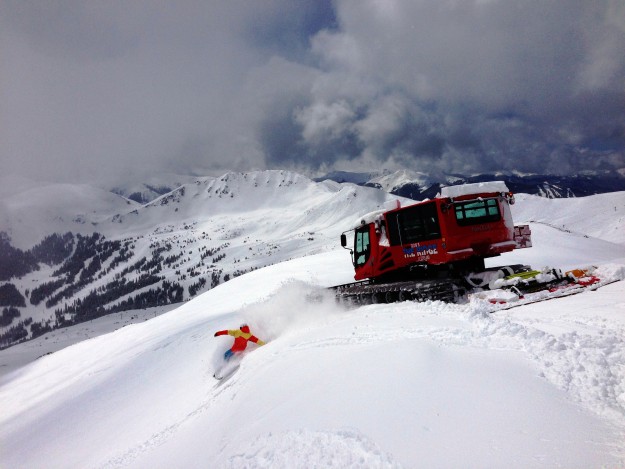 This county's first notable landmark is the Loveland Ski Area. You literally pass underneath it as you drive through the tunnel and Exit 216 will lead you directly to its entrance.
Loveland Ski Area was founded and has continually operated since 1936 when a portable rope tow operation was installed by J.C. Blickensderfer as snow began to fall. It is still in many ways a secret and is listed as one of the Colorado Gems ski areas created by Ski Country USA. Loveland Ski Area boasts one of the longest seasons in Colorado, often opening mid-October and running through early May. It is a fantastic family ski area that offers everything to make a first-timer feel at home as well as challenge expert skiers and snowboarders on their exceptional Alpine terrain. www.skiloveland.com
As you continue down Interstate 70, you can exit at Bakerville and proceed to Grays and Torreys trailheads for a challenging climb up these two famous 14ers. These mountains are the 9th and 11th highest mountains in Colorado, respectively, and are explored heavily in the summer months.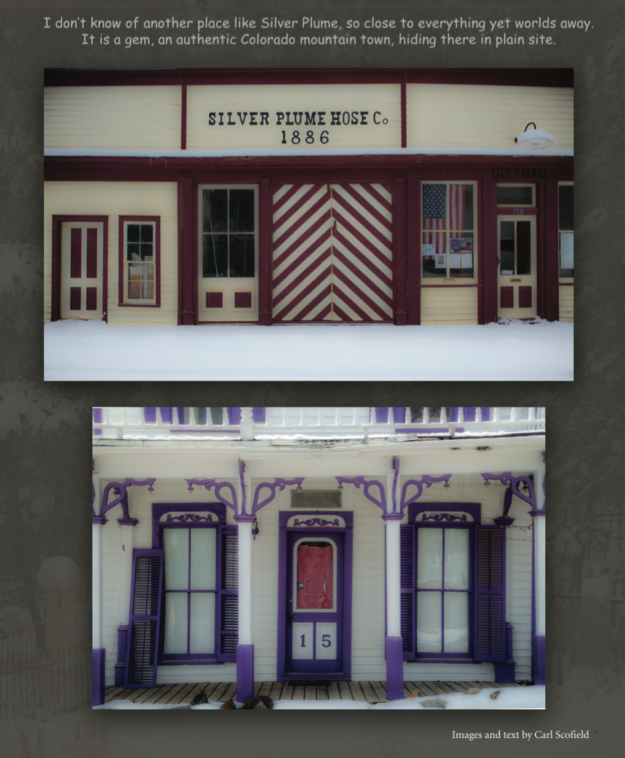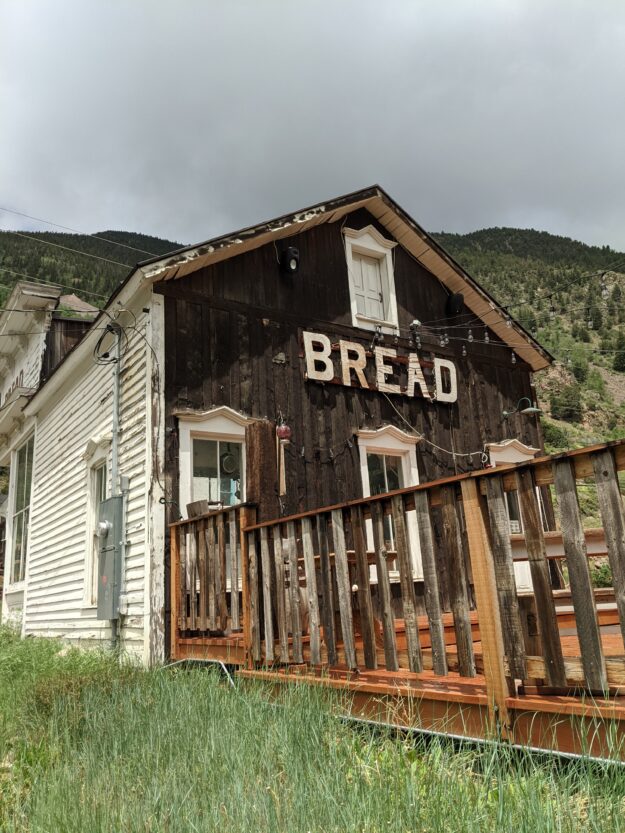 The town of Silver Plume is a great pit stop. Incorporated in 1880, This historic "Colorado ghost town that never dies" Is a former silver mining camp. There are beautiful homes and buildings, a mercantile, a coffee shop, and the famous Bread Bar in Silver Plume, and you can jump on the Georgetown Loop Railroad from the Silver Plume Depot for a historic rail adventure in this valley. Stretch your legs and take a hike on the Argentine Trail or the 7:30 Mine Trail.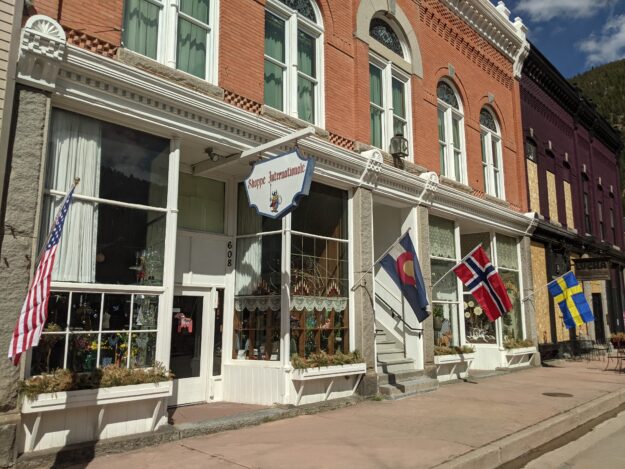 Just a few miles downhill from Silver Plume is Georgetown. This historic town was established in 1859 during the Historic Colorado Gold Rush. It is a picture of Victorian living that offers history, adventure, and fantastic food and drink.
You could spend an entire day exploring the town of Georgetown. Start at the Hamel House Museum, A stunning property that interprets 19th-century living, complete with furnishings, plants, landscaping, social, and cultural lifestyles. Then head over to the Hotel de Paris, a former French Inn, now a national trust site for historic preservation. Schedule a tour and experience some early Colorado history.
There are plenty of activities to participate in in Georgetown. You can access the Georgetown Loop railroad from their Georgetown train stop or grab a fishing rod and enjoy Georgetown lake or Clear Creek that rushes through this adorable town. The town also boasts a plethora of hiking trails, mountain biking and serves as a base camp for Mount Bierstad, another 14'er you might be interested in conquering.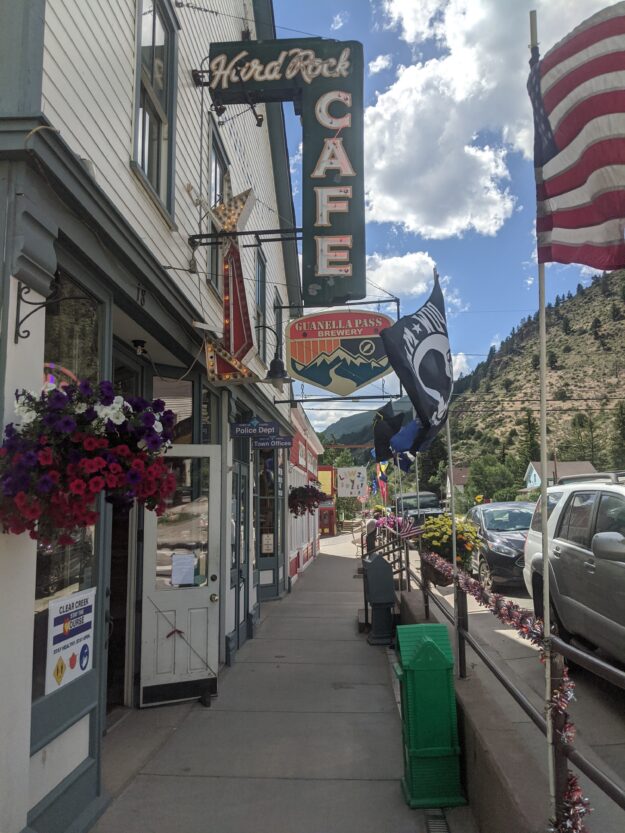 Exit 232 will bring you to Winter Park and Granby and is a route to Rocky Mountain National Park. However, you can't get there without going through Empire, where you will find some good food and cute shops along Park Avenue. There is a unique ADA accessible trail here, the Paw Education Research Trail, aka the Pert Trail, showcasing the old Berthoud Pass wagon road.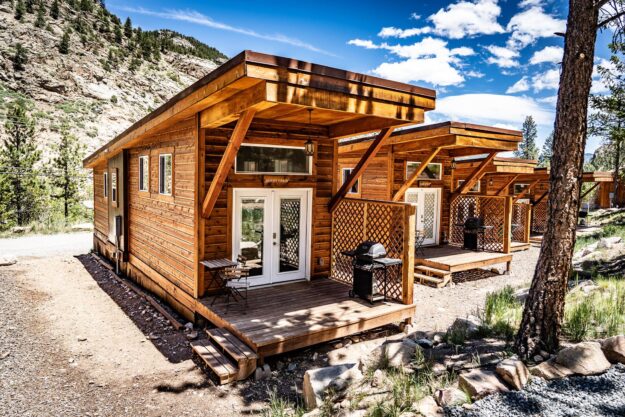 Lawson is your next stop as you travel East on I-70. Exit 233, you will find quite a bit of adventure here. Try the Lawson Adventure Park and Resort, where you will find cabins, yurts, glamping tents, zip lines, Via Freratta, UTV Tours, Rafting, and more. ATV Tours Colorado offers guided ATV tours to explore the area.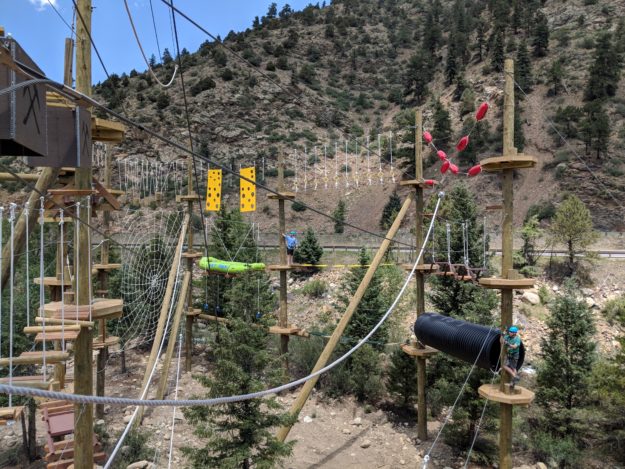 Just a few miles east is Dumont, exit 234. Some folks only see the Starbucks and gas stations; we have to tell you, it is more than a truck stop. Jump off their exit, and you can find Self Sponsored Snow & Dirt offering Snowmobile, Dirt Bike, and ATV/UTV rentals, apparel, and accessories. A little further down the frontage road is the Colorado Adventure Center with the Sky Trek Aerial Adventure Course offering zip lining, rafting, and a challenging aerial park that their staff will train you to experience.
Fall River Road, exit 238, will bring you to the unincorporated town of Alice and St Mary's glacier. There is a plethora of hiking, biking, dirt biking, jeeping trails, lakes to fish, and primitive camping sites.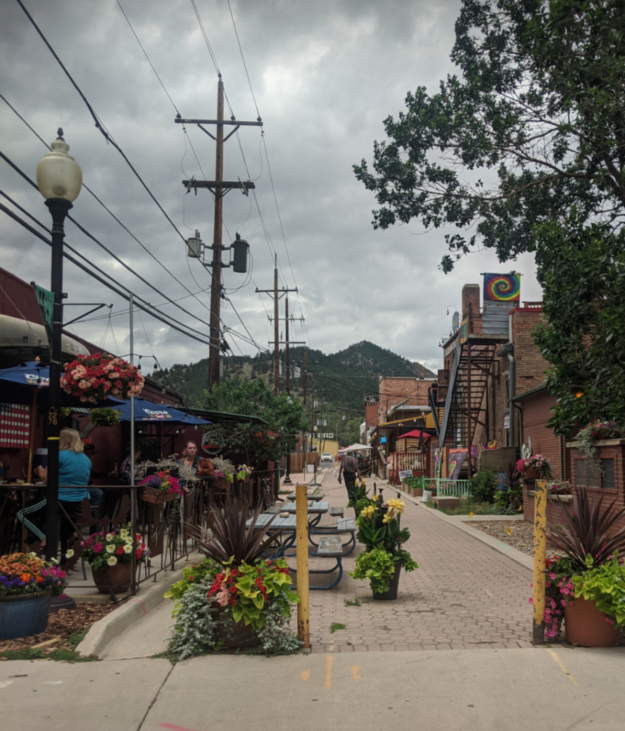 The City of Idaho Springs has three exits as you head east to the Front Range. Exit 239 brings you into the residential end of Idaho Springs, where beautiful turn-of-the-century homes grace Colorado Blvd. This road runs through the length of the town and has been tastefully beautified over the past few years.
Exit 240 allows you to access the road up Mount Evans Scenic and Historic Byway and to the downtown core of Idaho Springs. All along Miner Street, you will find gift and gear shops, delicious restaurants, cafes, a cidery, two breweries, and the county's information center. Take a right off of Miners Street onto Soda Creek Road, and you can head up to Indian Hot Springs Resort to soak in their geothermal healing waters.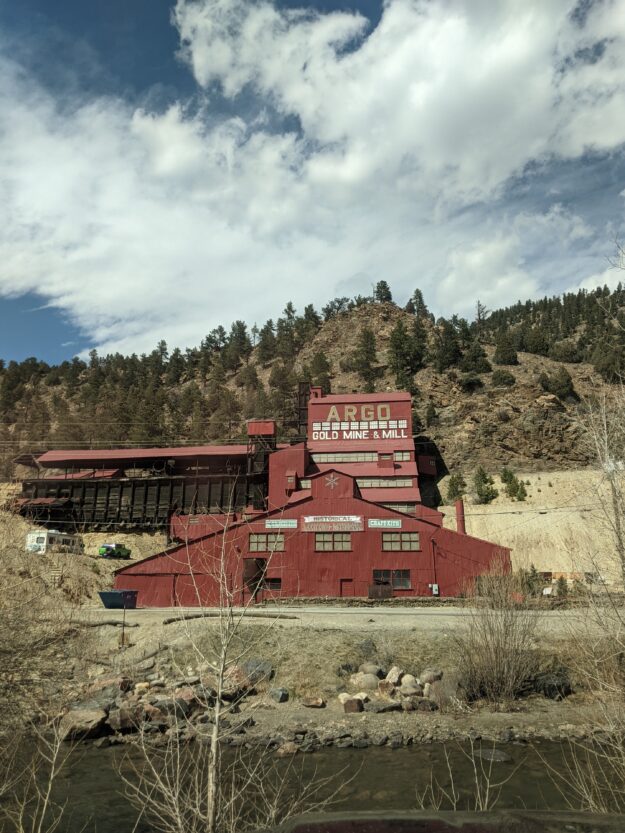 One location you won't miss is the Argo Mill and Tunnel perched up on the north side of the town. It is Idaho Springs's #1 Attraction and offers an incredible tour of the mill and tunnel that has made Idaho Springs great.
Exit 243 will bring you along a very cool, scenic hilltop drive to Central City and Blackhawk.
Exit 244 offers an incredible drive through Clear Creek Canyon to Golden and has some great trails to explore, including the start of the Peaks to Plains Trail, a 65-mile trail of statewide significance. In the future, this trail is expected to connect the South Platte Trail in Denver to the headwaters of Clear Creek at Loveland Pass. Once completed, it will connect four counties and seven cities, with a total elevation gain of more than 1 mile.
As the Clear Creek Tourism Board proudly states, "They're Open For Adventure!" We agree so exit for Colorado adventures as you travel through their communities!
Contact them at www.visitclearcreek.com
by Holly GoSpritley
Learn more about Colorado's mountain towns & communities here:
https://mtntownmagazine.com/colorado-mountain-towns-guide/
MTN Town Media Productions | Celebrating Colorado's mountain culture and lifestyle
Copyright ©2021 Mountain Town Magazine all rights reserved.
Post Sponsored by