Loveland Ski Area – We LOVE this Place!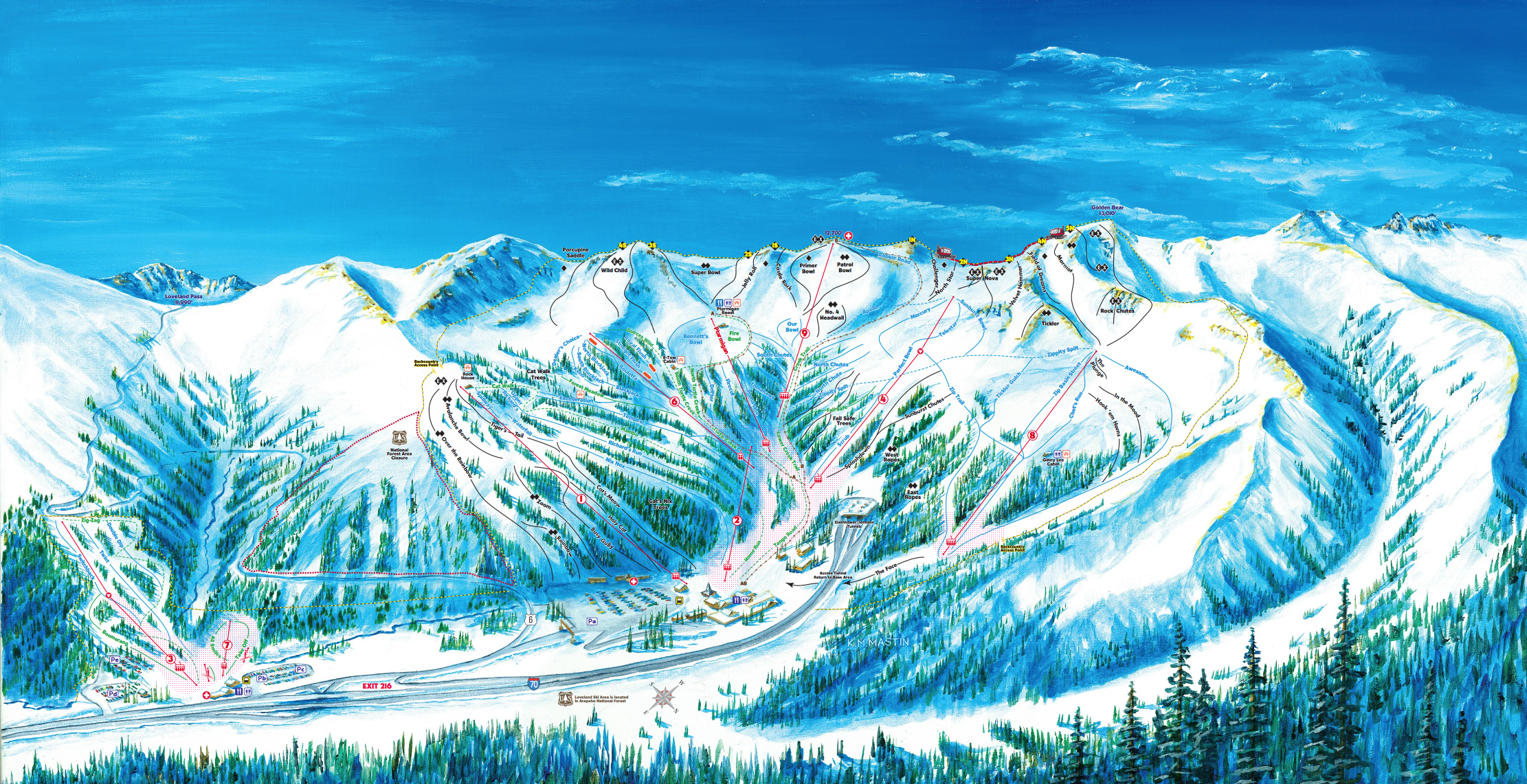 You see it when you are preparing to head through the Eisenhower Tunnel- smooth open runs that reach for the sky and quickly disappear from your view as you enter the long tunnel to Summit County. Some of the best and most frequent snowfalls grace "The Love" each season and are often overlooked by many heading towards the West side of the Continental Divide. Here is a better view of something you might have passed by.
Loveland Ski Area's history is long and interesting with a birthday that celebrated 75 years in the 2012/13 season. Their history begins in 1936 when a portable rope tow operation was installed by J.C. Blickensderfer as the snow began to fall. In the winter of 1937-38, operations at what was then known as the Loveland Ski Tow Company, a modified Model T engine was used to power the tow.
A series of tow ropes were added and removed until 1955 when Chair 1 was built with Chair 2 added in 1957, and Chairs 3 and 4 were added in the 60's. In 1961-62 Loveland Valley, a separate area for beginners and Ski School, was constructed just east of Loveland Basin to add beginner terrain lost from the construction of the Eisenhower Tunnel and Interstate 70. Interestingly enough the ski area became one of the first major ski areas with snow making capabilities when they began using the diesel compressors from the construction of the Eisenhower Tunnel. For this current season Loveland has invested in snowmaking upgrades at Loveland Basin and Loveland Valley to improve efficiency and productivity.
It's amazing to think that Loveland is close to 80 years old. The funny thing about ski areas is the older they get the more youthful they become.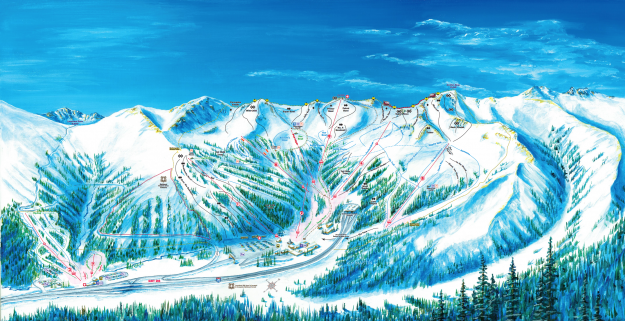 At Loveland Ski Area you will find short lift lines and 1,800 acres of terrain ranging from beginner to advanced within its ski area boundaries. New lifts and facilities make this affordable ski area an incredible value and a hidden treasure. As one of the very few ski areas that is family owned, the Upham family is still very much in involved with the ski area's day to day operations and invests much of what it makes back into its facility.
I want to point out one of the most important facts about this mountain, the skiing and riding is amazing with impressive steeps and some great powder stashes. I love riding Chair 1; you access it right there at the base area where it will bring you to some great advanced runs on the lift's East side. It is the perfect work out if you have come up for a lunch break and want to get your heart pumping. If you are looking for some fun easy turns then turn right as you get off the lift, a whole bunch of blue cruisers are waiting for you there.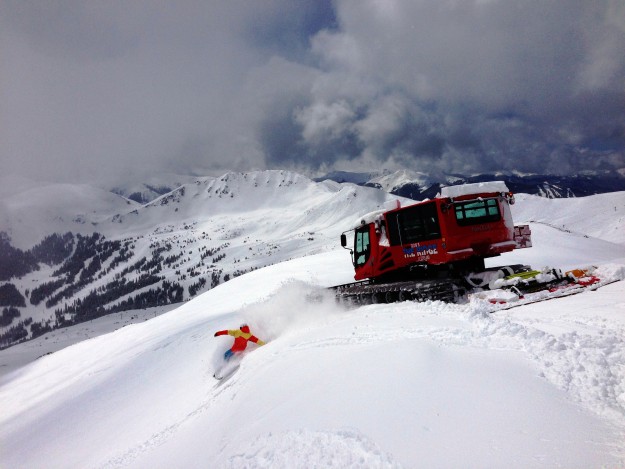 Beginners can walk right on over to Chair 2 and head up to Ptarmigan Roost Cabin. Chill out and warm up, while scoping out the South side and making plans for what you're going
to hit later in the day. Keep an eye on Chair 9, once it starts turning you can access the Ridge and Loveland's Ridge Cat for Snowcat open bowl and gladed skiing and riding along the North Ridge. Please note, this is for Advanced skiers; A Ridge Cat Access Pass is required and is free at the Ticket Office.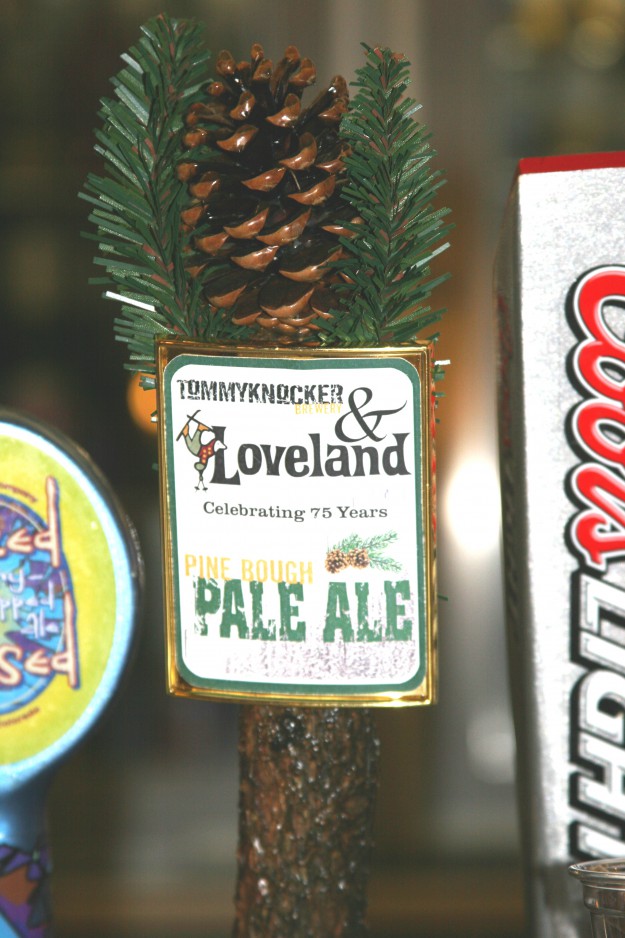 Be sure to hit up Chairs 4 & 8 before ending your day. Some amazing tree skiing is open to those who venture that way. When you're done just take the tunnel that goes under I-70 back to the Main Lodge where a newly remodeled cafeteria will be serving up some great, freshly prepared Mexican food, hearty soups, sandwiches, grilled items and more. Breakfast is always fresh and fast. Thinking après? Head down to the recently revamped Rathskllar for a mug of your favorite brew on tap or in a bottle or an après cocktail with some brats, dogs, chili and soups.
The mountain is comprised of 13% Beginner, 41% Intermediate, and 46% Advanced terrain. For those in search of a lesson check out the prices of their Ski School / packages. Loveland Ski Area is adding a second Magic Carpet surface lift at Loveland Valley. This is a unique learning area with a base lodge, equipment rentals and other amenities, and is used by beginners and those looking for a slower pace while visiting Loveland. The Valley is adjacent to Loveland Basin and is accessible by a short shuttle ride. This new magic carpet will be open to the public and will provide access to gentle terrain perfect for first timers.
Loveland hosts terrific special events all season long, another great reason to take exit 216 before you head through the tunnel. But honestly, everyone is so kind and friendly it is the real reason to make a day of it skiing and riding. Perfect for friends heading out and families looking to avoid the big crowds. Most of the area's staff has worked together for countless years, some for close to 40 years. Local pass holders are loyal to the area coming back year after year. That really speaks volumes about the ski area and its values. Although we prefer not to see long lift lines at this resort it is an area you should stop in and give a try.
~MTN Town Magazine – We are Colorado's Mountain Town Magazine
MTN Town Magazine Copyright © 2015 MTN Town Magazine all rights reserved.