Blues From The Top Music Festival, Winter Park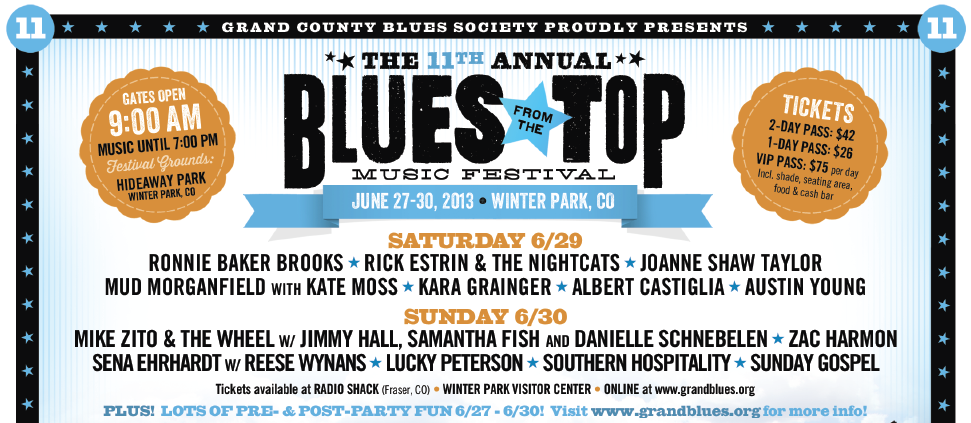 Cool down with some HOT music this weekend in Winter Park! Some of the finest Blues musicians in the nation will gather in Winter Park for four days of live Blues music. From Thursday, June 27 through June 30th you will get your fill of incredible vocalists and some smokin' guitar play. Better yet, all of this entertainment will assist the Blue Star Connection, a nonprofit entity that provides guitars, bass guitars, harmonicas, violins, keyboards, flutes and drum kits to children fighting cancer and other life threatening situations. In addition to the instruments they give, the Blue Star Connection provides music therapy programs and opportunities to attend live music events. A portion of your admission will go towards the Blue Star Connection and other music programs in the Grand County school system. Now that should wash your blues away!
Starting Thursday the festival will ramp up with pre parties and great music until Staurday when the full festival heats up. Saturday night you can party into the night with an after party at Smokin' Moes! The schedule follows below:
THURSDAY – JUNE 27, 2013
RICK ESTRIN & THE NIGHTCATS & more! Time: 6 – 8 pm Cost: FREE! Where: Hideaway Park (Fest Grounds)
FRIDAY – June 28, 2013
Music On The Mall
ANDY IRVINE'S BLUES COLLECTIVE
Time: 5 – 7 pm Cost: FREE! Where: Cooper Creek Square
Pre-Fest Party! MUD MORGANFIELD BAND w/ KATE MOSS and RICK ESTRIN & THE NIGHTCATS Time: 8 pm Cost: $20 Where: Smokin' Moe's (Cooper Creek Square)
SATURDAY — June 29, 2013
Hideaway Park (Fest Grounds)
10:15am – AUSTIN YOUNG BAND 11:15am – ALBERT CASTIGLIA 12:30pm – KARA GRAINGER 1:45pm – MUD MORGANFIELD BAND with special guest Kate Moss 3:00pm – RICK ESTRIN & THE NIGHTCATS featuring Kid Andersen 4:15pm – JOANNE SHAW TAYLOR 5:30pm – RONNIE BAKER BROOKS
Category 5 Night featuring ZAC HARMON BAND followed by Cat 5 guitar jam! with JOANNE SHAW TAYLOR KARA GRAINGER KATE MOSS & more! Time: 9 pm Cost: $20 Where: Smokin' Moe's (Cooper Creek Square)
SUNDAY — June 30, 2013
Hideaway Park (Fest Grounds)
10:30am – GOSPEL with Maddie Lutz, Jack Hadley, Big Jim Adam and John Stilwagen 11:45am – SOUTHERN HOSPITALITY Damon Fowler / JP Soars / Victor Wainwright 1:00pm – LUCKY PETERSON 2:30pm – SENA EHRHARDT with special guest Reese Wynans 4:00pm – ZAC HARMON 5:30pm – MIKE ZITO & THE WHEEL with special guests Samantha Fish & Danielle Schnebele
Come dance, come eat, come drink, come have some fun while supporting a great cause – www.grandblues.org
~MTN Town Magazine
Photo Credits: GrandBlues.org
MtnTownViews.com is MTN Town Magazine's daily journal blogging about Colorado's mountain towns and resorts. Like them on Facebook and Follow on Twitter. Click the cover to read the Winter 2012-13 Issue.
© 2013 MTN Town Magazine. All rights reserved. Republication, in part or entirety, requires permission.