Avon to Steamboat Springs – Stage 4 USA Pro Cycling Challenge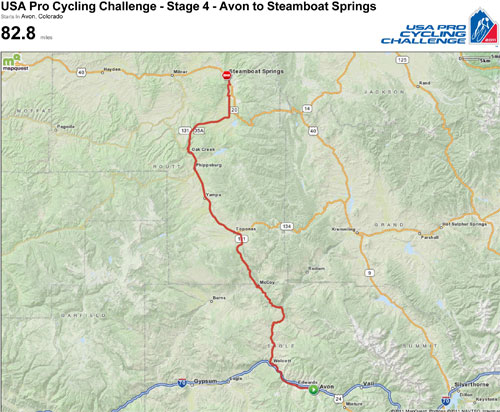 The excitement and the scenery continues for the USA Pro Cycling Challenge riders and spectators alike! On Day day five racers will be treated to a day of limited climbing and quite a bit of sprinting. Cycling speeds are expected to be their highest during this stage. A consistent rise in terrain will still keep these cyclists climbing but at a much gentler ascent.
Catch the start in the heart of Avon.  Racers begin Stage 4 on Lake Street under the start truss in front of Harry A. Nottingham Park, they make a left turn (east) onto Benchmark Road, then another left (north) onto the inside lane of Avon Road, then taking a left (west) onto West Beaver Creek Blvd and then another left (south) back onto Lake Street and riding under the start truss again.  This loop is ridden twice, and then the racers will travel out on Riverfront Lane (east), taking a right onto Avon Road (south) and then another right onto U.S. Highway 6 (west).   Just out of Avon's town limits the official start flag will be lowered and the racers will be off!  At Wolcott they will turn north on Colorado 131 through Oak Creek, following 83 miles of scenery to the finish line in downtown Steamboat Springs.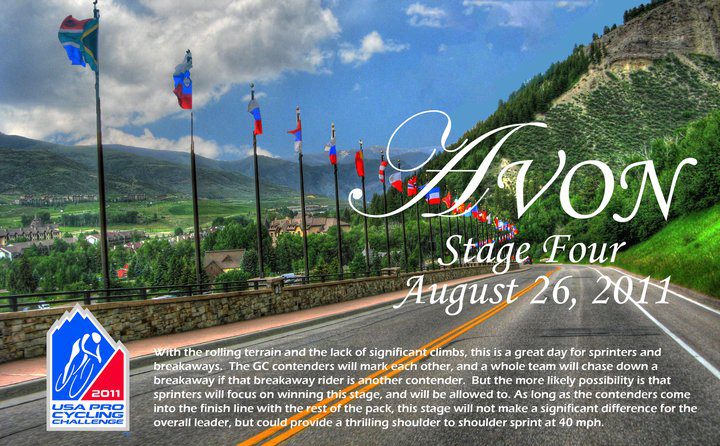 Race Day Schedule for Avon: Friday, August 26, 2011
Avon Bike Expo                 9:30 a.m. to 1:00 p.m., Nottingham Park, Lake Street
Chromoly Chef Challenge    9:45 a.m. to 11:00 a.m., Nottingham Pak
Scout the Stage               11:15 a.m., Lake Street Start Truss to 4 Eagle Ranch
Starting Ceremonies          11:30 a.m., Lake Street Start Truss
Start of Race                   12:30 p.m., Lake Street
Kids Race                        12:45 p.m., Lake Street
STEAMBOAT SPRINGS is Bike Town USA. You can ride like a champion on over 500 miles of single track mountain biking trails and over 150 miles of paved road rides.  Steamboat Springs is also the ONLY US Pro Cycling Challenge Host City to feature a FINISH and a START, all happening on a Friday and Saturday!
Steamboat is also the only city to host the US Paralympic Hand Cycling Race. Keep some lozenges handy if you will be there, as you will be cheering for two days straight. The Hand Cycling Race is a fast 4.07 mile time-trial showcasing athletes that focus on their "abilities" not their "disabilities." The race takes place about 1-2 hours prior to the Pro Challenge riders arriving with 40 of the top Paralympic hand cyclists racing into Steamboat!
Events and activities galore are planned for this weekend of starts and finishes. Here is Steamboat's great lineup of events and activities scheduled for the USA Pro Cycling Challenge:
 Friday August 26, 2011
12:15PM: USA Pro Cycling Challenge Stage 4: Avon to Steamboat Springs
10AM-4PM: Gondola open, Steamboat Ski Area
10AM-12:30PM: Moots factory tour
11AM-3PM: Kent Eriksen Cycles factory tour
11AM-4PM: Lifestyle Expo & Sierra Nevada Beer Garden on Main Street (Lincoln Avenue)
12PM (Approx): Live Music at Lifestyle Expo with Loose Change
12:30PM: US Paracycling Challenge Start
2PM: Big Screens Live Race Feed Starts
Afternoon (Approx. 4pm): Be at the FINISH Line!
Afternoon (After Last Rider): FINISH Award ceremonies
5:30PM: Sunset Happy Hour at the top of the Gondola
5:30PM: Free Summer Concert, Howelsen Hill in downtown Steamboat
3 Twins Broadband Featuring Members of the Subdudes
9PM: Fireworks Presented by Yampa Valley Bank
Howelsen Hill in downtown Steamboat Springs
Saturday August 27, 2011
Christy Sports Tent Sale at Meadows Parking Lot
9:30AM USA Pro Cycling Challenge Teams Arrive at Meadows Parking Lot
9:30AM Lifestyle Expo Opens
9:30AM USA Pro Cycling Challenge Hospitality Tent Opens
10:00AM: Tour Announcers Introduce & Interview Representatives
10:15AM: Caravan Vehicles in Place
10:30AM: Start Ceremonies
11:15AM: START USA Pro Cycling Stage 5: Steamboat Springs to Breckenridge
11:35AM: STARS Charity Ride Start
9AM-2PM: Farmers Market, downtown on 6th St.
10AM-4PM: Gondola open, Steamboat Ski Area
9-10:15AM: Athletes Alley
10:15AM: USA Pro Cycling Challenge START ceremonies
10:45-11:15AM: Be at the START line! Pro Parade and Race Start.
2-5PM: STARS Charity Ride Party. Little Toots Park.

8PM: Strings Music Festival concert
"Head for the Hills"
9PM: Smartwool Bike-in Movie "Best in Show"
Glowball Tournament at Haymaker Golf Course
Sunday August 28, 2011
8AM: Steamboat Triathlon (Olympic distance) Lake Catamount
9:30AM-4PM: Gondola open, Steamboat Ski Area
Looking for a place to stay, want more information? Be sure to click this link for Steamboat Pro Cycling's official site. It's filled with anything you ever wanted to know about their stage of the race!
~Summit Sojourner
© 2011, Summit Sojourner. All rights reserved. Republication, in part or entirety, requires a link back to this original post.