Aspen Real Life – What to do? LOTS!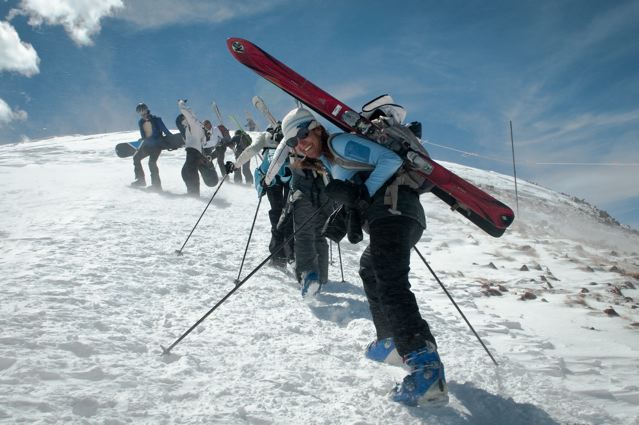 Although the sun is out winter is hanging on up here with more snow expected in the forecast between now and Monday.…Don't get me wrong, once  in it, it's a blast, it's just getting the motivation to get there.
With my hubby Wade's ribs still broken, and no partner to play with in the snow, depression is beginning to set in. I'm thinking tomorrow, it's just a matter of getting out and that will change it. It is the end of April after all and the beautiful flowers are intermittently bursting open to show off their bright colors, between snowfalls.
Everywhere I go locals are also ready to burst, with spring fever. Memories of desert trips with Wade infiltrate my mind, but he reminds me that I'm thinking back over twelve years to a time where we couldn't keep our hands off of each other. A time where we hiked all day holding hands, stopping often to take photographs of each other, returning to our campsite for appetizers and alcohol. A time where we did our best to not fall off the rock as we rolled around in magical light cast by the setting suns rays. And a time where we found my glasses ground into the dirt, next to the empty bottle of  Jeager. That's the time I daydream of often, a time where I could play all night with my  man and my Jaeger, under the stars. That's the time I miss.
Now, Lacrosse prevails and so I turn to my girlfriends to break open our calendars and see if we can make the great escape happen. I'm ready to play on my mountain bike and wake up my dormant muscles as I test my skills, or lack thereof, on steady climbs and single tracks that twist and turn over deep canyons. I'm ready for that, the physical exertion rejuvenating my body and clearing my mind as I deeply inhale the sweet scent of pinion.
(Sweet Angel Dancing to Slightly White)
Screeech to reality. It ain't gonna happen. So, I did some research to find what my options are here…in the snow:
Go Sledding! get out your Swiss Bobsled and go sledding in the high country. Please be careful and wear helmets.
April 28 – May 1ST:
5 Point Film Festival: The 5Point Film Festival is on a mission to inspire adventure of all kinds, to connect generations through shared experience and respect, to engage passion with a conscience, and to educate through film. Tickets can be purchased online, in person or via telephone at the Carbondale Recreation Center at 970.704.4190
Beginning May 2nd:
Town of Snowmass Village Recreation Center: Take the kids to my favorite pool, really, I love it, and you know I'm not much of a pool person. This one is outdoors and not only is it heated to the perfect temperature but it's also salt water and it's never been too crowded when I've been there. If your kids are swimmers, trust them to Rosie, the only lifeguard in the valley who seems to watch the pool as well as I do. Go work out in the gym while the kids have a blast playing in all of the water features, including the gentle water slide.
There is also a great ramp in the pool for the toddlers to crawl up and down like alligators, but stay with them please. When the kids tire of swimming, they can stretch their limbs in the cave-like climbing gym or run outside to shoot some hoops and/or skateboard in one of our favorite parks.
Snacks and Pizza from Tasters are available for purchase but unfortunately, no more sandwiches.
FACILITY WILL BE CLOSED for maintenance for one week only, April 24 – Monday May 2nd. For hours/prices and pass information, visit their website.
Saturday, May 7th Anderson Ranch Hands Presents Mother's Day Tea Party Schermer Hall & Cafe 5263 Owl Creek Road, Snowmass, CO
Celebrate Your Mom! Cardmaking/Cookie Decorating & Tea/Tshirt Screen Printing
(bring your own or purchase a Ranch Tshirt)/RSVP by May 1/Ranch Hand Members Free
$20 per non-member family/[email protected]/Trish Shepard 970-923-3181 X208
Sunday, May 8th: Mother's Day. Take your mama out to a champagne brunch, bring her flowers, make her a card, whatever it takes, DO IT!  My favorite place for brunch? The Sonnenalp in Vail. There I said it!!!
Thursday, MAY 5TH: CINCO de MAY
Hunter Bar: Celebrate El Grito al Hunter Bar w/ DJ Angel. Corona, Modelo, Tequila & Margarita Specials.Worst hung over of the year, EVERY YEAR!!!
MAY 9TH: My ummmm…30 something b-day??? Place and time tbd.
May 12th: Aspen Art Museum. 6pm
The Anxiety of Photography: artist Mario Garcia Torres discusses his work and the important role photographic processes play in his practice.
May 13, 14 & 15th The Aspen Community School Garage Sale.


| | |
| --- | --- |
| | The school's annual fundraiser is being held at the Willits Town Center (next to Kitchen Collage). The school is now accepting donations for the sale. Items to drop off for sale include bikes, furniture, sporting goods, spring-cleaning finds, etc. — For free pickup of items; call Hunt at 309-2268. Or, bring items by and make pre-sale purchases on Sundays from 2-5 p.m. The collection is under way on Sundays through May 15 at the Willits Town Center space. Any clothes can be dropped off in Carbondale to Alexa's Closet, mark bags as payable to ACS Garage Sale — |
8th Annual Roaring Fork Valley Studio Tour. First Friday Kick-Off Event, June 3 at the Third Street Center. Studio Tour Saturday, June 4th.
Aspen Fly Fishing Summer Camps for Kids. Offering two day fly fishing camps for the age range of 8 – 18 years of age. Get kids interested in fly fishing while in Aspen.As well as the free, that right FREE fly fishing clinics on Wednesday nigths @ 6pm in Basalt.
Limelight Lodge: Music every Friday night. 5:30-8:30pm.
Fridays April Paine and John Sommers of the Defiance Strinb. Saturdays Rich Ganson performs live
Carbondale Clay Center. Check in with them before you miss any more fun events like their Carbondale Beer Works held this past Thursday.
Basalt Wine Shop. Get on their mailing list and join them every other Wednesday evening for fun wine tastings.
Winepiper. Go visit them in Carbondale for their Friday evening wine tastings, and have fun learning all about wines by the great and dynamic Rudolph Pieper .
Visit the Glenwood Caverns for 4D Motion Theater, Awesome Laser Tag, The Giant Canyon Swing, The Alpine Coaster, The Soaring Eagle Zip Ride, Wild and/or Walking Cave Tours, Bungee Trampoline, Fort WhereAmI Maze, Doc's Rock climbing wall, Wild West Wagon simulated Conestoga Ride and, my favorite, The Mechanical Bull!! They're open 10-5 Mon-Fri, 10-6 Sat & Sun through May 26, but check website first to check what is open and what is not.
Visit the Glenwood Hot Springs while you're there.
Campo de Fiori, a local hot spot, is open Wed-Sun 6pm. 25% off on entire bill in the dining room.
Viceroy Snowmass opens on May 26h with Colorado rates starting at $95. Let's lounge out, eat amazing food and have a pool party?!
EATASPEN'S RESTAURANT OFF-SEASON HOURS list: THIS LIST IS GOOD, CLICK HERE TO READ MORE!