An Andalusian Mountain Bike Adventure – Circumnavigating Spain's Sierra Nevada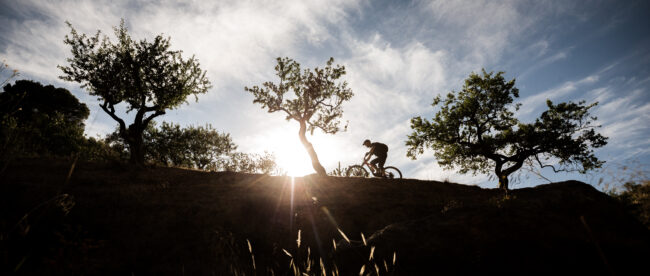 An Andalusian Mountain Bike Adventure Circumnavigating Spain's Sierra Nevada is the ultimate physical and cultural trip.
Cake was enjoyed over tea while we sat on the back patio of our guide's home and reviewed plans for the week ahead. It was clear, however, this wouldn't be a cakewalk.
We were 10 intrepid travelers preparing for a guided mountain bike trip circumnavigating the Sierra Nevada mountains of Spain's Andalusia region, from Malaga to Granada.
Our group was diverse, ranging from the downhill pro blazing the trail up front, to the steady hand of the sweeper ensuring no one was left behind. We hailed from California, Colorado, Montana, Washington, Spain, and the U.K, and even included two honeymooners.
Our tour company, H+I Adventures, specializes in mountain bike travel around the world, rating its trips from Novice+ to Advanced+. The Andalusia trip was rated Advanced, near the top of the scale, and it didn't take long to understand why.
The adventure began on the south side of the mountains in verdant pine forests, where we rode ancient footpaths connecting village to village.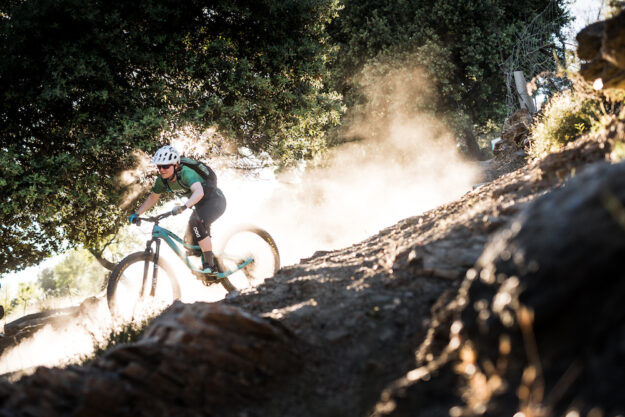 A typical day saw us rise for breakfast and cafe cortados at our accommodation, toss our luggage in the van and pedal straight away. Most rides started around 5,000 feet above sea level and we typically rode more downhill than uphill – very good planning!
Day 1 of riding was a great warm-up. We pedaled from our mountain perch in Dilar through the woods with a stop at a fountain to refill water bottles – a remnant of the ancient aqueduct system installed by the Moors and improved by the Romans. We picnicked at the highest point of the day with views to the valleys below before descending into El Padul and riding through the streets and alleys to that night's accommodation.
On Day 2, we climbed from our already high start, did a short section of "hike-a-bike" and, through H+I's great planning, descended and descended and descended – dropping some 2,000 vertical feet in the last 2.5 miles to a finish of cervezas and tapas.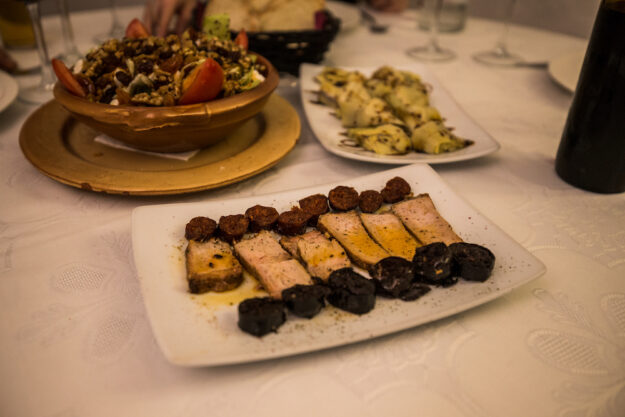 One gets used to this cervezas-and-tapas routine pretty quickly. It goes like this: You order a round of beer and plates of food miraculously appear. Some places might offer a sort of trail mix, some espetos (fried sardines on a skewer), or some cheese and bread. Dating back to the 13th century and intended to soak up some of the alcohol, it's a fantastic tradition and welcome after a full day of riding.
This night we drove even higher into the mountains to the artsy village of Capileira, bordering Sierra Nevada National Park, and dined at a great pizzeria with plentiful tapas and local wine.
The riding challenge ramped up through the first couple days, and now required rapt attention as we dodged boulders in steep, dry creek beds on the exhilarating descent into the famous "jamon" village of Trevelez.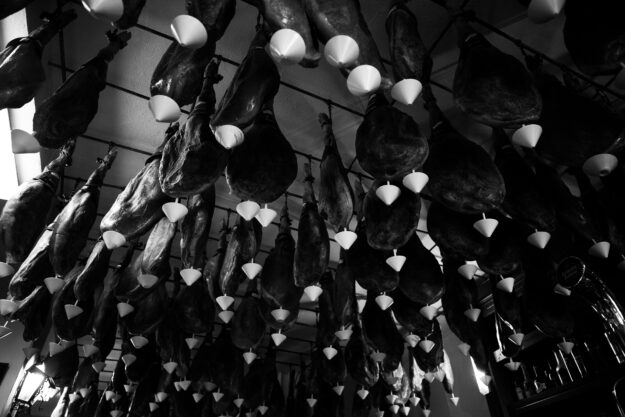 There, we got an interesting history lesson about villagers hanging hams as a sign they were Christian while Jews and Moors were being pushed out of the country. The little village has since evolved into THE place where millions of hams from around Spain are sent to cure to perfection. This jamon is omnipresent at meals, found thinly sliced at breakfast, in sandwiches at lunch, in tapas, in stew-like dishes and as steaks one would swear were beef.
A "fire road" ascent out of Trevelez brought us to the aptly named Flowtastic, the first mountain bike-specific downhill trail of the trip.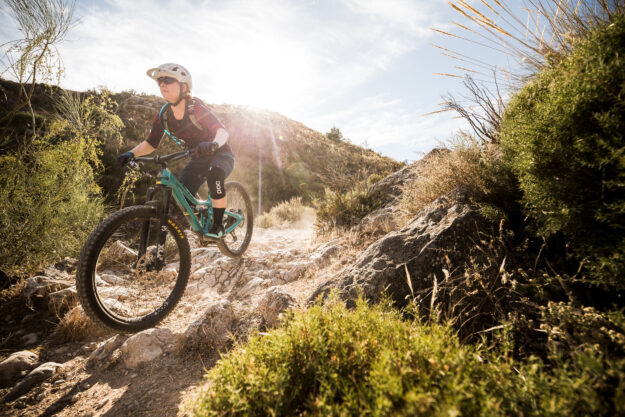 The Flowtastic trail is a 1.5-mile, 1,000-foot descent on packed dirt with enough rock drops and fun, fast turns to keep you alert, as well as sections of choose-your-own-adventure through bushes with thorns – listen when the guide suggests wearing high socks. Our group was all smiles after Flowtastic and excited to know we could ride it again the next day.
Day 4 was the rest day (that wasn't) as we climbed and dropped into Flowtastic from a different direction with the same result: Smiles all around. On this day, we climbed 1,600 feet and descended 4,750 feet – another great example of planning – before spending the night at a hotel on an organic farm in Cadiar.
Day 5 was our longest day mileage-wise, but we did most of the climbing in the van to our high start, then dropped into what seemed to be a scene from Arabian Nights with distant castle on a plateau, visible for miles around. This was Castillo de La Calahorra – a spectacular 16th century structure.
Seven hundred years of Moorish influence left an unmistakable mark on Spain, making it markedly different from the rest of Western Europe. The Moors not only brought their religion, but also their music, their art and their architecture.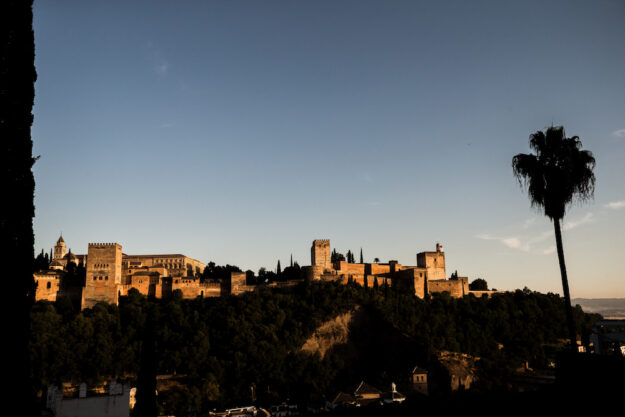 Andalusia offers a similar variety of trails to those found in Colorado, where H+I also offers a trip. While the pine forests on the south side of the Sierra Nevada were lush and green, we were now in the desert on the north side, with red rock and a badlands look similar to Fruita.
We rode through sandy creek beds, into and out of several villages, and along a ledge offering a stunning view over Mirador del Fin del Mundo – a Grand Canyon-like setting. We overnighted in a "cave" at Hotel Cuevas Tio Tobas – in this area, homes are built into the hills as insulation from the punishing heat of summer. In another bit of great planning, H+I trips here are in April, May, September and October to avoid the hottest time of year.
Our last day of riding was up, down and all around with a great mix of everything from pine forests and flowing sections of trail to rocky steeps that challenged the best climbers. In the distance, we could see the Sierra Nevada Ski Resort, which tops out at 10,800 feet above sea level and is the most southerly ski resort of Europe.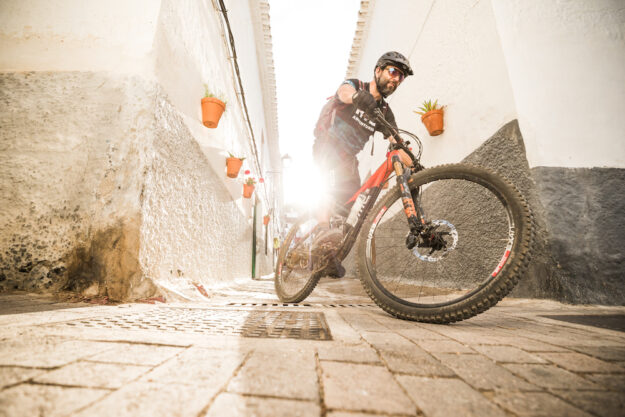 We appropriately ended our adventure pedaling right into the middle of Granada, Andalusia's capital of 917,000, with the magnificent Alhambra standing sentinel over the city.
I came on this mountain bike tour of Spain expecting challenging riding in the company of a couple of friends from home. I left with that, as well as the camaraderie of others and intimate knowledge of the history, architecture, food and personality of a place.
by Steve Snyders
Visit H+I Adventures to learn more about their incredible adventures.
For More Colorado Mountain Town Treks and Travel ideas Visit: https://mtntownmagazine.com/category/treks-and-travel/

Mountain Town Magazine | We are Colorado's Mountain Town Magazine
Copyright © 2020 MTN Town Magazine all rights reserved.