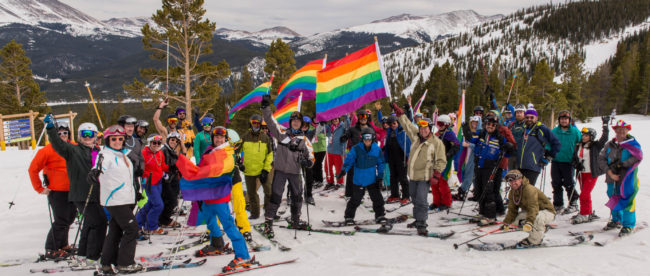 Back for a second year, and growing, this season's Breck Pride promises not to disappoint when it rolls into town March 7-11, 2018. The annual celebration, hosted by Breckenridge Ski Resort and the Breckenridge Tourism Office, is jam-packed with live music, daily après ski parties, a Color Run in costumes down the mountain, and much more fun and entertainment. The First Tracks event on Friday, March 9, welcomes guests on the mountain an hour early to experience the fresh corduroy and early morning light. It's a week for everyone – LGBT, straight, skiers, snowboarders, beginners, experts, supporters – come one, come all. Save up to 30 percent off on lodging during Breck Pride, with rates starting at $175 per night, when you book at Breckenridge.com.
BRECK PRIDE HIGHLIGHTS: 
Breck Pride Welcome Reception: March 7
The five-day festival kicks off on Wednesday, March 7 inside The Village at Breckenridge with music, drinks and complimentary appetizers. Located at 535 South Main Park Avenue in downtown Breckenridge, this year's Breck Pride Welcome Reception is the perfect opportunity to meet up with old friends or make some new ones, and pick up your event badge. Wearing the Breck Pride badge will get you exclusive access to discounts and specials at shops and restaurants around town. A concierge team will also be on hand to answer any questions and give guests the inside scoop on how to make the most of their trip.
Registration: https://www.eventbrite.com/e/breck-pride-2018-welcome-reception-tickets-42386324638
Après Ski Party at The Pioneer Club: March 8, 9, 10
Hit the Pioneer Club after hitting the slopes for a not-to-be-missed Après Ski event featuring specialty cocktails and on-the-house appetizers. Located inside the Hyatt Main Street Station at 505 S. Main St., the party runs from 3-6 p.m. on Thursday, March 8.
First Tracks: March 9
Hit the slopes before anyone else, and take some turns on Breckenridge Ski Resort's untouched corduroy. During Breck Pride you can register to access the QuickSilver SuperChair at the base of Peak 9 from 7:30 – 7:45am. Once you load that lift, you can ski off of the Mercury SuperChair until the rest of the mountain opens!
Registration: https://www.eventbrite.com/e/breck-pride-2018-first-tracks-tickets-42386758937?aff=ebdssbcitybrowse
DJ Rockstar Aaron at The Maggie: March 9
The flashy pink mohawked DJ hosts the ultimate dance party at The Maggie Restaurant at Peak 9 on Friday, March 9 from 4-7 p.m. Take advantage of complimentary drink tickets, food specials and door prizes as you dance the day away at this slopeside favorite.

Breck Pride Festival On The Plaza: March 9-10
Enjoy live music, drinks, drag performances, colorful vendors and giveaways at this year's Breck Pride Festival sponsored by Bud Light. The free two-day event takes place on Saturday and Sunday, March 9-10 at the base of Peak 9 in The Village Plaza.
Color Run Parade: March 10 
Put on your most festive Pride costume for the on-mountain Color Run Parade starting at The Overlook Restaurant on Peak 9. A DJ will be on-hand when the parade heads down the hill at 3:30 p.m. and finishes at The Maggie at the base of Peak 9, flowing into the Pride Festival.
Registration: https://www.eventbrite.com/e/breck-pride-2018-color-run-parade-tickets-42387020720
Breck Pride Closing Party: March 10
Say farewell to this year's Breck Pride in style, and dance the night away at the event's official Closing Party. Straight from Denver and the Vegas Strip, DJ Rockstar Aaron will be back for one final night, at the fabulous Riverwalk Center in downtown Breckenridge. Please consider making a suggested donation of $10 to the non-profit organization, One Colorado, at the door.
For a full list of events please go to www.breckpride.com 
~MTN Town Magazine
Photo Credits: Breckenridge Ski Resort
MTN Town Magazine | We are Colorado's Mountain Town Magazine
Copyright © 2018 MTN Town Magazine all rights reserved.