2012 Bluegrass Bible – 39th Annual Telluride Bluegrass Festival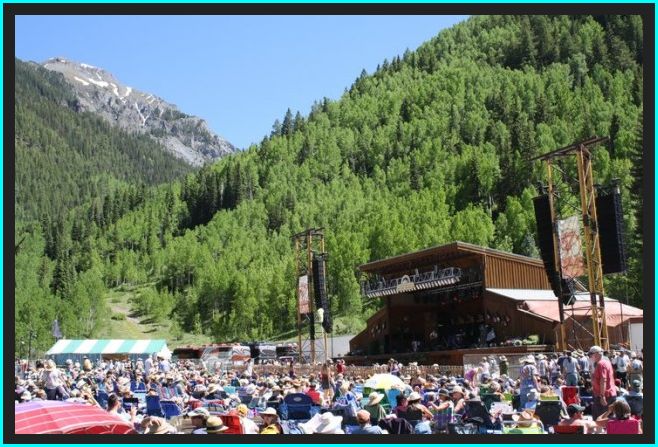 HartRoberts.com/Telluride.com – The Summer Solstice is here. Everything you love about Bluegrass Festival – hours and hours of good music, incredible fans, amazing & talented artists, gorgeous views, the prettiest Town Park in the world, waterfalls, Flank Steaks, Corndogs, Lemonade, kid's parade, happy people, NightGrass, camping, friendly strangers, Troubadour Contest,  and many, many more long-lasting memories – are about to converge on the tiny mountain town of Telluride, Colorado.
We want to help first-timers, seasoned festivarians and longtime veterans have the best time of their lives… so, we've created the 'Bluegrass Bible' for YOU. We've replaced Samuel, John and Peter… with our own bluegrass prophets: Sam Bush, John Prine and Peter Rowan. A guide with everything you need to know, do, taste, see and hear while you're visiting us for the 39th Annual Telluride Bluegrass Festival. Enjoy.
Rule #1: Have Fun
What to Do – Most of your time will be consumed in the beautiful gates of Town Park (not a bad thing) but, remember to get outside and explore all Telluride has to offer while you're in town. Here are a few recommendations on 'What To Do' around town:
FirstGrass – For those lucky fans that'll be in town on Wednesday, June 20th, go to the FREE Sunset Plaza show in Mountain Village from 5-8pm. This year, Peter Rowan, Della Mae and Greensky Bluegrass will serve up a couple great hours of bluegrass goodness. Did we mention it is FREE? Bring a blanket, picnic and your camera and start this party off right! Check out video from last year's FirstGrass concert.
Kickoff Party with YMSB – After the free show in Sunset Plaza… hop over to the Telluride Conference Center for the official 11th Annual Bluegrass Kickoff Party with Yonder Mountain String Band. Show starts at 9:00pm and will (as always) be an amazing night of energy and bluegrass reuniting.
Telluride Farmers' Market – Friday, June 22nd from 11am – 4pm the weekly Telluride Farmers' Market will take place on South Oak Street. Stroll through vendors with fresh, local produce, beautiful flowers and delicious food. Try the Kettle Corn Popcorn… amazing.
Ride the Gondola – You can't visit Telluride without riding the most stunning public transportation in the country. The FREE Gondola is a must-do and don't forget your camera! Get out on top (San Sophia) and hike around or ride it down into Mountain Village and check out the shops, restaurants, bars and more.
Hike – Telluride has some of the most stunning hikes in Colorado… literally right outside your backdoor. Hike Bear Creek Trail right behind Town Park in between shows… or work off those corndogs on a longer hike to Bridal Veil Falls. Did you know Bridal Veil Falls is Colorado's largest free-falling waterfall? Boom. There you go… another must-do! Here are the Top 5 must-do hikes in Telluride ranging from beginner to expert terrain.
Attend a Workshop – The Elks Park Workshops are one of the coolest experiences of Bluegrass Fest. I can still remember sitting down and watching a full hour of Victor Wooten mesmerize the crowd a couple years back. Enjoy these unique collaborations and informal performances from some of your favorite artists… free in Elks Park. Go. You won't regret it. For a complete Workshop schedule, click here.
Tarp Run – The infamous Tarp Run… something seasoned festivarians train for all year long. Your opportunity to have the most ideal spot for your friends and family each day of Bluegrass Fest. The diehards setup camp around midnight… the lightweights setup camp around 4:00am. Yea, it's that competitive. Watch this video for a cool glimpse of this daily race in Town Park:
[vimeo http://www.vimeo.com/25243143 w=600&h=281]Rule #2: Stay Hydrated
What to Bring – Telluride's weather is extremely unpredictable. Remember last year's Mumford and Sons show when it rained, snowed and then the sun came out? Yea… it happens. So, pack for all four seasons.
Pack a rain jacket, a pair of sandals/Chacos, hiking boots, sunscreen and a festival hat… with your other normal festival, summer-in-Colorado wardrobe. It's been getting down in the 40's at night and into the upper 70's-80's during the day.
Low-back chairs, tarps, coolers (with no glass inside) and a water bottle/Camelback to fill up at the onsite Water station.
Don't forget your camera! You'll be blown away by the beauty of Town Park and you'll definitely want to relive your experiences throughout the year. For more Festival FAQ's, click here.
Rule #3: Explore. Experience. Enjoy.
Who to See – The 39th Annual is packing some serious heat. Every single show you'll see will be amazing. Obviously you don't want to miss the Telluride standards – Sam Bush, YMSB, Bela Fleck, Jerry Douglas – BUT, if you need a couple recommendations of some must-see shows… here are a couple acts you don't want to miss:
Greensky Bluegrass – all the way from Kalamazoo, Michigan, Greensky Bluegrass found themselves winning the Telluride Troubadour Contest (a must-see because you never know who will win and become the next big thing!) at Bluegrass Festival in 2006… earning them a spot of Main Stage in 2007. We love these guys. They bleed Telluride and bluegrass. Every note they play… they jam with passion. Don't miss their awesome set Thursday, 3:30-4:45pm.• http://w.soundcloud.com/player/?url=http%3A%2F%2Fapi.soundcloud.com%2Ftracks%2F22297872&show_artwork=true
Alison Krauss & Union Station – Alison sings like an angel. Most of you already knew that. But, if you've never seen her live… you will be absolutely blown away by her beauty and sound. See her on Main Stage Thursday night, 9-11pm.
John Fogerty – Who doesn't love Creedence Clearwater Revival? Fogerty was the front man for CCR and #40 on Rolling Stone's list of '100 Greatest Guitarists'. He's a legend. Enough said. See him live Friday night, 8-10pm.
Leftover Salmon – FESTIVALLLL! You'll hear it belted out from lead man Vince Herman… don't you worry. Leftover Salmon always brings a party to Telluride. One of the best "closing" acts of the entire festival. Don't miss it 10:30-Midnight on Friday night.
Bruce Hornsby – Bruce is the man. SO glad he will grace his presence in Town Park. A great fit to an already amazing lineup. Not only is he a multi Grammy-award winning artist… but Bruce even played with the Grateful Dead at one point in his career. He's nasty on the keys. See him LIVE in Town Park, 10:30-Midnight on Saturday.
Punch Brothers – Chris Thile is pretty much a local. Last year, he stepped into The Steaming Bean on Tuesday after Bluegrass Festival and played a 2 hour set for locals. Yea… he's that cool. Don't miss this show Sunday evening from 5-6:15pm.

Rule #4: Go Green
Where to Eat – The festival food in Town Park is to die for. Don't forget to try the Flank Steaks, Corndogs, Wontons and more. If you'd like to try out a good eat outside of Town Park, here are a few restaurants we recommend:
Brown Dog Pizza – best Sports Bar and pizza in town. Watch a game, drink an ice-cold PBR and grab a slice. Located directly on Main Street.
Baked in Telluride – great spot to get breakfast or a quick eat if you're in a hurry to catch a show. B.I.T. offers fresh bagels, cookies, croissants, muffins, pizza, doughnuts and much, much more. Located on South Fir Street.
La Cocina – delicious organic Mexican food with Gluten Free options. Located on Main Street with outdoor seating and a hellova margarita!
Diggity Dogs – need a late night snack? Diggity Dog usually posts up right outside the Court House and offers hotdogs with delicious toppings of your choice.
Siam – one of our favorite restaurants in Telluride… Siam offers mouth-watering Thai food with large portions. Yes, Siam!

Rule #5: Hug a Stranger
Where to Drink – Here are the top bars to checkout before, during or after you hang out in Town Park:
The Last Dollar Saloon – called "The Buck"… a great local hangout where the PBR flows like wine. The Buck is CASH ONLY… so, don't be that guy who pulls out a credit card. Mingle with the locals, play some foosball or Buck Hunter and enjoy the scene. (Located on Main Street)
New Sheridan – more of an old-timey bar… you'll feel like you've stepped back into the 1800's. Play some pool and grab a drink. (Located on Main Street)
Sheridan Opera House – if you're lucky enough to grace the presence of this venue… pat yourself on the back. Tickets went fast! The Opera House is one of our favorite venues in the country. Small, unique, intimate and one of the best shows you'll ever see… doesn't matter who it is! (Located on North Oak Street… beside the Sheridan Chop House)
There – Where? There. There Bar located near South Davis Street (kitty-corner from Siam) is a cool, hipster bar with fantastic cocktails. Try out the blueberry jam with vodka… mmmmm!
Rule #6: Come Visit Us Again…SOON!
Media – We love social media here in Telluride! Make sure you post and tag your photos and memories so the rest of the world can view the glory of Bluegrass.
Facebook – Post photos, ask questions and let us know how much fun you're having on our Fan Page!
Instagram – Post your favorite photos from Town Park and use #Telluride and tag us at @TellurideColorado and we'll share our favorite posts on Facebook all weekend long.
Pinterest – Look out for your favorite pins and boards on Pinterest!
Spotify – While you pack your bags… listen to our Bluegrass Festival Playlist on Spotify to get you pumped!
[youtube=http://www.youtube.com/watch?v=p-x9JbBf9yU&w=425&h=350]