Stand Up Paddle Board Colorado – A Great Day on the Colorado River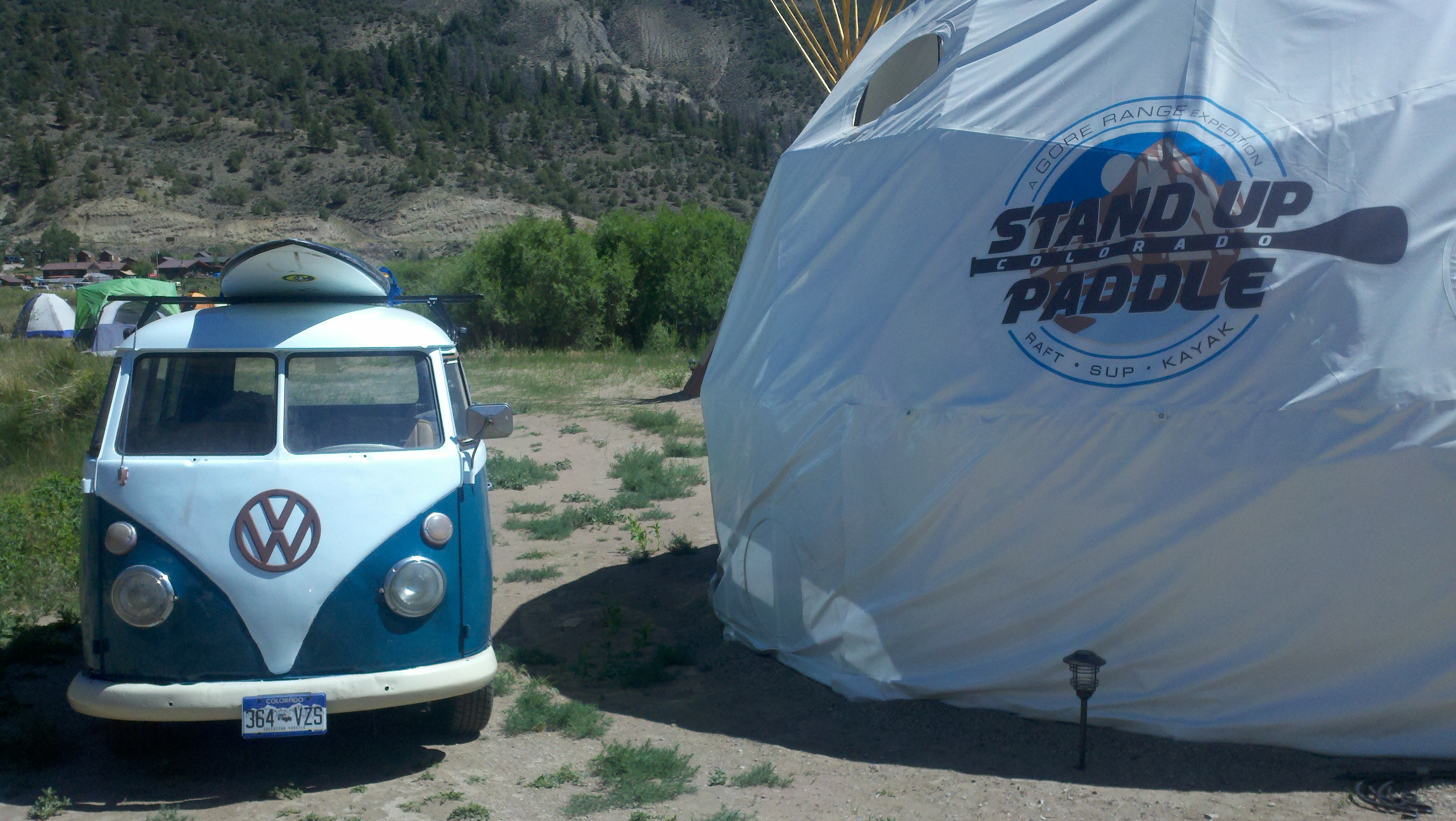 I have become obsessed with SUP'ing – Stand Up Paddle board 'ing that is. I spent several days on Lake Powell with an inflatable and then again on Lake Dillon stroking my way across glassy waters. It's moving water that I wanted to experience and today I got my opportunity to Stand Up Paddle Board Colorado at Stand Up Paddle Colorado in Bond.
I recently wrote about the launch of Stand Up Paddle Colorado at the beginning of May (SUP – A New Stand Up Paddle Outfitter Launches on the Colorado). This great new business located on the banks of the upper Colorado River instructs folks and provides tours along the river's Class II waters. Today was their Open House which allowed me to take advantage of a free clinic and experience Stand Up Paddle Boarding on moving water. I was not disappointed.
 Driving  the Trough Road to Rancho del Rio allowed me plenty of time to reminisce. I have spent many days in the past on the Upper Colorado River with my family and friends. I have been putting more time into waterskiing these days and to my horror I realized its been two years since I have been down that way. Needless to say it was beautiful and I really have missed it. 
Arriving at Rancho I was directed up-river and was greeted by a gleaming white vinyl Geodesic Dome and two awesome tepees, Stand Up Paddle Colorado's headquarters. Co-Founders Scotty Stoughton and Javier Placer-Rodriguez were both there with all of their staff prepping for the event and assisting people with their equipment. 
I filled out my forms and was outfitted with a helmet and booties. Paddles, Boards, PFD's, Helmets and Booties are all available for guests and are highly recommended.  I brought my own PFD and then was fitted for my paddle by holding my hand up above my head while the paddle handle was adjusted to reach right around my wrist. Boards were all laid out ready for the water.
 But there was a surprise! A monster inflatable six person board –  The C4Waterman SUPSquatch was carried out and the kiddos who came along with their moms were stoked! The kids got the board, what a great idea! 
 Skills and safety were discussed, from there we headed to the water for practice. (Quick note, their guide Tim gave one of the best safety talks I have ever heard and I have heard a lot of them over the years!)  Sitting, kneeling, standing and entering in and out of eddy's were practiced repeatedly. I got a good feel for how to handle the board after taking a few unexpected  and very cooling dunks! The Instruction was excellent. Huge kudos to Bradley and Joey! Next will be a trip down the river and then a decision on what board I want for my own.
Get down to Stand Up Paddleboard Colorado! They are located in Bond, Colorado and can be reached at 970-653-7873 and their website StandUpPaddleColorado.com That was a great day!
~Mtn Town Views
MtnTownViews.com is MTN Town Magazine's daily journal blogging about Colorado's mountain towns. Like them on Facebook and Follow on Twitter.
Photo Credits: MTN Town Magazine
© 2012, MTN Town Magazine. All rights reserved. Republication, in part or entirety, requires a link back to this original post.