Western Colorado's Tour of the Moon: A Landscape Like No Other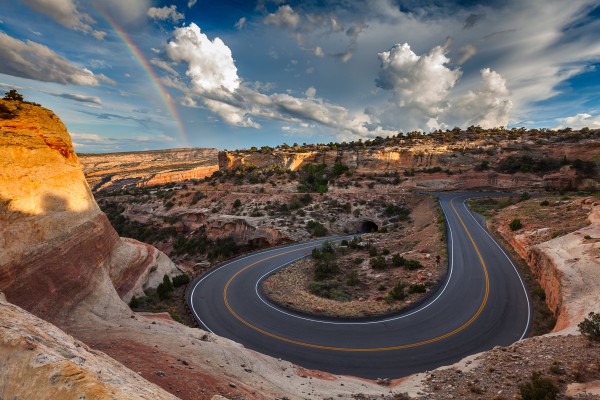 by: Kristen Lummis, BravesSkiMom.com
Colorado is full of classic road bike rides. Many of them involve difficult mountain passes and extreme altitude. The Tour of the Moon over Colorado National Monument ride is different.
There are no mountain passes, just a winding steep road carved out of sheer sandstone walls. For thirty-three miles, this road, known as Rimrock Drive, skirts canyon rims, winds among pinyon and juniper forests and offers otherworldly views of red rock monoliths and the Grand Valley below.
The Tour of the Moon tops out at an altitude of 6,640 feet and while this moderate height won't leave you gasping for air, it isn't an easy ride either.  No matter which way you ride the Monument (as it is locally known), you're in for a significant climb. But with three seasons of wildflowers and a symphony of canyon wrens to accompany you on your way, the Tour is guaranteed to take your breath away.
The Coors Classic and the Tour of the Moon
Between 1980 and 1988, the Colorado National Monument was the site of the "Tour of The Moon," one of the most famous stages of the Coors International Bicycle Classic. During its heyday, the Coors Classic was the largest men's and women's pro-am race in the world, attracting top teams and top riders.
Cycling legend Greg LeMond won the Coors Classic in 1981 and 1985. Other famous participants included speed-skating legends Eric and Beth Heiden, with Beth winning the women's division in 1980. In 1984, the film American Flyers, featuring Kevin Costner as an…
Click here to continue reading this article from our magazine
~MTN Town Magazine
Featured Image: Randy Langstraat, Grand Junction
MtnTownViews.com is MTN Town Magazine's daily journal blogging about Colorado's mountain towns and resorts. Like them on Facebook and Follow on Twitter. Click the cover to read the Winter 2012-13 Issue.
© 2013 MTN Town Magazine. All rights reserved. Republication, in part or entirety, requires permission.