USA PRO CYCLING CHALLENGE STAGE 4: ASPEN TO BEAVER CREEK RACING & FESTIVITIES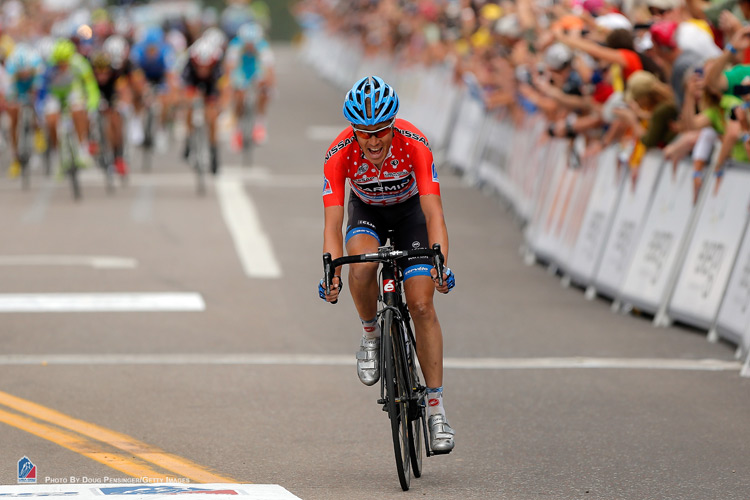 STAGE 4: ASPEN TO BEAVER CREEK – THURSDAY, AUG. 23
Stage 4 is all about Elevation, as much of the course sits above 9,000 feet. A difficult climbing finish could result in the fourth leader change in as many days.
ASPEN
11:35 AM Race Start Downtown Aspen
Those who conquered Independence Pass on stage 3 will see it again very early in stage 4; the climb starts almost immediately after neutral laps through downtown Aspen and will be an ideal launching pad for a breakaway. Anyone who is brave enough to attack over Independence Pass will be faced with more than 75 miles of racing at altitude.
Thursday, August 23:
9am-11:30am      Start Festival & Autograph Alley
11am                       National Anthem
11:35am                USA Pro Challenge Start!
Leadville
Along the way they will compete for a sprint in the town of Leadville — the highest incorporated city in the U.S. at 10,152 feet. Next on the agenda will be the Continental Divide at Tennessee Pass (10,424 feet) and the KOM at Battle Mountain, then the rolling run in towards the final climb to Beaver Creek.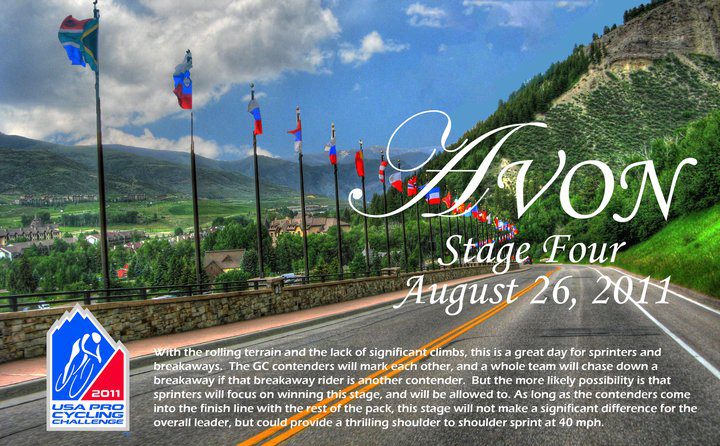 Beaver Creek
Expected Time of Arrival 3:30pm
Passing through the 2011 start city of Avon, the peloton will face a stiff 2.5-mile climb that rises almost 1,000 feet to the ski resort of Beaver Creek. With this fierce climb on the route, the finale is sure to produce exciting racing, especially among those fighting for the overall lead.
Pro Art Challenge Begins                              11:35AM – When first cyclinst finishes
Chromoly Bike Building Competition                                                     1:00PM – 2:30PM
Cookie Time!                                                                                                     3:00PM
Stage 4 Finish (Beaver Creek Village)                                            Est. 3:30PM
US Pro Cycling Awards Ceremony (Centennial Stage)                    Immediately Following First Finisher
International Costume Contest Awards (Plaza Stage)                     4:30PM
Chromoly Bike Building Winner Announced                                       4:40PM
Chris Duarte Concert Begins                                                                      5:00PM
Beaver Creek Village Bike Expo Ends                                                     6:00PM
Chris Duarte Concert Ends                                                                          6:30PM
Post-Race Celebration Begins                                                                    6:30PM
*Look for Bar/Restaurant Specials
We will be in Beaver Creek! Where will you be?
~MTN Town Magazine
PHOTO CREDITS: Getty Images, USA Pro Cycling Challenge
MtnTownViews.com is MTN Town Magazine's daily journal blogging about Colorado's mountain towns. Like them on Facebook and Follow on Twitter.
© 2012, MTN Town Magazine. All rights reserved. Republication, in part or entirety, requires permission.