USA Pro Cycling Challenge – Durango to Telluride Stage 1 Racing & Festivities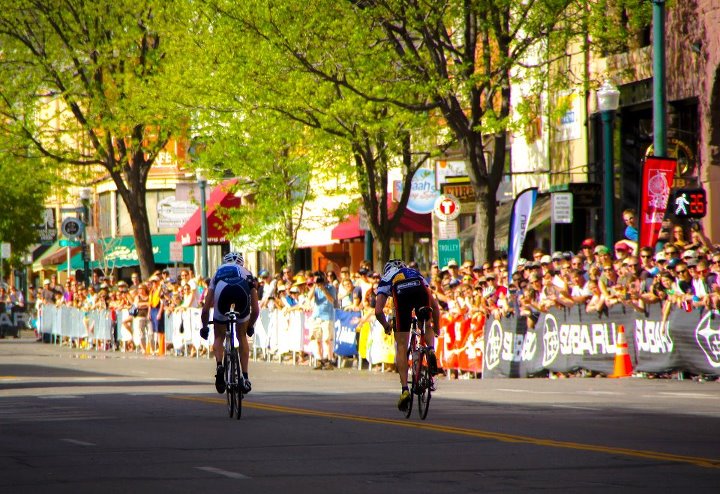 Stage 1: Durango to Telluride – Monday, Aug. 20
Durango:
8:00am Opening Ceremonies, Downtown Durango                            
10:00am Race Start: Downtown Durango
Durango shows us that their is a party for everyone! Weeklong celebrations, Railfest and activities are planned for Durango's Overall Start. "The Overall Start week leading up to the race day of the USA Pro Challenge is a celebration for locals and visitors to be part of the race festivities," stated Mary Monroe, co-chair of Durango's Local Organizing Committee.  "Durango is throwing a weeklong celebration, complete with art exhibits, autograph signings at local bike shops, citizen bicycle tours, Main Avenue Street Festivals, a fireworks show and more. Monday morning will be equally exciting with three in-town laps, including the first official sprint points of the race on Main Avenue, followed by a party in Buckley Park so fans can watch the race on the Jumbotron."
"Let's Get It Started" gala and team presentation tickets are now on sale at Durango2012.com. Hosted by celebrity announceres Phil Liggett, Paul Sherwen and local Durango hero Bob Roll, this intimate dinner on August 18th showcases the best of the best in cycling.  The special evening, held in a private tented area on the rim of Fort Lewis College overlooking the beautiful La Plata Mountains, will be a grand kick off to a high caliber event.  From there the events keep rolling:
USA Pro Cycling Challenge Durango Events
Durango2012.com
THURSDAY AUG. 16 
Tutu to Brew
Buckley Park/Ska Brewing
5:30-8:00pm
The Bicycle Men
Durango Art Center
Showtime: 7:00pm
True West Railfest
Outdoor Movie
A Ticket to Tomahawk
Train Depot: 8:30pm
FRIDAY AUG. 17
Sculpture Dedication
Florida Rd/Chapman Hill 3:00pm
Community
Grand Open House
Downtown Durango
5:00-9:00pm
The Bicycle Men
Durango Art Center
Showtime: 5:00pm
True West Railfest
Outdoor Movie
Butch Cassidy & the
Sundance Kid
Train Depot: 8:30pm
.
SATURDAY AUG. 18
Start Festival
Fort Lewis College
11:00am-6:00pm
It's A Real Butte: Mountain
Bike Race and Trail Run
Twin Buttes
Register at Trails2000.org
7:00am-3:00pm
Kids Bike Rodeo
Fort Lewis College
Time: 12:00pm -3:00pm
True West Railfest
Quick Draw &
Western Vendors
Train Depot: 9:00am-4:00pm
The Bicycle Men
Durango Art Center
Showtime: 5:00pm
Gala
Fort Lewis College
5:00
.
SUNDAY AUG. 19
Start Festival
Fort Lewis College
11:00am-4:00pm
Pro Challenge Experience
Downtown Durango
Durango Mountain Resort
Time: 7:00am
True West Railfest Quick
Draw & Western Vendors
Train Depot: 9:00am-3:00pm
The Bicycle Men
Durango Art Center
Showtime: 2:00pm
Downtown Durango
Street Party
Downtown Durango
4:00-9:00pm
The Bicycle Men
Durango Art Center
Showtime: 7:00pm
.
MONDAY AUG. 20
Race Day Start Festival
Buckley Park
7:00am-5:00pm
Opening Ceremonies
Downtown Durango
8:00am
Race Start
Downtown Durango
10:00am
This year's Grand Depart will begin with a unique start of two neutral laps through downtown, followed by a larger 6.5-mile racing loop that encompasses most of town and then heads back through downtown for the first Sprint Line of 2012. A few bumpy feet of road as the racers cross the tracks of Durango's famous Narrow Gauge Railroad will send the riders on their way out of town toward Telluride. On the ride out of LaPlata County the racers will have to tackle the Hesperus Climb on US 160. After a challenging, rolling ride across the high windswept plains and the second Sprint Line in the town of Dolores, the riders start a gradual canyon climb that lasts more than 30 miles. Topping out over Lizard Head Pass at 10,222 ft., any time gaps gained going up must be maintained on the 15-mile descent into Telluride. A tight and technical finish awaits the riders in the small, scenic town and they must navigate a small round-about and four turns in the last mile before sprinting to the finish line.

Telluride:
Expected Time of Arrival: Between 3 – 4:40pm
It's is a party all week in Telluride! Arrive for the weekend and be ready to have a ball. The Telluride Exhibition of Nudes, Telluride Chamber Festival, Telluride Mushroom Festival, Telluride Festival of the Arts, Telluride Mountain Open – Disc Golf Tournament, KOTO Garage Sale, Cemetery Tour and more await you! Click here for Details
An Intimate Evening with Jewel is scheduled for Saturday night at the Historic Sheridan Opera House. The evening will be an acoustic storytellers' show to benefit the Sheridan Opera House and Jewel's non-profit Project Clean Water. Jewel has been living in Telluride for the summer and jumped at the opportunity to perform a show that benefits the amazing Telluride community. Click this link  for more information.
Monday it is all about the USA Pro Challenge finish! Pick your spot to see these racers flying into town and cheer on their finish. Then head to Town Park for the Finish Festival complete with food carts, great local music and a whole lot of fun.
You can also head to the Elks Club Bicycle Beer Garden, a place to relax during and after the bike races. Check the sunny back deck serving beer, cocktails and Taco Bar. Come visit the Elks Club and see their beautiful historical building on the corner of Townsend and Pacific, across from the Med Center west end.
The parties and celebrations continue into the next weekend so be sure to stay tuned for the update!
Have FUN!!! MTN Town Magazine wishes they were there for this awesome stage!
~MTN Town Magazine
PHOTO CREDITS: Durango Area Tourism Office, Telluride Tourism Board
MtnTownViews.com is MTN Town Magazine's daily journal blogging about Colorado's mountain towns. Like them on Facebook and Follow on Twitter.
© 2012, MTN Town Magazine. All rights reserved. Republication, in part or entirety, requires permission.