Trail Etiquette – How to Behave on Colorado's Trails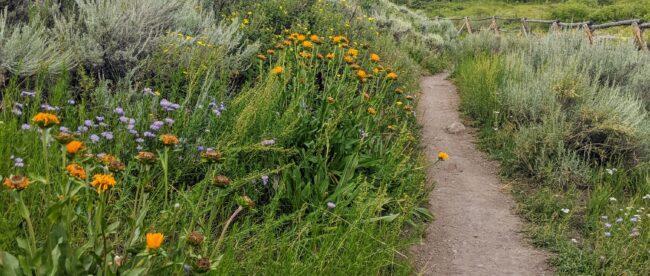 Follow this formula when you take to the dirt
by Shauna Farnell for MountainTown: Breckenridge
Trail etiquette preserves our trails, a treasure, offering endless pathways to adventure – more than 200 miles of them in and around Breckenridge and thousands in Colorado. All are direct byways to becoming one with nature.
As such, we aim to keep our trails as pristine as possible, preserving their beauty and simplicity for future adventurers.
In order to protect the trails and the plants and wildlife that call them home as well as respect fellow trail users, we stick to a few simple guidelines every time we hit the dirt.
Don't smoke
The trails and trailheads are not the places to light up. Especially in the summer, we in Breckenridge (like everywhere in Colorado and throughout the West) are in the red zone for wildfires. All it takes is a tiny spark or piece of ash to start a massive blaze.
Leave no trace
Whatever you bring with you – snack wrappers, orange peels, tissue, toilet paper, etc. – must also leave with you. There is no "it's biodegradable" exception. Dropped food or other biodegradable materials should not be left behind.
Don't bring your external speaker
While we all love a soundtrack for our activities, save it for the hot tub or the après deck party. Subjecting everyone on the trail to your jams is inconsiderate. Some studies even suggest music from external speakers disrupts wildlife patterns. Moose, deer and countless other species bed down with their young in the brush near trails and in addition to alarming them with your tunes, you are also drowning out potential alerts (thunder, barking dogs, etc.) as well as sounds we all want to hear when out in nature: birds chirping, wind in the trees, babbling creeks and rivers.
Don't be a jerk
It doesn't matter how you're enjoying the trail – by foot, bike or board of some sort – the key word is enjoy. We are out there to have a good time. There's no reason why you shouldn't say hello or at least smile to other trail users.
---
Communicate and share nicely
When there are individuals on the trail whom you'd like to pass, slow down as you approach, be sure to give them a friendly heads up if you're coming up behind them and nicely make your wishes known. Something along the lines of "can we sneak by?" usually does the trick.
Who goes first?
The most widespread rule in trail etiquette is that anyone coming uphill has the right of way. Hikers going downhill must yield to hikers going uphill, downhill bikers yield to uphill bikers, etc. If someone is moving faster than you and asking to come by, step aside. Everyone on the trail must yield to equestrians. Again, communication is key.
Keep dogs leashed and pack out their poop
You may have the friendliest, most responsive pooch in the world. You still need to keep him/her leashed. Off-leash dogs – even the nicest ones – present numerous hazards on the trail. They get into scraps with leashed dogs and wildlife, cause bike accidents and damage plants when they wander off-trail. Also, always pick up your dog's waste. If Fido's business happens off-trail, you still have to pick up it. Also, storing the poop bag on the side of the trail with the plan to pick it up later is not acceptable see our suggestions for packing out the poop. Being a responsible dog owner means picking up and carrying poop bags until you can dispose of them properly.

Plan ahead and prepare
Familiarize with your route in advance as well as the weather forecast and trail conditions so you can dress appropriately and avoid trails that are potentially muddy. Breckenridge Recreation Center (breckenridgerecreation.com) keeps an updated list of local trail conditions.
Stay on the trail
Cutting switchbacks, avoiding mud puddles and stepping off-trail for any reason ruins the trail – widening it, destroying surrounding foliage and causing erosion. Go through mud, not around it.
Don't approach or feed wildlife
If you see animals near the trail, watch and photograph them from a safe distance. Don't leave crumbs behind. Squirrels, birds and other species that consume human food can get sick, die and at the very least, forget how to forage for their own food to survive.
Leave what you find
Yes, the wildflowers are stunning around here. Please enjoy them with your eyes and nose only. Do not touch them or take them with you, not even one. If everyone on the trail took just one, there would be none.
Give back
Nothing shows your gratitude for the trails more than a few hours of volunteering. Trail projects are a great excuse to spend time outside, get a meaningful workout and bond with like-minded trail enthusiasts. Check the calendar at Friends of Breckenridge Trails and the local Forest Service headquarters for upcoming projects.
~As seen in MountainTown: Breckenridge a local magazine for everyone who loves Breck!
Stay in touch with Breckenridge – www.mountaintownbreckenridge.com
Story Sponsored by


MTN Town Media Productions | Celebrating the Colorado mountain lifestyle
Copyright 2022 MTN Town Media Productions all rights reserved.