Town of Eagle: Coffee, Beer, Boats, Bikes & Dirt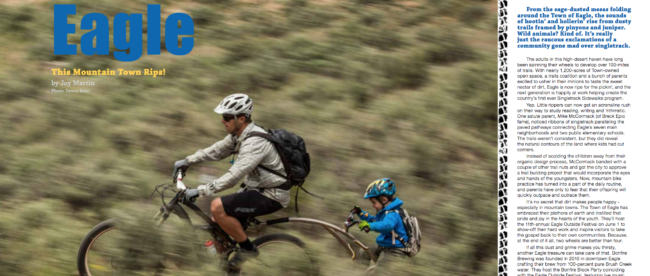 From the sage-dusted mesas folding around the Town of Eagle, the sounds of hootin' and hollerin' rise from dusty trails framed by pinyons and juniper. Wild animals? Kind of. It's really just the raucous exclamations of a community gone mad over singletrack – welcome to the town of Coffee, Beer, Boats, Bikes & Dirt.
The adults in this high-desert haven have long been spinning their wheels to develop over 100-miles of trails. With nearly 1,200-acres of Town-owned open space, a trails coalition and a bunch of parents excited to usher in their minions to taste the sweet nectar of dirt, Eagle is now ripe for the pickin', and the next generation is happily at work helping create the country's first ever Singletrack Sidewalks program.
Yep. Little rippers can now get an adrenaline rush on their way to study reading, writing and 'rithmetic. One astute parent, Mike McCormack (of Breck Epic fame), noticed ribbons of singletrack paralleling the paved pathways connecting Eagle's seven main neighborhoods and two public elementary schools. The trails weren't consistent, but they did reveal the natural contours of the land where kids had cut corners.
Instead of scolding the children away from their organic design process, McCormack banded with a couple of other trail nuts and got the city to approve a trail building project that would incorporate the eyes and hands of the youngsters. Now, mountain bike practice has turned into a part of the daily routine, and parents have only to fear that their offspring will quickly outpace and outrace them.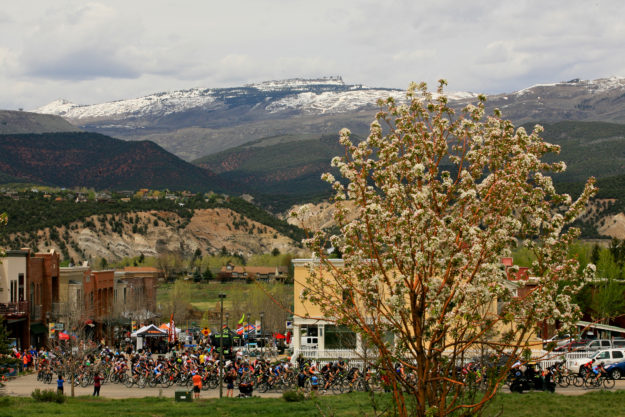 It's no secret that dirt makes people happy – especially in mountain towns. The Town of Eagle has embraced their plethora of earth and instilled that pride and joy in the hearts of the youth. They'll host the 11th-annual Eagle Outside Festival on June 1 to show-off their hard work and inspire visitors to take the gospel back to their own communities. Because, at the end of it all, two wheels are better than four.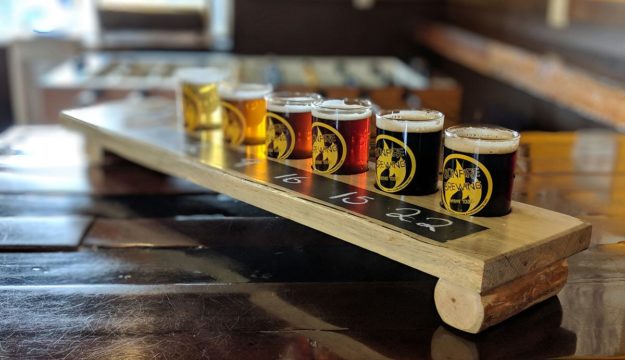 If all this dust and grime makes you thirsty, another Eagle treasure can take care of that. Bonfire Brewing was founded in 2010 in downtown Eagle crafting their brew from 100-percent pure Brush Creek water. They host the Bonfire Block Party coinciding with the Eagle Outside Festival, featuring live music from big names, like Sam Bush, the Dirty Dozen Brass Band and more.
Meanwhile, 7 Hermits Brewing sits up the street in Eagle Ranch, a master-planned residential community founded in 2001. Seven Hermits happily pours its own tasty concoctions and cooks up scrumptious vittles, offering up the perfect complement to a day spent riding bikes.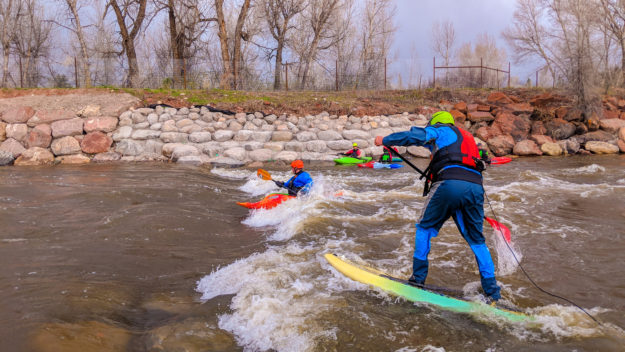 But it's not all about bikes in a town where a river runs through it. This summer, the Eagle River Park opens Phase 1 of its $5.7 million world-class whitewater park. Kayakers, rafters, standup paddlers and tubers will get their faces full of Eagle River spray, while fisherman up- and downstream will still enjoy finding some solitude in these Gold Medal waters.
Don't let the gold fool you. The Town of Eagle sits 30-minutes down-valley of Vail and Beaver Creek's glitz and glamour. While there are second homeowners and retirees, as in all mountain towns, Eagle maintains the sense of a place you could easily call home. It's laidback and unassuming, a humble facade hiding a wellspring of riches.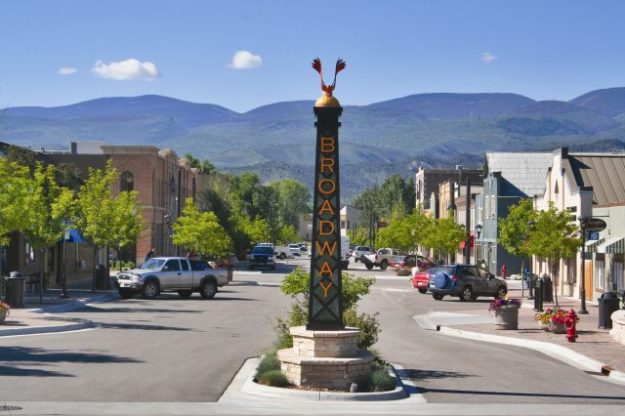 The storybook setting sits at 6,600-feet above sea level. It's built around the Eagle River and Brush Creek flowing between Eagle Ranch and downtown Eagle. Besides providing the natural spring for the breweries, Brush Creek serves as the perfect biome for buzzing wildlife and idyllic birdsong alongside the burbling, meandering creek. It's little wonder that weddings, reunions and other community events book throughout the year at the Brush Creek Pavilion in the heart of this wetland oasis.
Besides the Pavilion, Eagle has plenty of park space dotting town, including Town Park. On Thursday evenings throughout the summer, pack a picnic blanket and mosey down to the free concert series. There's also free Yoga in the Park on Sunday's, if you're looking to get your Namaste on. The yoga adds balance to the endless offerings of trail running and mountain bike races taking place from April 15 till the snow flies.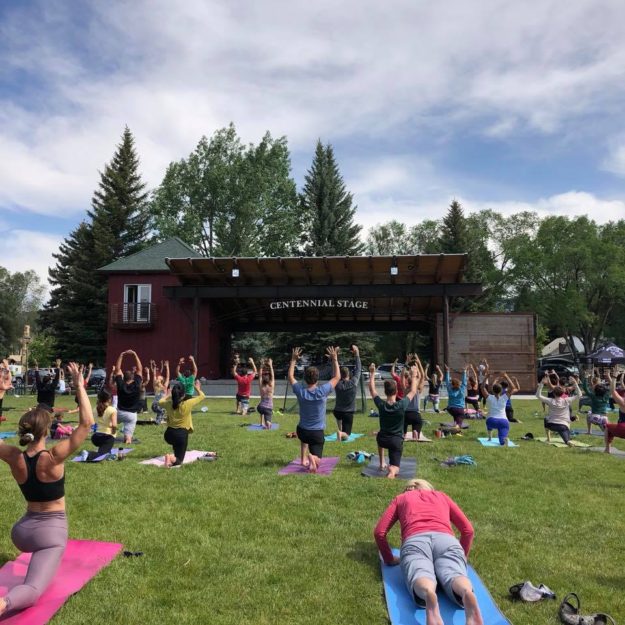 See?! It's impossible to not talk about Eagle without talking about the beloved bicycle. But it makes sense to keep human-powered recreation at the hub of the conversation, considering the Climate Action Collaborative for the Eagle County Community launched in 2016. Bicycles are just one aspect of this countywide plan to reduce greenhouse gas emissions 25-percent by 2025, and 80-percent by 2050.
The adults are savvy to the fact that it's imperative for the youth to also roll up their sleeves and help lead the county toward sustainability. This is one reason parents couldn't be more tickled to see their kids pedaling from home to school and beyond to the many camps and programs offered through WECMRD, the public library and more.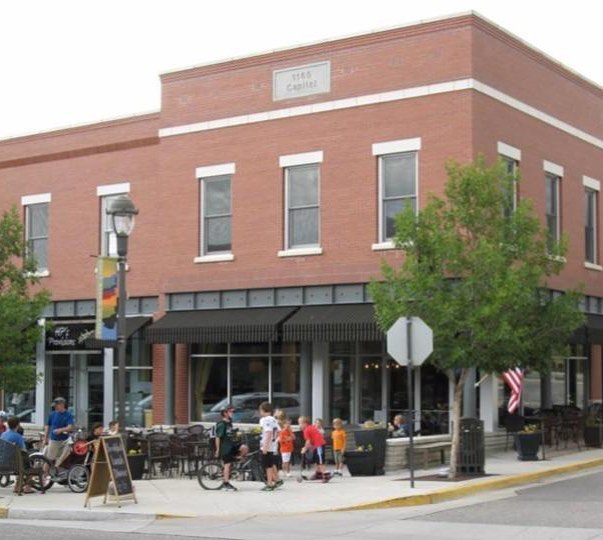 One project-based learning model has popped up via the new Zealous Schools founded by Geoff Grimmer. Designed with the intent to spark passion in the youth, Zealous launches their flagship program for the 2018-2019 school year. In line with the community's Climate Action Plan to be Zero Energy, Zealous plans to add solar panels to their building, which is located on Capitol Street in Eagle Ranch close to the Eagle Community Gardens and within biking distance of the pool and ice rink.
Zealous students are required to complete 10 hours of community service each year. They're encouraged to pick projects that they think their skills and innovation would best be utilized in. If that means following in their parent's pedal strokes, imagine the Singletrack Sidewalks of the future!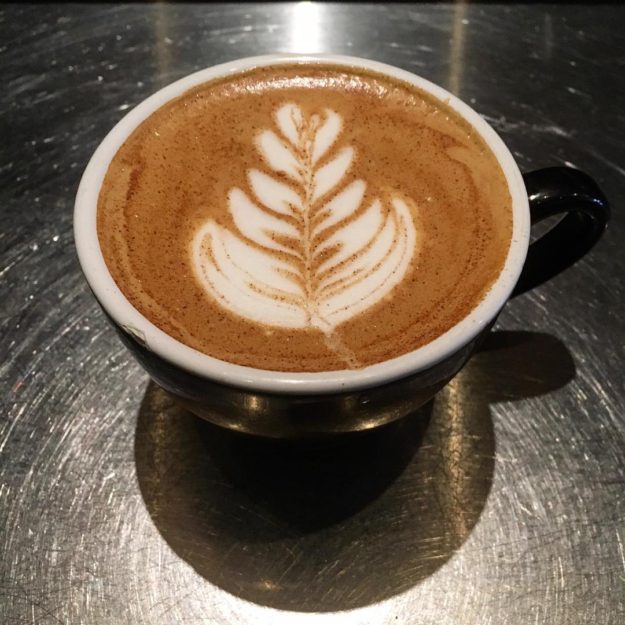 But I digress. It's not all about the bikes. It's also about coffee. Take downtown Eagle icon, Yeti's Grind, for instance. They've been pouring up "small town comfort in a cup" since 2006, when Nate and Tara Picklo opened doors to a community that makes all of the magic happen. Because who would have the energy without a jolt of Joe?
Meanwhile, back on the Ranch, Color Coffee Roasters opened in 2016. Like Bonfire Brewing's humble beginnings as homebrewers, Color Coffee also started as a home roasting operation. They've since set out on a mission to create "an oasis of deliciousness and hospitality." Caution: these guys are absolute fanatical hipsters, so expect only the utmost attention to detail and delicate latte art served by beard- and flannel-wearing natives.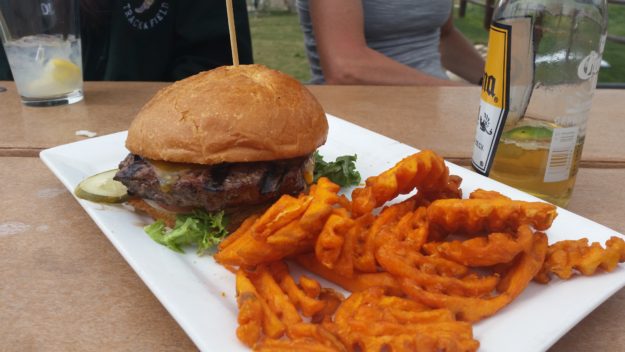 If all of this weaving and bobbing between Eagle Ranch and downtown Eagle makes you hungry, check out The Dusty Boot for one of the Best burgers around or grab some homemade empanadas at Loncheria Primabere or "the best damn East Coast Italian Tomato Sauce this side of the Mississippi" at Pastatively. For trendy bites, checkout Owashi Sushi on Broadway, or dress it down with a stop at the Brush Creek Saloon.
And then get the hell out of town because there's more to see. Ten miles southeast of Eagle, Sylvan Lake State Park is the perfect day-trip destination to take a fishing pole and some Moe's Original Bar B Cue. Kick it under the gaze of towering pines and a horizon filled with mountain tops. For a real adventure, continue down the dirt road through resplendent aspen groves to find endless trailheads leading to high alpine lakes and wildlife hideouts.
In the winter, this road shuts down and a whole new world opens to backcountry skiers, riders and snowmobilers. For the ultimate Rocky Mountain experience, book a stay at one of the 10th Mountain Division huts nestled in the White River National Forest. There's nothing as cozy as schussing in blower powder by day and then snuggling by a crackling fire at night over whiskey and card games.
If backcountry skiing isn't your cup of tea, don't forget that Vail and Beaver Creek are just a 30-minute shuttle up Interstate 70. While you'll enjoy some of the world's finest ski terrain, you'll be happy to drive back to the arms of Eagle, where 7,000 of your new best friends await with open arms, hot coffee, cold beer and plenty of opportunities to talk about – you guessed it – bicycles.
Because, at the end of it all, it is all about the bikes. And the kids. Really, it's all about the people who pour their hearts and souls into making the Town of Eagle a dream place to visit, and maybe even live. County workers, massage therapists, trail builders, baristas, nail salon technicians, restaurateurs, contractors, real estate agents, teachers, grocery store clerks: it's the faces that grace the sidewalks (singletrack or otherwise) who really add the spice of life to this little town in the Rockies.
But don't take our word for it. Find out what Eagle's really all about on your next mountain town journey. Pack your appetite for adventure, and prepare to join in the revelry, hootin' and hollerin' alongside those tan, singletrack-slap-happy locals. Your heart will thank you.
by Joy Martin, previous passionate Eagle resident now dwelling in Durango!
~MTN Town Magazine
MTN Town Magazine | We are Colorado's Mountain Town Magazine
Copyright © 2018 MTN Town Magazine all rights reserved.