Top Swimming Pools for Resort Guests in Western Colorado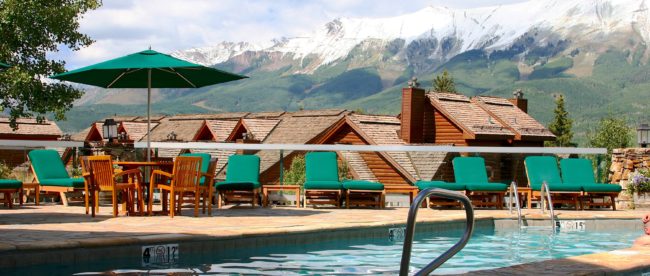 Grab some relaxation time and cool down in Colorado's Mountain Towns with this list of Top Swimming Pools for resort guests in western Colorado.
Maybe it was because we were teased with spring so early this year- luscious red tulips in full bloom by March-that my mind starting dreaming of bikini weather and soaking mountainside in a serene pool by month's end. Come April my taste buds were calling for a juicy burger from the grill, a slice of watermelon, potato salad and heck, even a shot of gazpacho. Before May even begun, I was searching Pinterest and Etsy for the latest in pool toys and rafts for my summer adventures. When I sat down to write this story, I had already poured through four summer cocktail books and have decided that my drink of choice this year will be a melon-infused mojito since every pool can source it locally and use Colorado liquor.
I'm from the Midwest and we grew up at swimming pools. When we would travel, my parents couldn't get my brother and me out of the pool-be it indoor or out. Now that I have added three decades and my tastes have become more sophisticated, I am in search of something different from my pools. I still look forward to vacationing for the sole purpose of poolside activity. Last summer in Vail at the Sebastian, I finished one novel and two magazines that had been sitting bedside for three months, that's accomplishing something, and productivity to me.
For the best in the Colorado West, here's how to do it right and where. Note, these are only resort pools, no hot tubs or hot springs or dude ranch pools. This is strictly summer swimming season though many of these pools are found open and ready for a dip year round. The splash line is drawn at the Continental Divide, so load up on floaties and sunblock, it's a refreshing and rejuvenating summer in Western Colorado's swimming pools.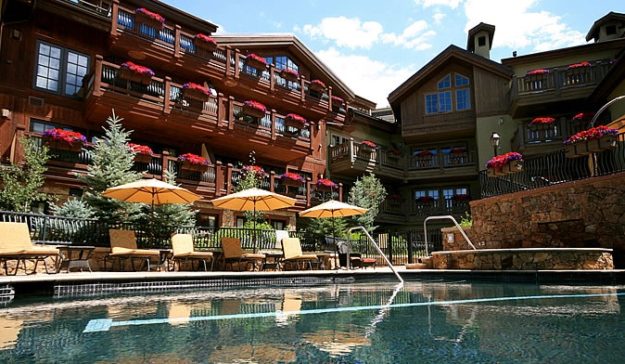 Sonnelap, Vail
A children's wade pool and a variety of dipping delights set Sonnelap apart from the rest with a variety of options. That, and what pools all must require- Beautiful Views.
You're swimming in this pool, looking at the mountains and it feels as if you're suspended, just floating amongst the mountains yourself.
Pool size: 25-yard length lap pool containing 53,000 gallons, 10-12 person
family recreation pool with 55,000 gallons
and a children's wade pool with 6,000 gallons.
Type of Water: chlorinated
Views of: Southeast looking at Arrowhead, Beaver Creek and Vail-overlooking 9th hole of the golf course
Pool toys and rafts? In family recreation and children's wade pool only
Lap Lanes: 3 lanes in lap pool
Deck Seats: approximately 100-125 consisting of chaise lounges, patio table seating and bar stools
Food Capabilities: Full pool grill menu, snacks, ice cream and beverage service. Also, Balata is located just above the pool deck if you want a more sit-down type of experience.
Beverage Service: cocktail and non-alcoholic drink service
Hour of Operation (summer): 10 am to 7 pm daily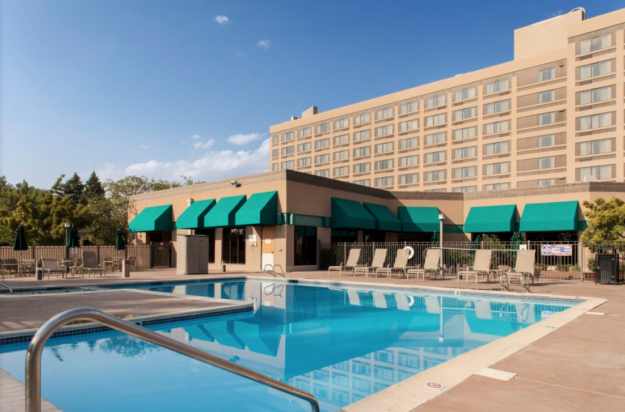 DoubleTree by Hilton, Grand Junction
There aren't many pools in this area and this happens to be the largest resort pool in the vicinity for many, many miles. A couple summers back, at the end of a long, 100-degree heat road trip, we pulled in to the DoubleTree and the pool was a huge hit for both the young and old. Simple, yet with views of the Colorado National Monument, this pool is the coolest dip you will find in the Grand Valley.
Pool size: length-40 feet, width-30 and 29,000 gallons
Type of Water: salt water
Views of: Golf course and Colorado National Monument
Pool toys or rafts? None allowed except for small items
Lap Lanes: None
Deck Seats: Yes
Food Capabilities: At the pool and they have cocktail servers from 8 am until 10 pm, 7 days a week
Beverage Service: Yes, same as above.
Hour of Operation (summer): 8 am to10 pm daily
www.doubletreegrandjunction.com

The Westin Riverfront, Beaver Creek
The Westin Riverfront's pool deck is definitely a hot spot in the summer months, you can watch kayakers and whitewater rafters float by on the Eagle River while soaking in the summits surrounding you. New this summer, the resort is offering Wednesday evening pool parties from June 24- September 9 featuring a solo guitarist.
Pool size: 25-yard lap pool
Type of Water: Saline-based filtration system that uses 90% less chemicals than a standard pool, and was a big factor in helping the hotel earn their Silver LEED certification from the U.S. Green Building Council.
Views of: Beaver Creek Mountain and the Eagle River
Pool toys and rafts? yes
Lap Lanes: number is dependent upon need, but can be as high as 4
Deck Seats: Yes, and with umbrellas too.
Food Capabilities: Served daily 11 am to 5 pm, including a variety of healthy sandwiches, salads and snacks.
Beverage Service: New for summer 2015, the Westin Riverfront is installing a permanent Pool Bar that is made completely from Colorado beetle kill wood and which was originally used in the VIP viewing area at last winter's FIS Alpine World Championships.
Hour of Operation (summer): Pool is open 6 am to 10 pm daily.
www.westinriverfrontbeavercreek.com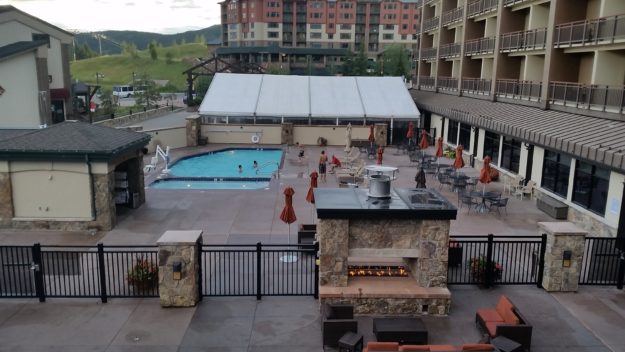 Sheraton Steamboat Resort, Steamboat Springs
Late last summer we made an August escape to the boat and the newly remodeled pool at the Sheraton. Two-days straight we had to edge out time for this pool. The nearby café and bar are extremely convenient and the pool is quite large which made it feel almost private. Most people are out adventuring or on the mountain, so this pool doesn't get too much play. When the sun goes down, cozy up to a choice of two poolside fireplaces or journey to Saddles Bar and Grill for nightly S'mores.
Pool size: 20K Gallon. 21′ X 45′
Type of Water: Fresh water from the top of the continental divide treated with chlorine.
Views: Mount Werner and Steamboat Ski area
Pool toys or rafts? Yes
Lap Lanes: None
Deck Seats: 133
Food Capabilities: Poolside service featuring Colorado raised Black Angus burgers, chicken sandwiches, salads, paninis, smoothies, snacks and ice cream treats.
Beverage Service: Bar service with full liquor options. Colorado micro brews to blended Margaritas and Frozen Daiquiris
Hour of Operation (summer): 10 am to 10 pm
www.sheratonsteamboatresort.com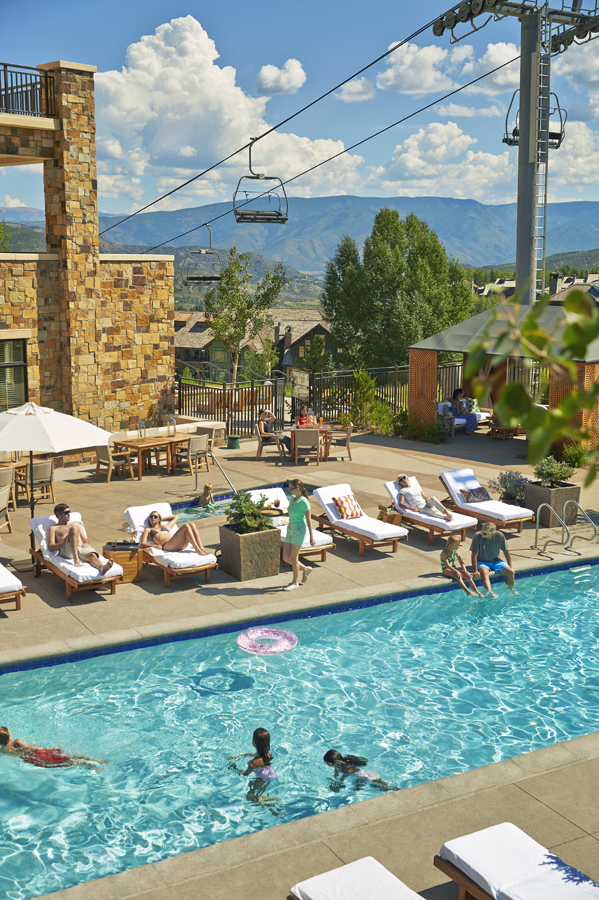 Viceroy, Snowmass
This boutique hamlet just outside Aspen spares no pool accessory for their guests. Stunning views and a pool terrace designed by lifestyle tastemaker Kelly Wearstler, the sexy flair and supremely comfortable design showcases chairlift and ski-run views that beckon guests to linger for hours. The surrounding cabanas are modernly-designed for a luxurious, yet understated feel.
Pool size: 16 ft x 45 ft
Type of Water: Saline
Views of: The surrounding Snowmass Mountain (directly mountain side). You can also see a chairlift, which hangs just off in the distance.
Pool toys or rafts? Pool toys are allowed but they have to be child safe (foam noodles, etc.)
Lap Lanes: none
Deck Seats: terrace with cabanas (first come first serve) and lounge chairs
Food Capabilities: Guests can order food through NEST Public House (Eatery located right next to the pool) they can bring their items directly onto the pool deck.
Beverage Service: Same as above
Hour of Operation (summer): 8 am to 11 pm (Tentative hours – still are finalizing)
www.viceroyhotelsandresorts.com/en/snowmass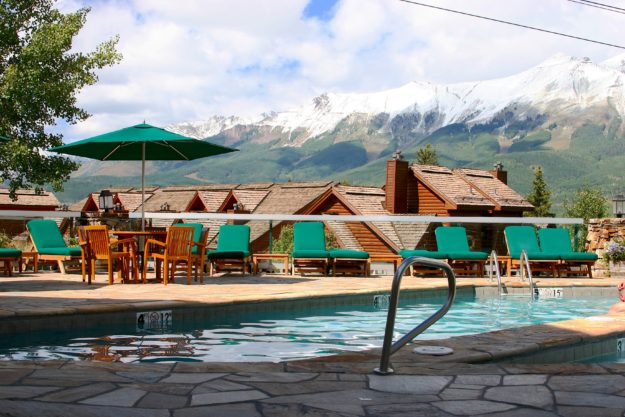 Mountain Lodge Telluride
This is the place where you will be floating in the pool thinking how did I ever get so lucky. The tremendous views and colorful patio of this hotel are within a few steps of the restaurant and bar. If you are planning to visit Telluride this summer for one of their incredible festivals then this is THE place to hang your hat and tie on your bikini. Hit the festivals, go for a hike or bike and most definitely plan time by their pool.
Pool size: Approximately 16,000 gallons 60′ x 25′ wide with built in hot tub
Type of Water: Chlorine
Views of: The San Sophia Ridge of the San Juan Mountains
Pool toys or rafts? Yes, small toys are acceptable.
Lap Lanes: None
Deck Seats: 5 Umbrella Tables for four and 20 chaise lounges. Plenty of towels are available along with in-room robes.
www.mountainlodgetelluride.com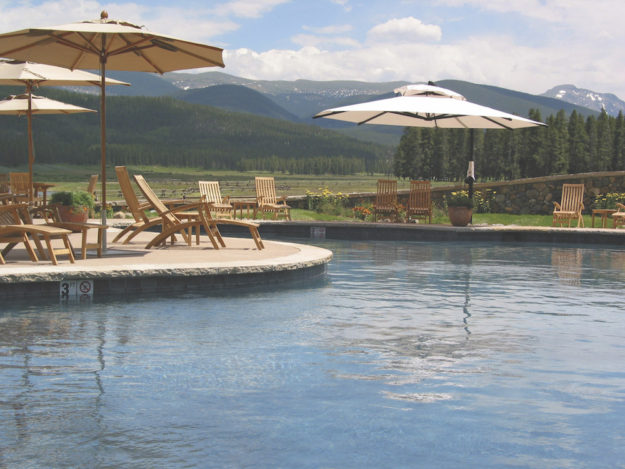 Devils Thumb, Tabernash
The peaceful surroundings at Devil's Thumb Ranch alone would make you want to grab a chair and relax in the sun. Add a beautiful pool into the equation and you have instant serenity. If the weather is a bit unsettled then enter through the indoor entry and make you way out. No need to get out and freeze. Head to the spa next door before or after to make a pampered day of it.
Pool size: pool – 65,000 gal., hot tub – 3500 gal. Type of Water: saltwater
Views of: Continental Divide & Ranch Creek Valley Pool toys and rafts: not permitted
Lap Lanes: no
Deck Seats: Chaise Lounges and Umbrella Tables with Chairs
Access to F&B: yes
Misc: indoor/outdoor pool with indoor entry, hot tub adjacent to the pool
Hours of Operation: 9am – 10pm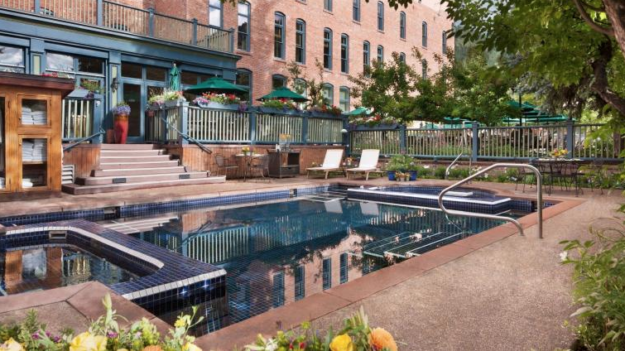 Hotel Jerome, Aspen
It's Aspen and you're at an outdoor pool, but if you need more than that, you hit the pool deck of Jerome for the people watching, personalized service, kick-ass location to town and what else-the views.
Pool size: 19 x 26 x 4 and two hot tubs
Type of Water: Chlorine
Views of: Aspen Mountain and the Hotel Jerome
Pool toys and rafts? Yes, the pool provides a variety of children's float toys, basket ball hoops, and pool games.
Lap Lanes: No
Deck Seats: Yes
Food Capabilities: Yes
Beverage Service: Yes, heated towels provided, sunscreen, ice water, cocktail service.
Hour of Operation (summer): 8 am to 10 pm daily
www.hoteljerome.aubergeresorts.com

Aspen Meadows Resort, Aspen
This pool has always been a favorite of mine. It's open year-round, private as the resort is located just a couple blocks from downtown Aspen, and the grounds are expansive and inclusive of hiking and biking trails.
Pool size: 25 meters
Type of Water: Saline
Views of: Mount Sopris, Red Mountain and Smuggler Mountain
Pool toys or rafts? No, none are allowed.
Lap Lanes: 3
Deck Seats: 18
Food Capabilities: Yes, room service menu
Beverage Service: Yes, room service or bring your own, no glass
Hour of Operation (summer): weekdays 6:30 am to 9 pm and weekends 7 am to 9 pm.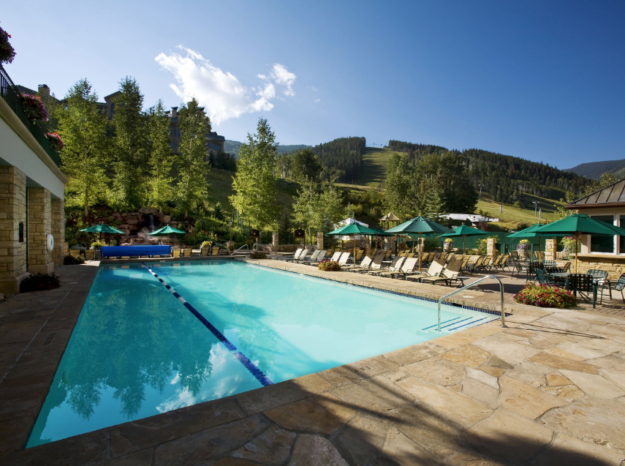 Park Hyatt, Beaver Creek
With glorious overlooks of the mountain and peaks, this summer splash is ideally situated at the base of the Beaver Creek ski hill. Summer includes lots of family outdoor programming right by the pool and tons of action for both young and old and those in between. It's a more intimate escape than Vail, and just as scenic and convenient.
Pool size: 25 yards length
Type of Water: Bromine
Views of: Beaver Creek Mountain and surrounding peaks
Pool toys or rafts? Yes, kickboards, diving rings, and volleyball nets are available at the front desk
Lap Lanes: One lap lane (the rest of the pool is open and about the size of two additional lap lanes)
Deck Seats: lounge chairs, umbrellas, tables
Food Capabilities: Room service menu. There is a phone at the pool deck and they will bring out orders to the deck.
Beverage Service: Same as above.
Hour of Operation (summer): 6 am to 8 pm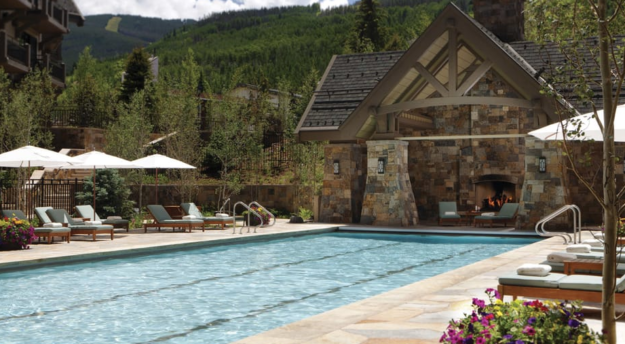 Four Seasons Resort, Vail
It's the Four Seasons, so you'd better believe this pool lives up to the brand's namesake. It's quite large for a mountain pool, and the summer BBQ's are hard to compete with, especially after a nearby hike up Vail Mountain. The Four Seasons service ensures luxury at every step, from heated robes and open-air fireplaces to pool-side food and beverage attendants.
Pool size: 23 m/ 75 ft (length)
Type of Water: Saline
Views of: Vail Mountain
Pool toys of rafts allowed? Yes. In the summer they have noodles, balls and other toys available for borrowing.
Lap Lanes: "One lap lane and little extra room on the side," per the concierge.
Deck Seats: All around there are tables, lounge chairs, umbrellas, fire pits and benches.
Food Capabilities: Guests have access to the complete in-room dining menu. They can call, place an order and the staff will bring it out to the pool deck. Starting (typically around June 1) there is also a full-service BBQ available to guests during lunch and dinner hours.
Beverage Service: Guests have full access to the in-room menu. The hotel staff will bring out any orders to guests on the pool deck.
Hour of Operation (summer): 7 am to 10 pm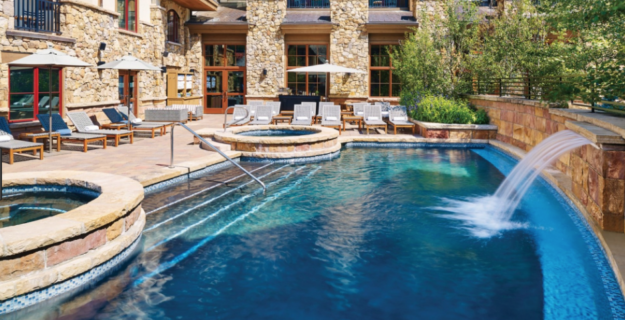 The Sebastian, Vail
My husband and I could have easily used an extra day at this pool last summer. The summer storms surpassed us and après hike at the pool is simple. Bring a book or beer, it's all relaxing at the Sebastian. But don't bring too many people, it's not that large, and the quiet is a virtue.
Pool size: Approximately 16,000 gallons
Type of Water: Chlorine
Views of: Vail Mountain
Pool toys or rafts? Rafts are not, small toys are acceptable.
Lap Lanes: None
Deck Seats: Two sofa couches that seat four people; one large table that seats six people. There are an additional 23 lounge chairs for guests.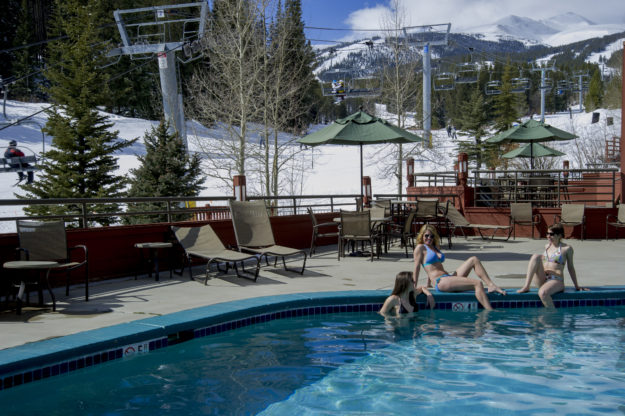 Beaver Run Resort, Breckenridge
The best part about Beaver Run is choosing which pool to lounge by. The resorts main pool is an Indoor-Outdoor facility, with an additional 6 outdoor hot-tubs overlooking the pool area to indulge in. "The Hub" bar at the resort provides drinks for loungers during apres hours. In addition, a large outdoor hot tub (20+ people) can be found next to the Beaver Run super chair, along with another outdoor pool that sit slopeside (both areas are open year-round).
Type of Water: Chlorine
Views of: Breckenridge Mountain and the Ten Mile Range
Pool toys or rafts? Rafts are not, small toys are acceptable.
Lap Lanes: None
Deck Seats: Sofa couches, lounge seats, umbrella tables and chairs are found around all of their pools.
by Julie Bielenberg the Slow and Go Traveler for MTN Town Magazine