The Taste of Vail Adds New Seminars to a Great Lineup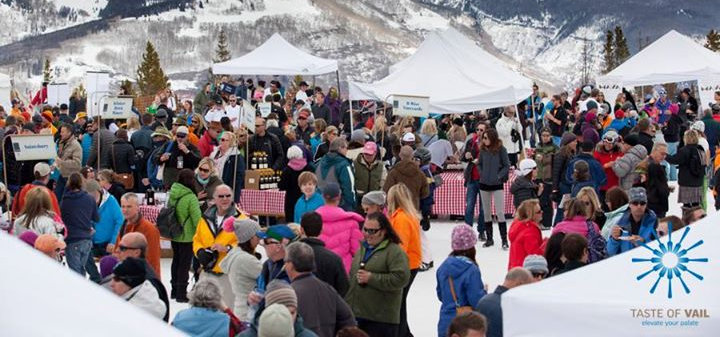 The Taste of Vail, announced additional seminars as part of its 2017 event taking place April 5-9, 2017 in the heart of Vail, Colorado. As one of the nation's top food and wine festivals, it is one of the few events in the country that invites dozens of winemakers and owners from all over the world to pour wine and interact with participants.
The Taste of Vail develops a series of new seminars each year designed to help food and wine enthusiasts expand their knowledge in fun and interactive sessions. The latest new seminars include:
Riesling Rising: Refined, Expressive & Dry
With new winemaking techniques, enthusiastic growers have given Riesling a strong bid for the market- and mind-space. Join Richard Grosche, who will discuss what many of us are still learning about Rieslings expressive nature taste.
Hard to Handle: Perfect Pairings for Difficult Dishes
Join wine expert Josh Wesson while he helps you pair the foods we are never quite sure about. Be entertained and amazed at how easy it can be.
Additional 2017 seminars also include:
Gloria Ferrer Blending Tasting
Join us for a blending tasting seminar. Start off by tasting some of Gloria Ferrer Cave & Vineyards various styles of bubbly. After this, taste through nine or 10 base wines and have people create their own blend. If you have an interest in winemaking, this is your chance to see what you can create.
Grenache Tasting with Tablas Creek Vineyard
Grenache can come from all over the world. California's winemakers, are making some wonderful Grenache. The most distinguished are well-balanced with compelling aromas, bright red fruits, and a hint of spiciness.
Blind Tasting
Join advanced Sommelier Jeremy Campbell for a seminar on tasting wine like a professional.  You will learn a logical, deconstructive method to smelling, tasting, and accurately assessing a wine and all of its facets. This is a method used by Sommeliers for blind tasting in exams and an impartial, unbiased way to accurately judge a wine. This is a fantastic tool for all wine lovers to expand their education and expertise.
All seminar tickets are now available and to see the most recent schedule of events and to purchase seminar tickets visit www.tasteofvail.com.
The 27th Annual Taste of Vail features more than 30 guest chefs, restaurateurs, and sommeliers as well as more than 55 top wineries from around the world. Over the five-day festival attendees experience signature events including the 2016 Debut of Rosé, The American Lamb Cook-Off and Après Ski Tasting, The Mountain Top Tasting and the Grand Tasting as well as seminars, intimate wine pop ups, dinners and more.
Tickets on Sale Now
Individual event tickets and signature event passes are now on sale and selling quickly. Four and six-pack seminar tickets are now available for those wanting a more intimate learning experience with participating wineries and local chefs. The four-pack seminar tickets are on sale for $150 and a six-pack for $180. Individual seminar tickets are $50. The signature Mountain Top Tasting is currently available for $145; The Lamb Cook Off & Aprés Ski Tasting is $85; Debut of Rosé 2016 is $55 and the Grand Tasting for $190. Save with signature event package with tickets to all flagship events for $430. 
For more information or to purchase tickets for the 27th Annual Taste of Vail, please visit www.tasteofvail.com or call (970) 401-3320. Also, follow on social media at Facebook, Twitter, and Instagram and #tasteofvail
About the Taste of Vail Food and Wine Festival
Rated among the top food and wine festivals by Forbes, Travel Channel, and USA Today, Taste of Vail will celebrate Vail's world class dining scene and participating wineries finest wines, at several different venues throughout North America's most popular mountain resort from April 5-April 9, 2017. In addition to the new seminars offered during the 27th Annual Taste of Vail, the event includes Debut of 2016 Rosé, the American Lamb Cook-off and Après Ski Tasting, the Mountain Top Picnic, and the Grand Tasting. Taste of Vail is one of the nation's only events that invites dozens of winemakers and owners from all over the world to pour wine and interact with participants. For more information and to purchase tickets visit www.tasteofvail.com
MTN Town Magazine | We are Colorado's Mountain Town Magazine
Copyright © 2017 MTN Town Magazine all rights reserved.