The 28th Annual Telluride Blues & Brews Festival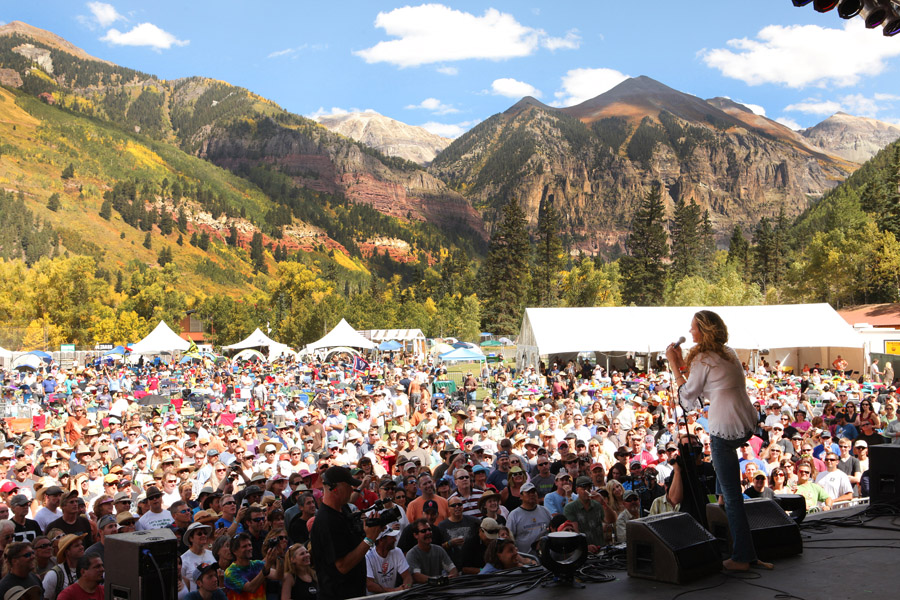 Telluride Blues & Brews Festival revealed their 2022 artist lineup. The festival returns to delight the event's fans with a well-rounded mix of live blues, funk, indie, rock, jam band, gospel and soul performances featuring Buddy Guy, Gov't Mule, Ceelo Green As… "Soul Brotha #100″ (A James Brown Tribute), John Hiatt & The Goners, The War and Treaty and many more. The complete list of announced artists is included below.
"Each year, it is our mission to curate a top-notch experience that our faithful attendees have come to expect and once again, I couldn't be more excited about what we have crafted" said Steve Gumble, Festival Director and Founder. "Of course it goes without saying, it is an honor to welcome the legendary torch bearer of blues music, Buddy Guy, back to our stage. When I heard that CeeLo Green was doing a tribute to James Brown (a music icon we were fortunate enough to have at our festival back in 2001), it took me less than a minute to reach out. We will always have our familiar favorites like Gov't Mule, Anders Osborne and Samantha Fish and we know that our new friends Curtis Harding and The War And Treaty are going to feel right at home with our festival family. There are just too many exciting bands this year to mention all of them!
Artists will perform on three stages under Telluride's awe-inspiring 13,000-foot Rocky Mountain peaks as the fall foliage season begins to brighten the landscape. To complement the music, the festival proudly boasts a wide variety of local and regional food and craft vendors, cozy late night club shows, and stand-up comedy performances.
Telluride Blues & Brews Festival goers' can also enjoy an assortment of special events throughout the festival weekend including the Sunset Blues Concert, Twilight Sessions, a 5K Fundraiser Race, free Yoga Sessions, group hikes, group mountain bike rides, and more. Additionally, 23 breweries will return to the festival for the new Brewers Showcase featuring five tasting sessions, multi-brewery collaborative beers, a multi-course beer pairing dinner, and more.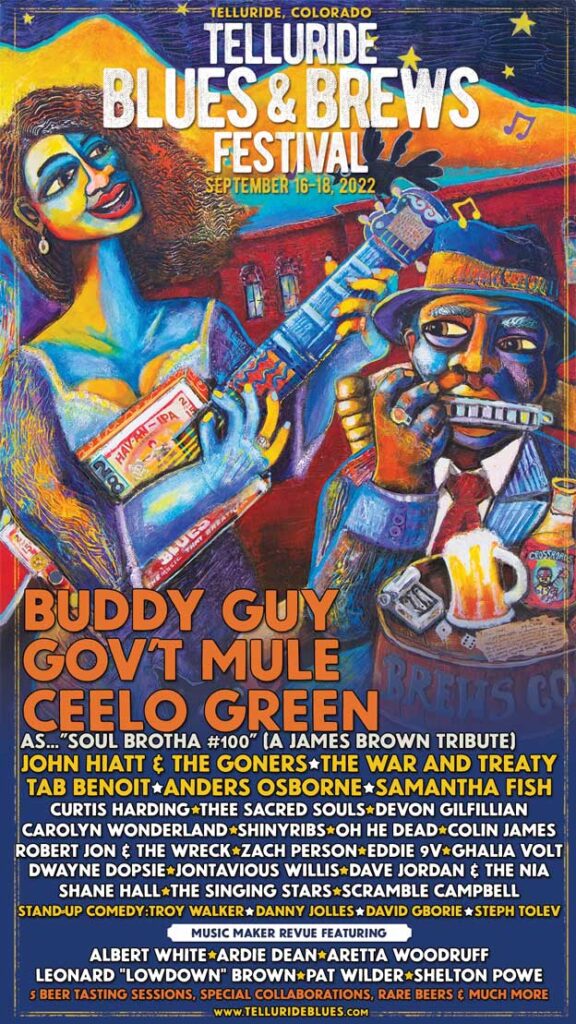 2022 Telluride Blues & Brews Festival Artist Lineup:
Buddy Guy
Gov't Mule
"Ceelo Green As…"Soul Brotha #100″ (A James Brown Tribute)"
John Hiatt & The Goners
The War And Treaty
Anders Osborne
Tab Benoit
Samantha Fish
Curtis Harding
Thee Sacred Souls
Devon Gilfillian
Carolyn Wonderland
Shinyribs
Oh He Dead
Colin James
Robert Jon & the Wreck
Zach Person
Eddie 9V
Ghalia Volt
Dwayne Dopsie
Jontavious Willis
Dave Jordan & the NIA
Shane Hall
The Singing Stars
Scramble Campbell
The Music Maker Foundation Revue featuring:
Albert White
Ardie Dean
Aretta Woodruff
Leonard "Lowdown" Brown
Pat Wilder
Shelton Powe
Stand-Up Comedy featuring:
Troy Walker
Danny Jolles
David Gborie
Steph Tolev
Festival tickets go on sale Tuesday, March 1 at 10 am (Mountain Time). Three-Day Passes are $250 plus service fees, Single-Day Passes start at $95 plus service fees. For festival information or to purchase tickets, visit TellurideBlues.com.
We are looking forward to a Summer of Music in the Mountains! Colorado will be alive with music. For more Musci Festival Events and Information visit: https://mtntownmagazine.com/music-in-the-mountains/
~ MTM
MTN Town Media Productions | Celebrating the Colorado mountain lifestyle
Copyright 2022 MTN Town Media Productions all rights reserved.
Post Sponsored by