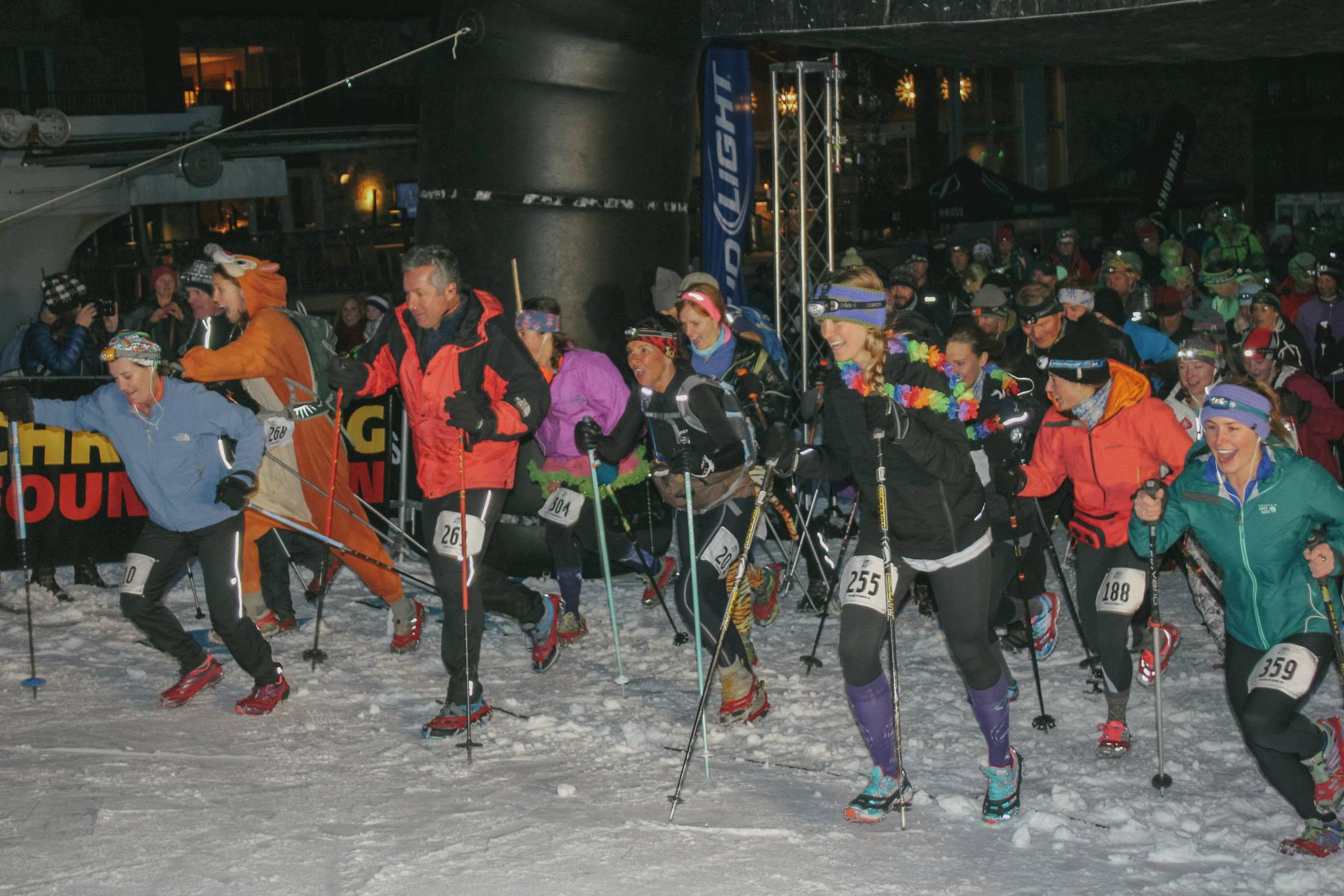 Raising funds for lifesaving organ, eye & tissue donation awareness
Summit for Life is returning for an IN-PERSON event in Aspen this year! We are excited to report the 2021 Summit for Life fundraising event is now in-person AND virtual! That means this year's "Kickoff to Winter" will be even bigger and better than ever.
The Chris Klug Foundation's annual Summit for Life is a very cool nighttime uphill race up Aspen Mountain, a virtual challenge, and the biggest fundraiser of the year for the Chris Klug Foundation (CKF). Their mission is to raise awareness of the lifesaving gift of organ, eye & tissue donation. By participating in Summit for Life (S4L), you are helping spread this message and make a difference for the 108,000 people awaiting a transplant in the United States today. Registration for S4L has sold out the past eight years, so sign up today and start fundraising for this great cause. Each participant who raises the $100 minimum—either in-person or virtually—will receive a racer bag that includes gift cards, CKF swag, prizes and more!
SUMMIT FOR LIFE EVENT SCHEDULE:
Thursday, November 25 – Saturday, December 4th: Virtual Summit for Life
$25 registration fee ($50 beginning on November 29) & $100 minimum fundraising commitment
Saturday, December 4th: In-Person Summit for Life
5:30 PM race start
$50 registration fee ($75 beginning November 29)
$100 fundraising minimum commitment
The link to register can be found here: https://www.summitforlife.org/Race/Events/CO/Aspen/2020SummitforLife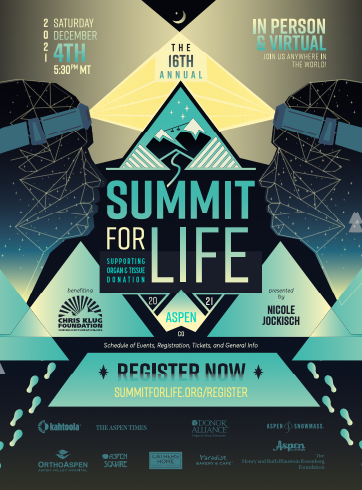 IN-PERSON SUMMIT FOR LIFE:
On Saturday, December 4th, CKF is hosting its 16th annual Summit for Life nighttime uphill race on Aspen Mountain. Participants will meet in Gondola Plaza at the base of the mountain at 5:00 PM MT—and the race begins at 5:30! Hike, skin, or snowshoe your way up the 3,267 vertical feet to the top of Aspen Mountain, in the heart of the Rocky Mountains, in beautiful Aspen, Colorado.
Once you've made it to the summit, grab a delicious dinner provided by The Little Nell and tune into their LIVE awards ceremony and prize giveaway (which will be streamed in real time!), where we the Chris Klug Foundation will be honoring their 2020 & 2021 Bounce Back Give Back Award recipients, recognizing top fundraisers with special prizes, and presenting awards to top race finishers.
You can also register with your buddies as a team! If you belong to a gym, work for a company, volunteer with an organization…you name it. Get a group together, pick a team name, and start training for the climb to raise awareness for organ, eye & tissue donation!
All registered participants will receive a commemorative 2021 Summit for Life T-shirt and neck buff with their registration. Those that fundraise get entered into the special prize giveaway!
VIRTUAL SUMMIT FOR LIFE:
As a 2021 Summit for Life virtual participant, you decide how you want to virtually "summit" Aspen Mountain, anywhere and anytime: whether it's hiking up a hill, using the stair-master, running at an incline on the treadmill—the possibilities are endless! Climb the 3,267-vertical-foot ascent at your own pace and on your own time. This year's Summit for Life event starts on November 25th and ends on December 4th, with a livestream of the in-person S4L post-race awards ceremony on their Facebook page and YouTube channel!
The equivalent of Aspen Mountain's 3,267-vertical-foot ascent is 5,600 steps or 273 flights of stairs. You can climb stairs, flights of stairs, or even dust off that old stair climber in the corner of your gym—as long as you log the feet (or meters), it's completely up to you! Pro tip: you don't have to run or walk each day (phew!), you just have to finish the total vertical ascent in ten days. You'll be able to log your feet/meters, track your progress, and check the leaderboard daily. We'll also be sharing the best photos that you post on social media, so wear something fun, snap a pic or take a video, tag them and give a shoutout to CKF and organ donation!
You can have a team for the virtual race too! Sign up with your friends and take on the virtual ten-day challenge together.
As a registered participant, you will receive a commemorative 2021 Summit for Life T-shirt and neck buff with your registration. Everyone that fundraises gets entered into the special prize giveaway! If you're local to the Aspen area, we will be hosting a pickup location for your prize at the CKF offices located at the Red Brick Center for the Arts. If you're not local, we'll be shipping your items to you. Just let us know what you prefer when you sign up! Registration ends on December 4th at 8 PM MT.
In this exciting event, participants race from the base of Aspen Mountain all the way to the top! Racers will climb 3,267 vertical feet, over the course of 2.5 miles—at night! All participants will receive a racer bag valued at over $100 in prize giveaways and top racers and fundraisers will be awarded for their efforts with amazing prizes! Dinner will be provided at the summit by The Little Nell, with a livestreamed awards show post-race, presented by liver transplant recipient and Olympic medalist, Chris Klug.
The link to register can be found here: https://www.summitforlife.org/Race/Events/CO/Aspen/2020SummitforLife
(Health and safety remain a top priority for the Chris Klug Foundation and our Summit for Life event. Due to the ever-changing nature of the COVID-19 pandemic, they are working in close partnership with Aspen Skiing Company and public health officials in Pitkin County to ensure appropriate health and safety protocols. Updates will be sent to all registered 2021 S4L participants, if changes are necessary).
~ MTM
Stay in Touch with everything Happening in Colorado's mountain towns: www.mtntownmagazine.com/events-calendar
MTN Town Media Productions | Celebrating the Colorado mountain lifestyle
Copyright 2021 MTN Town Magazine all rights reserved.
Post Sponsored by