Sixty Years Ago Modern Breckenridge Began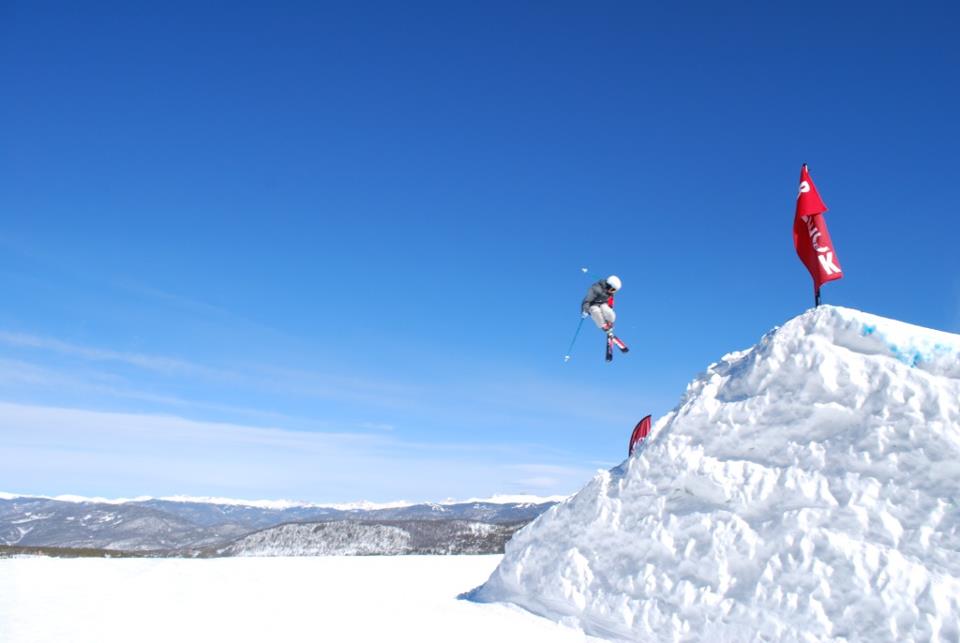 Breckenridge Ski Resort's 60th Anniversary Launches Their Celebration
by Leigh Girvin
A MountainTown: Breckenridge magazine article
Sixty years ago, Breckenridge shivered with excitement at the coming of the new ski area. The community survived its brush with ghost-town status as the new recreation economy began to supplant the dwindling mining industry. Young people glowing with the promise of a new frontier in the mountains brightened the prospects of the town. Things were looking up for dusty old Breckenridge.
The future was not bright for Breckenridge in the late-1950s. Mining declined to a mere trickle. The burgeoning tourist trade in Colorado bypassed Breckenridge. It was far from the artery of U.S. Highway 6, and the road over Hoosier Pass was dirt, making for difficult travel. Were it not for jobs at the County Courthouse and the Breckenridge School, the town may not have survived.
Youthful entrepreneurs introduced new businesses: hostels, bars, dining options and gift shops. Well before the ski area opened, Sigurd Rockne's restaurant and nightclub, The Mine, offered good food and better jazz. Jim and Ginny Cope uprooted the family to provide a needed business, The Breckenridge Drug Store and soda fountain. Barney Brewer bought an old bed from an aging prostitute in town to start his Hotellery, part hotel and part youth hostel with liquor service on the main level.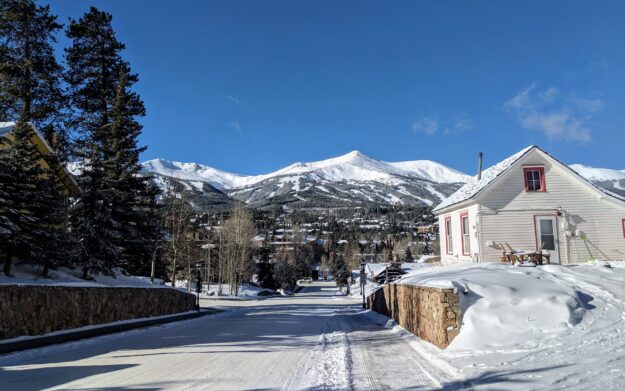 Old-timers exhaled with relief. Modern Breckenridge bustled again with new life and industry. For those who were ready to leave, they could finally afford to quit the town, because their ramshackle Victorian- era homes had value again. One family sold their house for $10,000 and left everything behind, including their woolens and long underwear. "We don't need it where we're going," they told the new owners.
The night before the new ski area opened, locals gathered at The Mine to hear the Eric Lawrence
Trio with Jim McCabe on bass and Ray McGinnis on drums. Snow started to fall. As the night wore on, band members snuck off to bed, leaving Lawrence to play the piano. One young man, Jim Nicholls, slept on the floor that night, listening to Lawrence play Chopin as the snow piled up. They awoke to 16" of fresh snow to debut the new era in Breckenridge.
On December 16, 1961, the Peak 8 Ski Area opened in Breckenridge. That first season a lift ticket was $4.50 and 16,000 skier days were logged. Rounds & Porter invested millions of dollars to create the new ski town of Breckenridge and they grossed barely $70,000. Even though the first season was such a financial disaster that the owners changed the name to Breckenridge Ski Area and started over the second season, the date marks the beginning of modern Breckenridge as we know it today. Happy 60th Anniversary to the Breckenridge Ski Area!
Stay in touch with Colorado's Mountain Town Events: https://mtntownmagazine.com/events-calendar/
MTN Town Media Productions | Celebrating Colorado mountain culture and lifestyle
Copyright ©2021 MTN Town Magazine all rights reserved.
Post Sponsored by