Step Into Telemark Skiing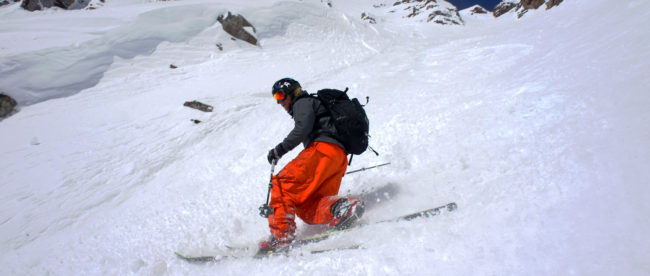 TELEMARKING – A Classic Style has a New, Modern Approach

Celebrating a soulful technique with improved power, precision and weight saving options at a mountain near you.
The allure of the Telemark turn continues to attract skiers for the grace and fluidity of the turn and the versatility of the equipment rather than just as a mode of transportation. As Telemark is no longer the only choice for accessing the backcountry those who remain or new to Tele are passionate about the experience, the flexibility and creativity it affords to explore the mountains.
"One might mistake the vibrant enthusiasm amongst modern day "Free Heelers" as a cult."
Although devoid of a mission to convert others, the 'Freeheel' community appears to have always gravitated towards "camaraderie, playfulness, and ease of exploration and access- both on and off-piste " describes longtime Mesa, CO resident Sarah Hutchinson of what continues to attract her to Telemark Skiing.  Festival Style events like Loveland's Corn Harvest, Monarchs Telefestivus and the former Breckenridge Bump Buffet (RIP) often including a race component, equipment demos, costumes and parties with swag, continue to attract free-heel skiers to for the VIBE and the stoke around Telemark (some multi-discipline).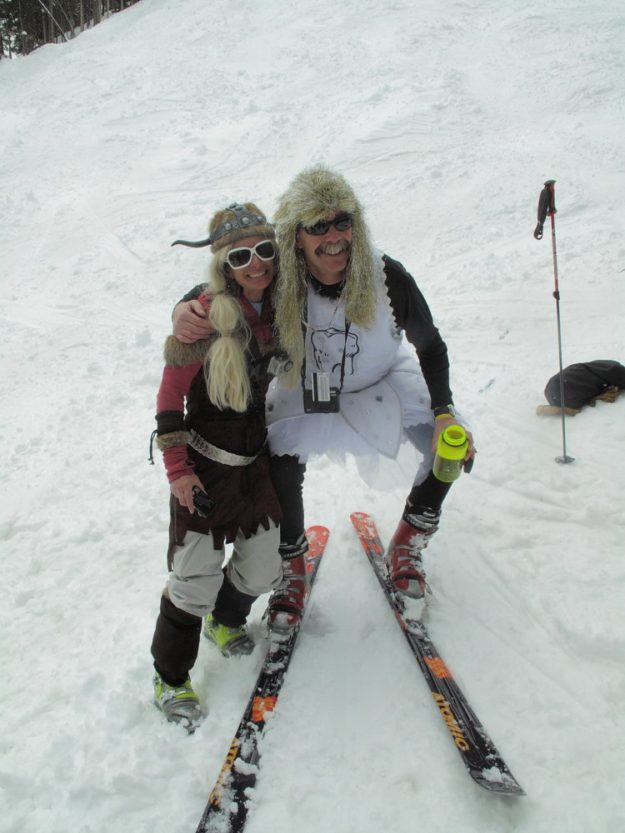 Nick Cherney, Aspen Valley Ski Club Telemark Junior Coach shared that "Telemark skiing is not a sport, but a style of skiing. Like bow hunting or rifle hunting, you choose what style appeals to you to achieve the same goal- bliss in the mountains. It's about the feel and the community encircling this style of skiing."

Although for years Telemark and its followers may have been the brunt of jokes for skiing with "half a binding", in recent history Telemark gear has literally stepped up to the plate with advancements in bindings and boots to address the demands for more durable, lighter weight and more efficient equipment. "Telemark equipment has come a long way in turns of Innovation, allowing for a more aggressive turn" shared Christopher Ewart, Bishop Athlete Team Manager, and Vail Valley Resident.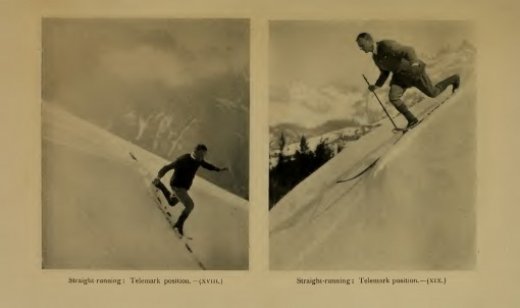 Telemark equipment has evolved exponentially since the late 1800's in Telemark, Norway when Sondre Norheim explored the "telemark" turn gate racing, Cross-Country skiing and Nordic jumping. In the 1970's over a century later, Telemark skiing began building momentum as seasoned alpine skiers used skinny skis, leather boots, and 3 pin bindings to cross train and explore the mountains around Crested Butte, Co, Alta, Ut, and Killington, VT,

In the late 80's the Merrell Super Comp, a plastic leather boot combination hit the market providing more torsional rigidity and stability of an alpine boot with the flex of a leather boot for touring. Advancements in bindings soon followed with Russell Rainey's Superloop cable binding offering increased turning power through an active boot to ski connection. In the early 90's all plastic Terminator Telemark Boot co-produced by Black Diamond and Scarpa entered the scene with a gusto.

Driven by rising momentum of Alpine Touring, Telemark bindings and boots continued to follow in the shadows of AT as manufacturers navigate a different set of parameters to work with the characteristics and demands of a telemark boot. Kim Miller, CEO of Scarpa USA noted that "Tele'rs are hard on their gear," and they (Scarpa) are working to find the right combination of materials to keep all the necessary elements required in a telemark boot to help advance its weight and efficiency. As the boots beefed up, the bindings followed suit. Telemark bindings like the Hammerhead and Voile Switchback 3 pin cable binding bumped up the playing field with improved the control and performance. Next on deck was the Free Pivot Touring binding like the G3 onyx and the BB 01, which allowed the Telemark Binding to act as a touring binding with more range of motion and greater efficiency skinning.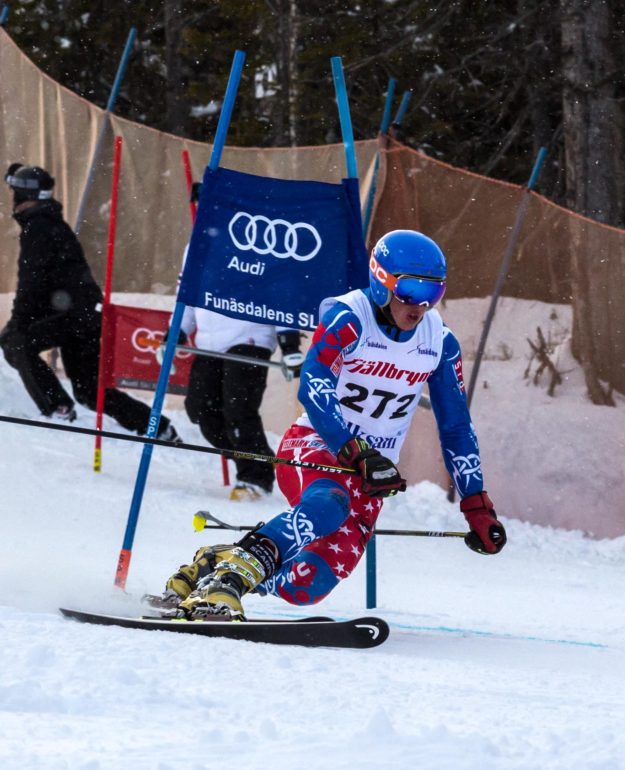 In an effort to lighten the load and increase efficiency through the boot binding connection the NTN Technology was brought to Telemark with Rottefella's step in binding, incorporating a din setting and breaks as an alternative from the traditional 75 mm duckbill style of boot/binding. Several NTN bindings are currently available on the market from the BMF Bishop or the Outlaw 22 Designs and the NTN Freeride binding Scarpa/Rotella.

New NTN 2 pin tech toe bindings (Meidjo 2.1 and the 22 Designs Lynx) offer a similar touring experience to an AT binding where the boot is secured by two side pins minimizing the weight as compared to the free pivot Tele touring bindings. In the later, although there is a similar range of motion to an AT binding and greater range of motion for touring than a traditional cable binding, the boot and attached base plate travel with you on each stride instead of just your boot with the Tech Toe Style.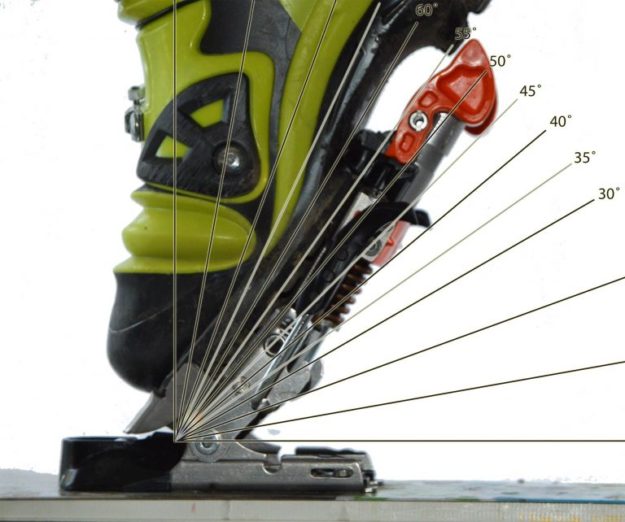 Craig Dostie, Former Publisher of Couloir and Telemark Skier Magazine shared that the NTN is "hands down the tightest tele sensation ever! NTN offers better performance across the board with improved downhill performance as the connection between boot and binding is tighter, so you can hold an edge on hard snow with more precision. " Dostie cautions you may have to adjust "your tele style when switching to NTN. Although it's a subtle change compared the shift from leather to plastic, with NTN, you shift your stance back and "steer with the rear" for better results."
This winter, try before you buy. Rent a set up from your local mountaineering/ski shop or attend a Telemark event to connect with fellow free heelers to "talk shop" and demo the gear. Don't live near a shop? Have your demo skis/bindings shipped to you through Bishop's new Demo to Door program rolling out this winter. Regardless of your ability level or the gear you choose (step in- NTN or traditional 75 mm), Tele'ers now have more options to accommodate the best fit for your feet and for your style of skiing. The advancements in telemark gear offer a vehicle to continue to experience the zen and soulful flow of the Free Heel Turn with increased precision and efficiency.

And just like the old K2 Bumper Sticker Read, "No one cares that you tele" and other tele'ers don't care what gear you are on as long as you are having fun and enjoying the ride!!!
by Leslie Ross
Leslie Ross, long time Summit County Local fell in love with the free-heel turn at Grand Targhee and on Teton Pass during a minus-30-degree cold spell in December 1990. Former Professional Telemark Skier and founder of Babes in the Backcountry (now Backcountry Babes) Leslie has recently converted from 75 mm to NTN.
Featured Image: Nick Devore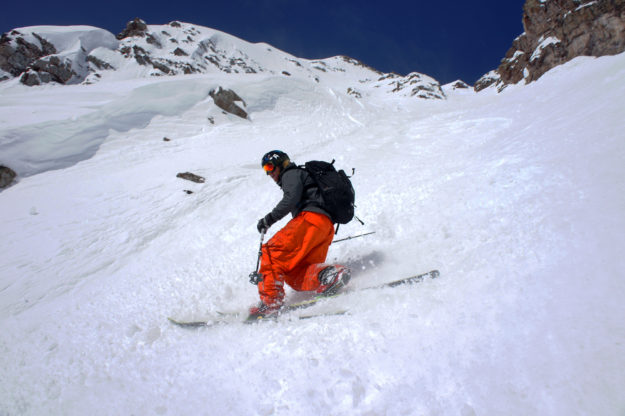 Mountain Town Magazine | We are Colorado's Mountain Town Magazine
Copyright © 2019 MTN Town Magazine all rights reserved.