Stargazing in Colorado: Experience the Night Sky in the Best Mountain Town Locations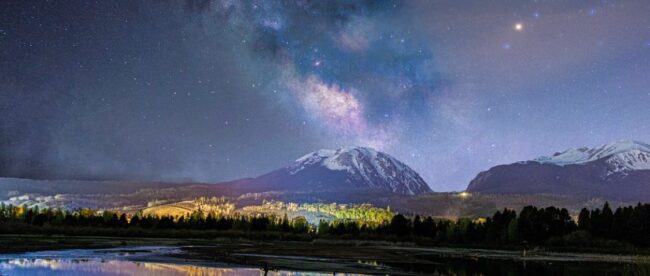 Stargazing in Colorado mountain towns allows you to experience spectacular starry skies.
With crisp evenings ahead of us this is the perfect time to plan a getaway to experience the night in several beautiful, remote locations throughout the state with a self-guided stargazing tour.
During Covid, The Headwaters Alliance, San Luis Valley Museum Association, Huerfano County Tourism Board, and Custer County Tourism Board announced the launch of Colorado Stargazing: Experience the Night, a self-guided stargazing tour.
The stars are always available to us no matter the situation and Colorado Stargazing encourages everyone to look into the night sky, wherever they are, and become inspired by the vastness of our galaxy and the universe.
Colorado Stargazing: Experience the Night connects seven Colorado locations known for their dark skies and incredible stargazing opportunities. Not only does the Colorado.com webpage offer a map and a brief description of each location included in the experience, it also offers the best places to see the stars, stargazing events, and top daytime attractions. Additional information can be downloaded from colorado.com/ColoradoStargazing.
Among the locations, visitors will find International Dark-Sky Association Designated Communities, areas just starting the designation process, and everything in between. All of these communities are unified by their high elevation and low humidity, allowing for some of the best stargazing in the world. The locations included in the experience are Westcliffe/Silver Cliff, Creede, Crestone, La Veta, Cuchara, Lake City, Ridgway, Nucla, Naturita & Norwood, Gunnison, and the Great Sand Dunes National Park and Preserve.
"The day and night skies are the crown jewels of the mystic San Luis Valley. The towering white clouds, the expansive views combined with the intense blue skies of the day are breathtaking. The star-laden night skies are beyond belief providing an unparalleled immersive natural resource to be experienced through its stars, and constellations of our past, our now, and our future," says Kat Olance, San Luis Valley Museum Association.
"Westcliffe and Silver Cliff are proud to be Colorado's first Dark Sky Community. We embrace the darkness of the night and greatly appreciate our starry nights as a treasure that twinkles high overhead in the Wet Mountain Valley," says Deb Adams of the Custer County Tourism Board.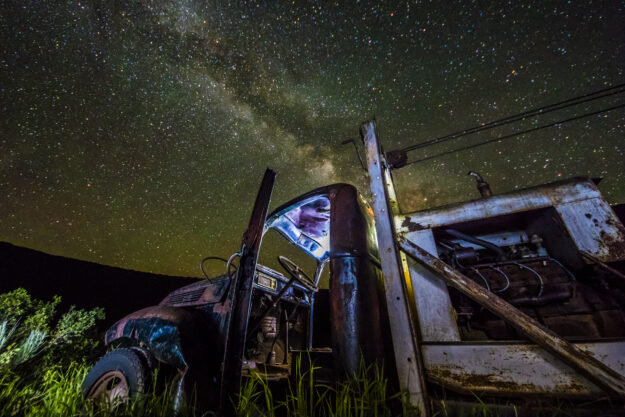 Best Places to See the Stars:
Westcliffe and Silvercliffe –
Smokey Jack Observatory • DeWeese Reservoir • Rosita
Lake City –
Windy Point Observation Site • Wupperman Campground at Lake San Cristobal • The Slumgullion Center
Creede –
The Bachelor Loop Historic Tour • Love Lake • Pool Table Road
Great Sand Dunes –
Crestone –
Baca National Wildlife Refuge • Orient Land Trust • Joyful Journey Hot Springs • Great Sand Dunes National Park and Preserve • Designated in-town locations
La Veta –
Southern Colorado Astronomical Park • Uptop Historic District
Cuchara –
Cuchara Mountain Park • Bear Lake Campground • Blue Lake Campground
Gunnison –
Hartman Rocks • Taylor Canyon • Blue Mesa Reservoir • Gunnison Valley Observatory
Nucla, Naturita & Norwood –
Ledges Rockhouse Campground • Pinto Mesa • Naturita Town Park • Hanging Flume Overlook • Wright's Mesa • Miramonte Reservoir
Ridgway –
Top of the Pines • Frontier Park • Dennis Weaver Memorial Park • Orvis Hot Springs • Chipeta Solar Springs Resort & Spa • Double G Ranch & Lodge
Some of the Best times to observe our night sky is during the new moon where our sky is the darkest. Dry Autumn and Winter evenings offer incredible star gazing opportunities but Summer brings incredible views of our Milky Way Galaxy.
I have experienced many nights sleeping under the stars. It is so spectacular you won't want to sleep. For those who are not that comfortable with the idea of sleeping outdoors, you can still get comfy in a chair or laying down in a snug sleeping bag while looking up. Fo Stargazing in Colorado head to the website below for more information, then be prepared to be awed.
Learn more at www.colorado.com/coloradostargazing and www.darkskiescolorado.org
by Holly GoSpritely
Featured Image Courtesy of Town of Silverthorne
For More Colorado Mountain Town Travel Ideas click this LINK
Story Sponsored by


MTN Town Media Productions | Celebrating the Colorado mountain lifestyle
Copyright 2022 MTN Town Media Productions all rights reserved.