Springtopia – Winter Park Resort's 2015 Finale

Winter Park Resort's successful 75th anniversary season will come to a fitting close on April 25-26 with its annual Springtopia celebration, two full days of revelry that include a free concert by The Wallflowers on Saturday and the venerable Coca-Cola Spring Splash on Sunday.

The Wallflowers, a critically-acclaimed, Grammy award winning band whose hits include "One Headlight," and "6th Avenue Heartache" will perform a free concert on Saturday afternoon at 4 p.m. at the base of Winter Park in front of West Portal Station.  Limited VIP tickets are available for the show for $75 and includes access to a special VIP viewing area, commemorative T-shirt, free snacks/appetizers, and two free drinks.  The Wallflowers will finish off a full day of music that starts at 1 p.m. with locals favorite Rob Drabkin and continues with Denver's own Rick Lewis Project at 2:30 p.m.  After the music, Coors Light will hold a special after party at Derailer Bar from 5:30 – 9 p.m.
Sunday's closing day festivities feature the 47th annual Coca-Cola Spring Splash pond skimming competition, which begins at noon and includes skiers and snowboarders negotiating an obstacle course on Larry Sale before attempting to traverse an icy pond in front of a large crowd.  Prize money will be awarded for those who make it down the course the fastest and creative costumes are strongly encouraged.
Those who want to make a weekend out of it can take advantage of special Springtopia lodging deals, including 25% off two nights or more. Special Springtopia ski/snowboard passes are also available, including the Triple Play (three days at Winter Park from April 5-close for $139) and the Double Dip (unlimited skiing from April 5-close at Winter Park and Steamboat for $199).
For a full Springtopia schedule as well as more information on packages and deals, please visit:www.winterparkresort.com/springtopia.
~MTN Town Magazine
Video Courtesy of Winter Park Resort.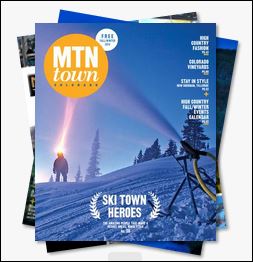 MTN Town Magazine Copyright © 2015 | MTN Town Magazine all rights reserved. All editorial and images are property of MTN Town Magazine and require permission for use and re-publication.