Smoke Modern Barbeque – Hearty and Delicious BBQ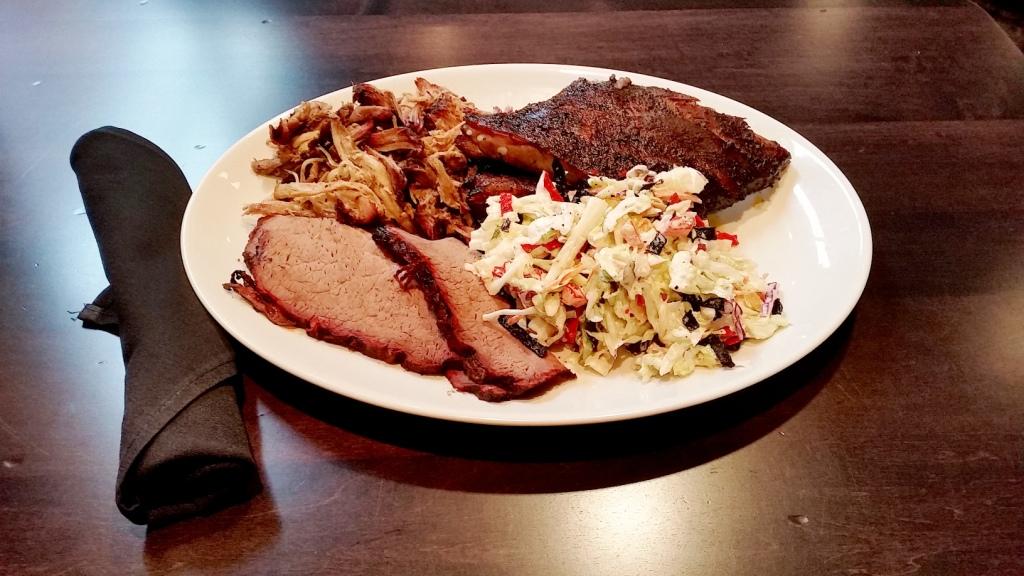 Joining the booming restaurant scene in Glenwood Springs is the newly opened Smoke Modern Barbeque restaurant. This hip and contemporary 136 seat restaurant is family friendly with a bright open floor plan, great for a table of two or a whole group of friends and family. The wood and steel accents, large windows and views of the open kitchen entertain the senses while the heady scent of smoked and grilled meats prep you for a delightful meal.
The story of Smoke's arrival on the scene is a good one. After a jaunt around and through Texas, Memphis, St. Louis, and the Carolinas to research some of the best BBQ in the nation Jamie Theriot returned to the Roaring Fork Valley where he had been working for area restaurants to produce his take on the best of each region's barbequed foods and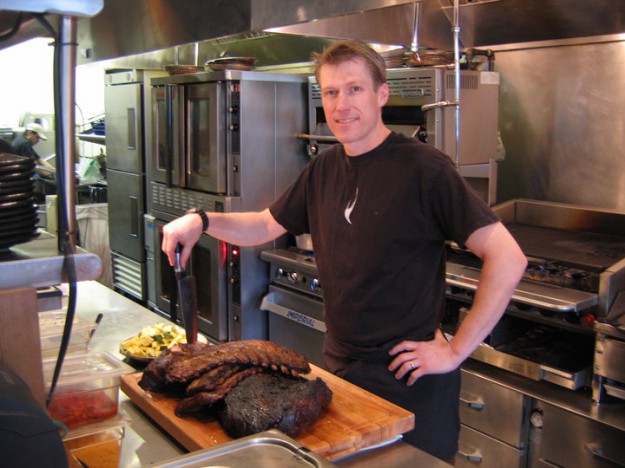 meats. He opened his own restaurant, Smoke Modern Barbeque in Basalt.  On September 4th, 2014 Jamie opened a secondary location on Grand Avenue in Glenwood Springs, seven years after his launch of the first Smoke restaurant in Basalt. Both locations are a favorite among locals up and down the valley and attract both visitors and residents from further down the Interstate to enjoy his authentic and unique recipes.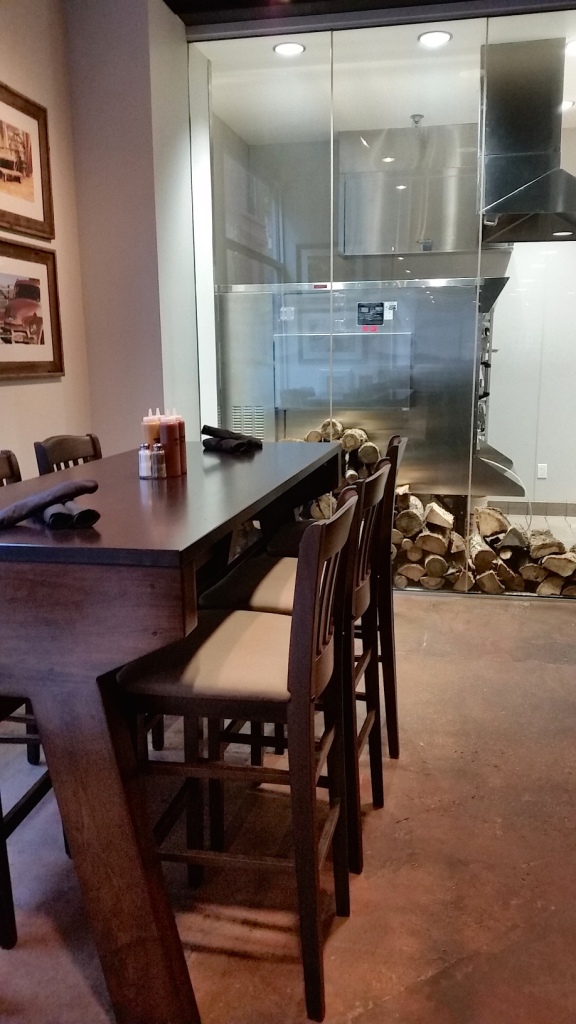 Both restaurants smoke all of their meats in-house. The Glenwood Springs location has incorporated a smoker capable of smoking up to 700 lbs of meat at one time using hickory and fruitwoods for their low and slow smoking process. The beautiful stainless steel smoker is in direct view of the dining room for everyone to see and it is impressive. Chef Theriot sources the freshest seasonal ingredients along with locally raised livestock for all of his meats and sausages.  Organically raised fruits and vegetables are incorporated into all of Smoke's salads, side dishes, appetizers, soups and slaws.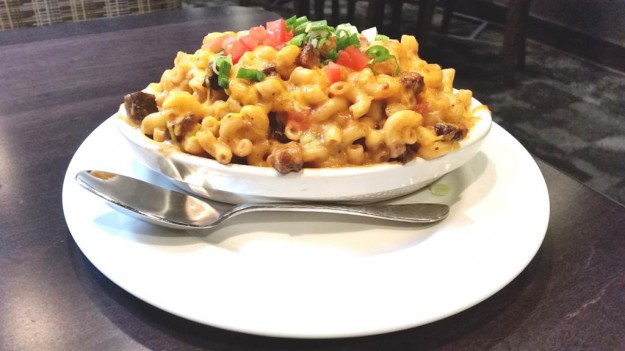 The menu is huge with classic southern starters like friend okra, devilish eggs, fresh corn muffins as well as other comfort items like chicken wings, soups, and quesadillas. There are daily mac-n- cheese specials along with a Burnt End Mac and Cheese which is on the menu every day. The dish came highly recommended from the staff at the Spa of the Rockies. They did not steer me wrong. Macaroni with a Spicy cheese sauce, KC Royal Sauce, a ton of chopped beef brisket ends, and melted Cheddar Cheese was topped with tomatoes and scallions. Now this is comfort food; it is delicious and filling.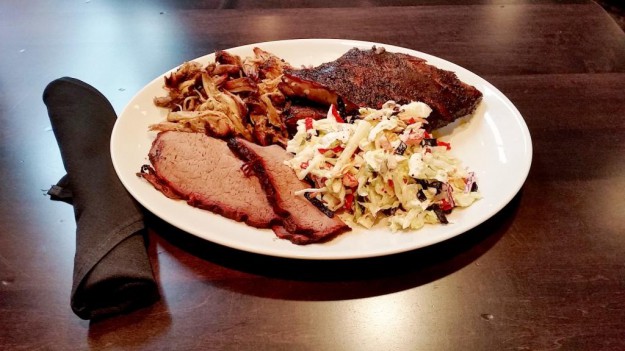 The menu includes seven different salad selections that can all be complimented with an addition of pulled pork, beef brisket, fried chicken, shrimp, catfish, bronzed ahi, grilled or bbq chicken, and grilled skirt steak. So tempting but I came for the meat and decided to go for a Smoke BBQ Plate. I wanted a taste of everything so I went for a three choice combo platter of ribs, pulled pork and beef brisket.  This is where their smoked meats are showcased and should not be missed. Hand pulled pork is well shredded and very tender. BBQ Pork Spareribs are dry rubbed and slow-smoked over Apple and Hickory woods. You can choose half, 3/4, or a full rack of ribs served dry-rubbed or sauced. Beef Brisket is slow smoked and served thin sliced and the Jalapeno Beef Sausage is made in-house.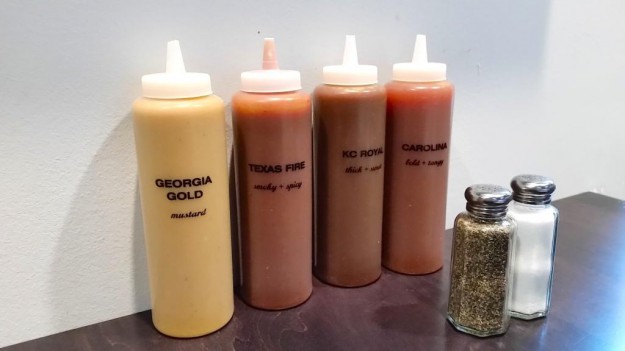 All of their Smoke BBQ Plate items can be served separately with the choice of a side and there are plenty of those. I wanted a taste of everything so I went for a three choice combo platter of dry rubbed ribs, pulled pork and beef brisket. Staying with tradition I selected their Smokin' Slaw. The platter was a beautiful display of their culinary talents and the flavors were savory and robust. Everything was cooked to perfection. I especially loved experiencing their house made sauces; the KC Royal Sauce was sweet and savory, the Carolina was vinegary and bold and  the Texas Fire was nicely spiced and savory. The Smokin' slaw was great with a fun crunchy surprise, fried thin tortilla strips, which gave the slaw a little extra kick and color.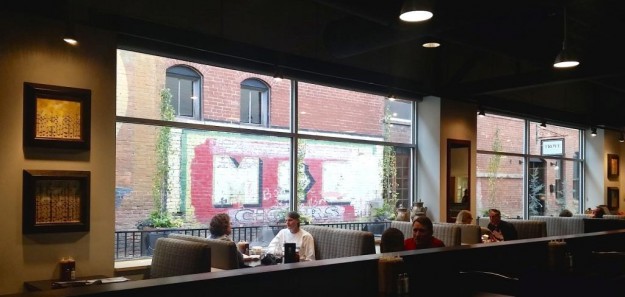 The restaurants service was very personable; everyone was friendly and very knowledgeable. My server made me feel at home as I inquired about some specific menu items. I sincerely look forward to coming back and checking out some more of their signature dishes. I have a soft spot for shrimp and grits as well as crispy fried catfish. Smoke Modern BBQ is a must while you are in Aspen or the Glenwood Springs area. Both the Willits location in Basalt and the Glenwood restaurant offer the same great service and delicious food in an upscale yet casual atmosphere. If you want to grab something to go they also offer a full take out menu too. Get to Glenwood Springs or Basalt for a delicious, warm hearty meal and some of the best BBQ around.
***
Smoke Modern Barbeque — Basalt
241 Harris Street, Willits Town Center, 970.927.5158
and
Smoke Modern Barbeque — Glenwood Springs
711 Grand Avenue, Under the Bridge, 970.230.9796
http://www.smokemodernbbq.com/
~MTN Town Magazine