SeasonFive Summit Games in Frisco is a SUP Fest and More
The poor weather cleared off for the SeasonFive Summit Games in Frisco and as the sun warmed everyone up so did the event. Up at the marina green grass, vendor booths and music kept people relaxed and entertained.
Down on Lake Dillon clinics, races and demos as well as Yoga and fitness classes are being held.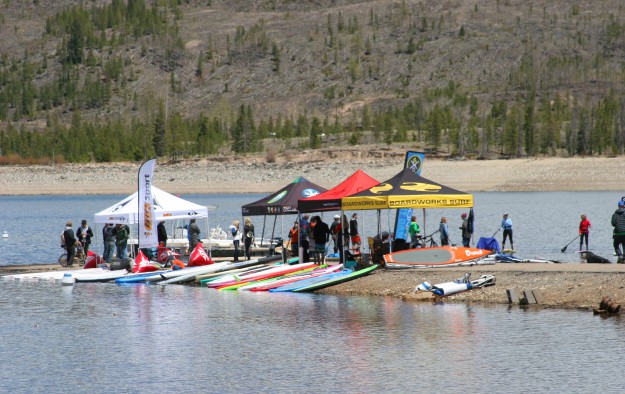 Classes head out on to open water to learn skills from basic to advance. Races are being held in conjunction to all of the events other offerings.
Flyfishing, running events, mountain biking and more are also included in the lineup. If you don't feel like doing a thing then you can just observe from the Bar at The Island Grill!
 Sunday's Schedule:
Sunday's schedule is as follows:
8:00 am – 4:30 pm Board & Boat Swap
8:00 am – 9:30 am Fly Casting Accuracy
8:00 am – 9:30 am Adventure Shore Run
8:30 am – 10:00 am SUP Distance Race
9:00 am – 10:30 am Fly Casting Distance
10:00 am – 11:00 am Youth Shore Run
10:30 am – 12:00 pm Flatwater Kayak Distance
11:00 am – 12:00 pm SUP Advanced Techniques Clinic with Dan Gavere

2:00 pm – 1:30 pmOpen Class MTB Race
12:30 pm – 1:30 pmSUP Yoga Beginner Class
1:00 pm – 2:30 pmSUP Relay Race
2:00 pm – 3:00 pmSUP Yoga Advanced Clinic
3:00 pm – 4:00 pmSUP Fitness Clinic with Nikki Gregg
4:00 pm – 5:00 pm Award & Closing Ceremonies
5:00 pm – 6:00 pm Games Closed, vendor Tear-down & clean up
See you all down at Frisco Bay!
~MTN Town Magazine
Photo Credits: MTN Town Magazine
MtnTownViews.com is MTN Town Magazine's daily journal blogging about Colorado's mountain towns and resorts. Like them on Facebook and Follow on Twitter. Click the cover to read the Winter 2012-13 Issue.
© 2013 MTN Town Magazine. All rights reserved. Republication, in part or entirety, requires permission.