Mindbending Art in Mountain Village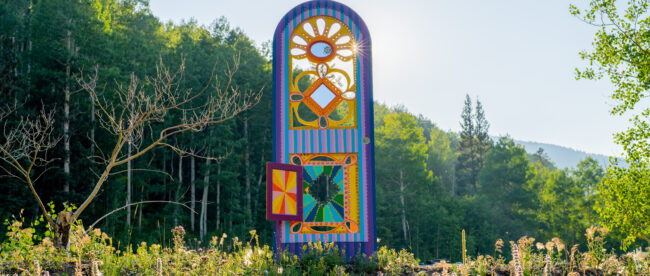 Tour Mindbending Art in Mountain Village through the end of September– Brooke Einbender displays a vibrant new way to experience art in a spectacular setting.
The Town of Mountain Village unveiled its first-ever phygital (physical + digital) public art installation in the Town of Mountain Village as part of the local Art + Architecture event, a program of Telluride Arts this August.
Fine artist, Brooke Einbender, a.k.a. "Mindbender Art," is the visionary behind The Unknown Zone, a public art and NFT project featuring large-scale installations of reclaimed doors layered with cutting-edge tech and interactive experiences.
Shelter Magazine in Telluride recently praised her, "Fresh off Art Basel, TEDxVail, and an artist residency in Ophir, Einbender is Telluride's 'It Artist' for all things digital: Augmented Reality, Virtual Reality, NFTs, projection mapping, video…"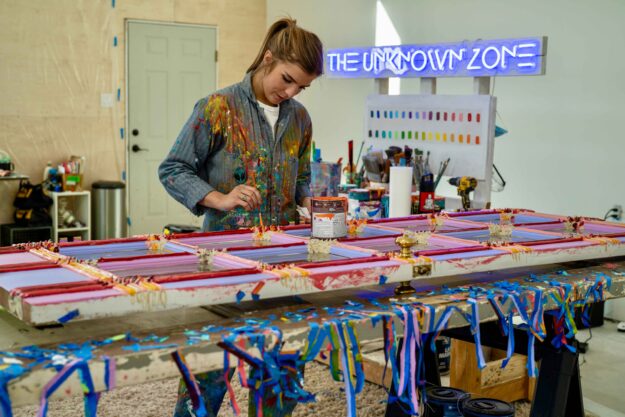 The installation features ten reclaimed doors, sourced from the local Telluride community, each reimagined into stunning double-sided works of fine art. Every door is hand-painted and embellished with intricate designs of reclaimed materials. The back of each door features an excerpt from a collection of original poems written by artist and sound healer, Clare Hedin.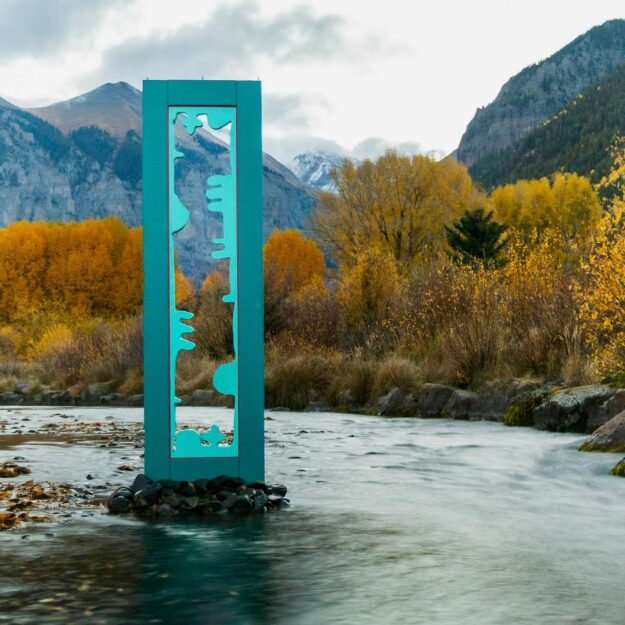 Each The Unknown Zone: Telluride's door collections physical door in the installation has a "digital twin" 3D model minted as an NFT. These digital fine art assets are accompanied by an edition of 333 NFT Cosmic Door Keys. Like a raffle, one of these NFT Keys unlocks a highly imaginative and valuable NFT Mystery Door. NFT Key and Door holders receive exclusive access to The Unknown Zone's virtual world of portals, a multi-sensory experience, accessible by computer or Virtual Reality headset, featuring Einbender's digital art accompanied by Hedin's original soundscapes and poems.
The Unknown Zone: Telluride public art installation is installed along Mountain Village Boulevard Trail, a 2.5 mile trail beginning at Mountain Village Blvd and; HWY 145 and ending in Mountain Village's Plaza core.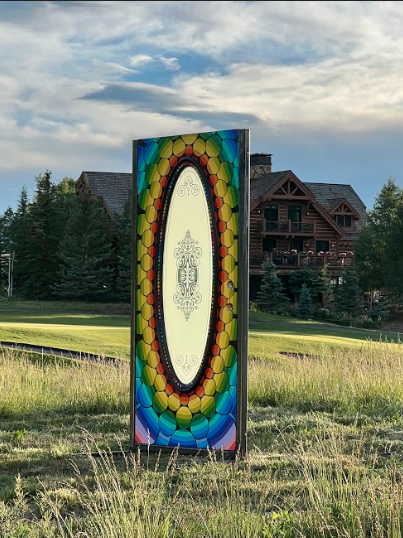 Two doors will be placed in front of Black Iron at The Madeline Hotel and near Reflection Plaza. Each door is fitted with a custom steel frame fabricated by Telluride artist, Chris Robison.
"The work that Brooke is doing is exploring new territory for the future of public and digital art in Telluride, Mountain Village and beyond… she is leaving a legacy," said Ann Barker, Director, Telluride Art + Architecture.
The Unknown Zone public art installation is made possible by the support of Telluride's prestigious Art + Architecture Week which was held in July and is supported by the Telluride Mountain Village Owners Association (TMVOA). The installation will be on view through the end of September 2022 in Mountain Village.
To learn more about Einbender and this groundbreaking project, The Unknown Zone, visit mindbender-art.com or follow @mindbender.art on Instagram and@mindbender_art on Twitter.
Step into Brooke Einbender's augmented reality and immersive experiences at this event or through her website, they are incredible and a whole new way to experience art.
Visit: www.theunknownzone.com 
by Holly Go Spritely
Read more about great Colorado destinations for outdoor activities: Mountain Town Magazine Treks & Travels
Story Sponsored by Mountain Lodge Telluride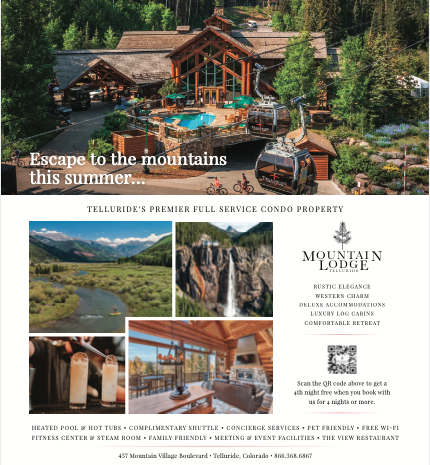 MTN Town Media Productions | Celebrating the Colorado mountain lifestyle
Copyright 2022 MTN Town Media Productions all rights reserved.