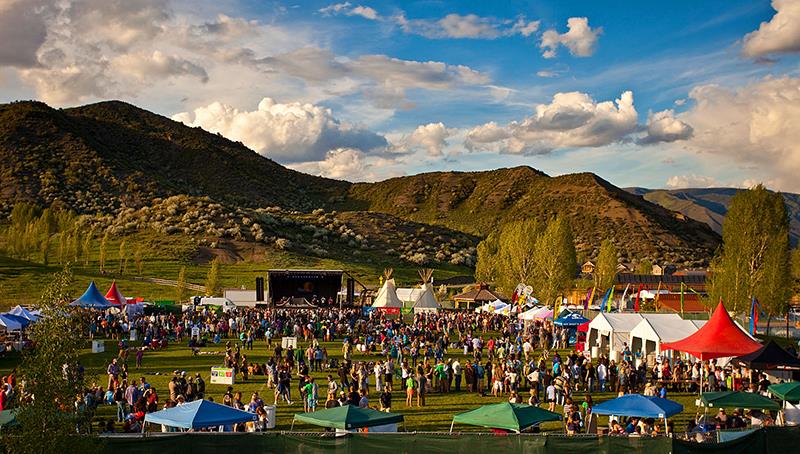 Summer in Snowmass brings a jam-packed event lineup, including the brand-new Snowmass Community Celebration the evening of July 4th. Other events include the weekly Snowmass Free Concert Series and Snowmass Rodeo, as well as the Aspen Camp's Deaf Camp Benefit, Challenge Aspen's Vince Grill & Amy Grant Gala + Golf Classic, BLUEBIRD Art + Sound, the Enduro World Series, and Snowmass Doubles Volleyball Tournament.
Snowmass' new sunset Fourth of July event, the Community Celebration & Fireworks, takes place on Tuesday, July 4, from 7:30-9:30 p.m. on the Base Village Events Lawn. This free fun, family-focused evening features lawn games, music, free desserts and a firework show over Fanny Hill at 9:00 p.m.
"We have tons going on this month – just considering music, we start early with the Drive-By Truckers on Friday, June 30th, and continue with six other music/DJ events throughout July," says Rose Abello, Tourism Director, Snowmass Tourism. "And, it's amazing to watch the most prestigious mountain bikers in the world on our trails as we welcome back the Enduro World Series."
Snowmass hosts additional events, spectacular concerts, and the Snowmass Rodeo over the course of July:
June 30-July 2: BLUEBIRD Art + Sound is a new, world-class art and music experience in Snowmass. The weekend commences on Friday, June 30, with a paid outdoor concert on the Fanny Hill Stage with the Drive-By Truckers, the Seratones, and The True Story Band. Other events include:
·         Saturday, July 1 and Sunday, July 2, feature the BAS Art Experience in Base Village, a fully-immersive, pop-up art exhibition featuring works by 12 contemporary artists from around the world. Artists display their work in a 2400 square foot structure, with art including leading-edge video + sound, photography, virtual reality stations, animation, robotics, artist Q+A, guided meditation, and an indoor theatre.
·         The BAS Closing Party on Sunday, July 2 features DJ Naka G, Berkel Beats and 'X', starting at 6:00pm. BLUEBIRD Art + Sound's theme – 'u/s' – seeks to unite all through art and music. Tickets for the Drive-By Truckers concert can be purchased on Eventbrite.
Access to the BAS Art Experience and Closing Party is free and open to the public.
July 5, 12, 19, & 26: The summer rodeo runs every Wednesday, rain or shine. Celebrating its 44th season, the Snowmass Rodeo is one of the longest running rodeos in Colorado and includes exciting competitions such as Saddle Bronc and Bull Riding, Team Roping, and Barrel Racing. Children can participate in the Calf Scramble and Mutton Busting events.
Snowmass Summer Free Concert Series –
July 6, 15, 20, & 27: Returning for its 26thsummer season, the Snowmass Summer Concert Series draws guests to Fanny Hill for a relaxed atmosphere and spectacular mountain setting to enjoy the country's most distinguished rock, R&B, soul, and Latin performers. Bring a picnic and a blanket for the ultimate al fresco experience. Cocktails and beer are available for purchase. Kids' Zone available at select performances. Concerts take place on various days of the week throughout the summer season.
Thursday, July 6                     Summer Concert Series: Head for the Hills
            6:30pm                         Presented by JAS Aspen Snowmass & Slow Groovin' BBQ
Saturday, July 15                    Summer Concert Series (Deaf Camp Benefit): Lukas Nelson
            2:00pm                         Presented by JAS Aspen Snowmass & Aspen Camp
Thursday, July 20                   Summer Concert Series: New Orleans Suspects
            6:30pm                         Presented by JAS Aspen Snowmass
Thursday, July 27                   Summer Concert Series: Freddy Jones Band
             6:30pm                                  Presented by Enduro World Series
Deaf Camp Benefit: Lukas Nelson & The Promise of the Real –
July 15: Celebrating 50 years this summer, the Deaf Camp Benefit is an annual celebration for the Aspen Camp of the Deaf & Hard of Hearing. The Deaf Camp Benefit, originally known as the Deaf Camp Picnic, was established in the 60's with the help of John Denver, Jimmy Buffet, Nitty Gritty Dirt Band, and more, to support Aspen Camp's mission to assist deaf and hard of hearing kids. This year, the Deaf Camp Benefit features Lukas Nelson, son of Willie Nelson. The Benefit is free, but donations are recommended. Learn more at www.aspencamp.org.
Snowmass Doubles Volleyball Tournament –
July 20-23: Volleyball of the Rockies returns to present the Snowmass Doubles Volleyball Tournament in late July. The tournament accommodates only a few hundred teams, making Snowmass Doubles a "boutique" mountain volleyball experience. For more information on how to participate, please visit www.snowmassdoubles.com.
July 29-30: For the second year in a row, Snowmass will host the only U.S. stop of the Enduro World Series, July 29-30. Snowmass is the host of round five (out of eight rounds) of the prestigious mountain biking circuit. The series features some of the best mountain bike athletes in the world. The two-day event blends high altitude riding with some of the biggest descents on the tour. For more information, please visit www.enduroworldseries.com.
Challenge Aspen Vince Grill & Amy Grant Gala + Golf Classic –
July 31-August 1: Challenge Aspen, a Snowmass based nonprofit dedicated to impacting the lives of individuals faced with cognitive or physical challenges, presents the 14th Annual Vince Gill & Amy Grant Gala and Golf Classic. The event features Grammy Award Winners Vince Gill and Amy Grant, who return as the hosts. For more information or to get involved in Challenge Aspen, please visit www.challangeaspen.org.
For more information on Snowmass' July event lineup, please visit www.gosnowmass.com/events.
MTN Town Magazine | We are Colorado's Mountain Town Magazine
Copyright © 2017 MTN Town Magazine all rights reserved.