John "CJ" Mueller – Olympian, Hall of Famer and Ski Bum Extraordinaire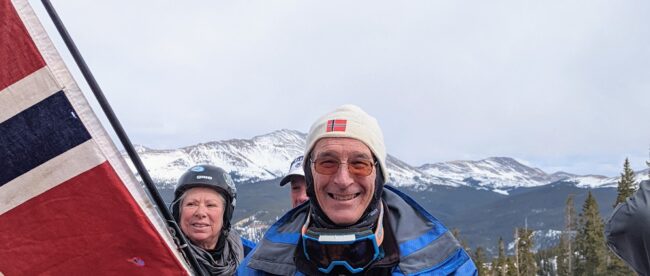 John "CJ" Mueller was recently inducted into the Colorado Ski & Snowboard Hall of Fame and is now a U.S. Ski and Snowboard Hall of Fame Member.
by Leigh Girvin
"I decided I'd rather be a skier," Crazy John "CJ" Mueller reminisced about the path that brought him to Breckenridge in 1970. The "fastest man on skis," Mueller recently shared his personal ski history. From a Front Range kid who left college, to recreational racer, Olympian and Hall of Famer, Mueller reigns as one of Breckenridge's most decorated athletes.
After a year at Colorado School of Mines, Mueller decided to be a ski bum. The first mountain town he found a job was in Breckenridge. In exchange for helping in the kitchen, the Hi Tor Lodge gave him a room, meals, access to an employee ski pass and $50 a week.
The lodge sponsored an employee ski race team, the Hi Tor Loons. Mueller joined the employee races and got to know "everyone." That first winter he earned his nickname when a fellow teammate christened him "Crazy John" because he was always going off jumps. "Anywhere we could jump, we caught some air," Mueller added. In summers Mueller and friends hiked local peaks to ski.
To become a better skier, Mueller started amateur racing. He found a knack for speed and excelled at downhill. To train, he and his buddies would wait until the end of the ski day and chase each other down 4 O'Clock Run to town. "I learned how to ride a flat ski and get in an aerodynamic position," Mueller explained.
"We'd ski all day, skip lunch, tuck to town at closing, tune our skis, then go out dancing at night," Mueller recalled of his early days as a Breckenridge ski bum.
And while he loved live music and the nightlife scene, he wasn't a partier. "I learned that alcohol did not enhance athletic performance."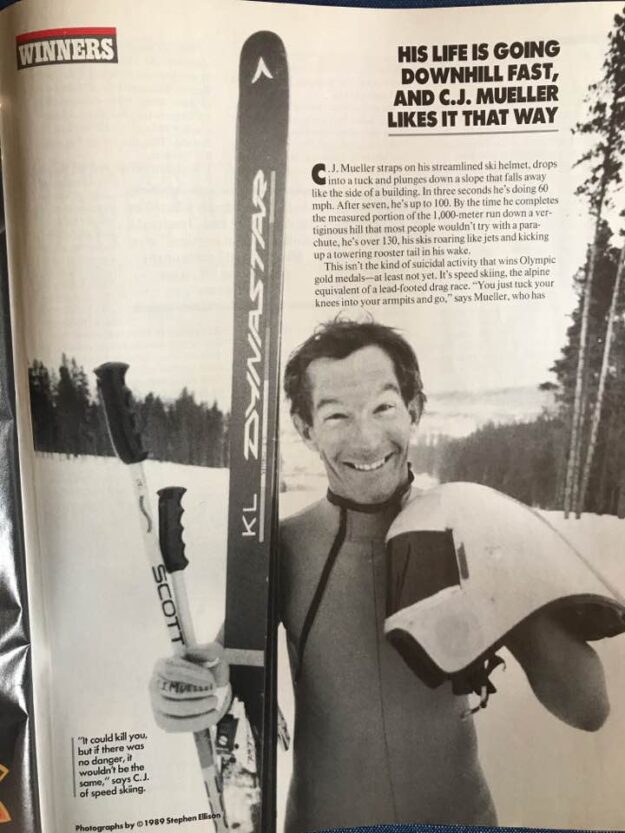 In a place like Breckenridge that might be called a drinking town with a skiing problem, Mueller remained abstemious. He became famous for downing his Blue River cocktails, shots of the "Blue" or a Chilly Willy: water shaken with ice and strained into a fancy glass.
Mueller began to excel at regional downhill races. After breaking his back at an event in Aspen in 1977, he learned to relax and have fun. Not expecting to win after recovering from his injury, Mueller's new attitude propelled his ski career. "I started winning." In the 1979-80 season, he qualified for U.S. Nationals and the Olympic-pre-qualifier at Lake Placid. But an unattended broken wrist ended that dream.
In the drought year of 1980-81, Mueller ventured to the snow-covered Alps of France. Friends there were trying the new speed skiing course at Les Arcs and invited him along. After exceeding 100 mph his first run, they encouraged him to pursue the sport. "You're really good at this," they said.
The next season, Mueller began following the speed skiing race circuit. After a few years of solid results, everything finally came together in 1987 when he was the first skier to exceed 130 mph. Soon after, the announcement came that speed skiing would be an Olympic demonstration event for 1992 in Albertville.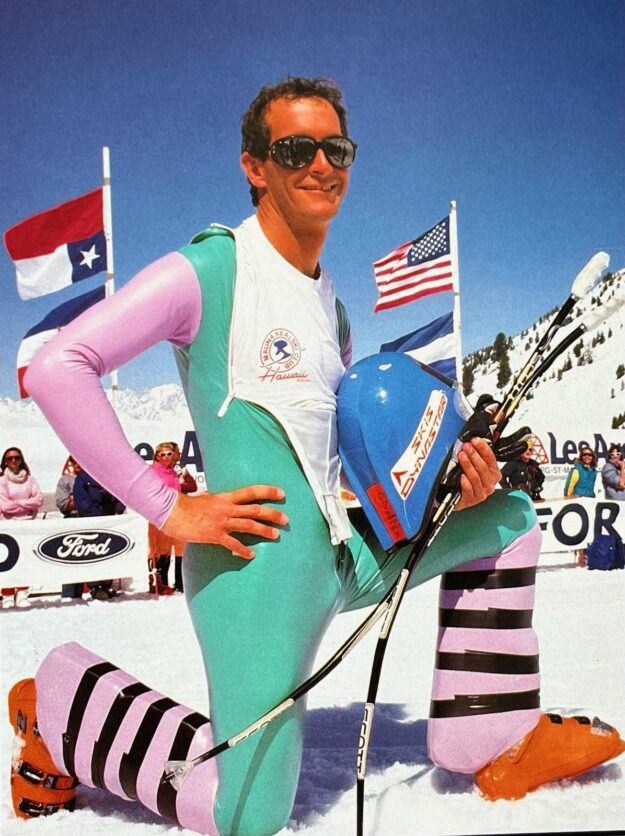 Mueller worked closely with the U.S. Ski Association to help align with the International Ski Federation (FIS). In 1990, Mueller won the first and only FIS speed skiing event in the U.S., and went on to be runner-up for the overall championship, losing the title in the final race of the season by one one-thousandth of a second. By 1991, "I remained the fastest guy in the U.S. I knew I was going to the Olympics."
Training meant finding speed within the confines of a ski area. "The Breckenridge Ski Area was great. They let me go up early and test skis and waxes and train."
Forerunning U.S. and World Cup downhill races was another way to achieve max-legal-speed at the area. "I wasn't the fastest guy but I could find the line."
For the Olympics, Mueller "felt pretty dialed in." His times qualified him to race the final day. His first of two runs put him in third place. The final run, a bump in the course threw him and he finished in 10th.
Thirty years later, fondly remembering his Olympic experience, Mueller remained focused on the fun. "I was the oldest guy on the team (40). I got to meet the Vice President and go to the White House."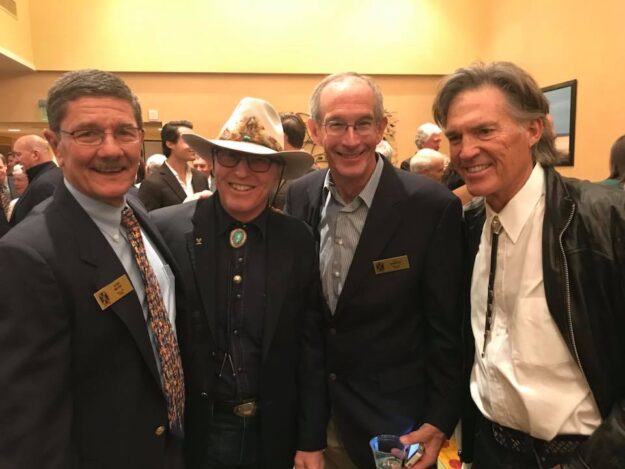 Mueller's top speed on skis was over 137 miles per hour. He was the first skier ever to go over 130 mph. And he held, for brief moments, the world record in speed skiing three times, only to be eclipsed by a subsequent racer in the final result.
What is it like to ski that fast? MTB asked: "I became so focused on just being there, turning off my brain… it did seem to slow down time," he explained. "The mental focus was the coolest thing I took away from speed skiing, just emptying your mind of conscious thoughts."
Mueller retired in 1993, and "got married, had a daughter, got divorced, raised my daughter full time, and still was able to be a ski bum. I worked in the summer, skied in the winter, took care of her. I just continued to embrace the ski bum life."
In 2014, the Colorado Ski & Snowboard Hall of Fame inducted Mueller into their ranks of the ski elite. And this year, Mueller will enter the prestigious U.S. Ski Hall of Fame at a ceremony in March 2023.
"C.J. was one of the leading speed-skiing pioneers of the 1980s. A three-time world record holder, Mueller was the first skier to exceed 130 mph in 1987. At the 1992 Winter Olympics, he placed in the top-10 in the new demonstration sport. During his career, he has worked with Swix to perfect wax performance and with the International Ski Federation (FIS) to improve safety. He remains one of the most colorful characters in Breckenridge."

~ Colorado Ski & Snowboard Hall of Fame
"I was really good at being a ski bum but the Ski Hall of Fame isn't really interested in ski bums. I was able to find a little niche. I had a few great results and was able to get in because of that."
In addition to speed skiing accomplishments, Mueller's other contributions include race forerunner, glide wax expert for Swix, and ambassador for the sport as a representative to the International Ski Federation (FIS).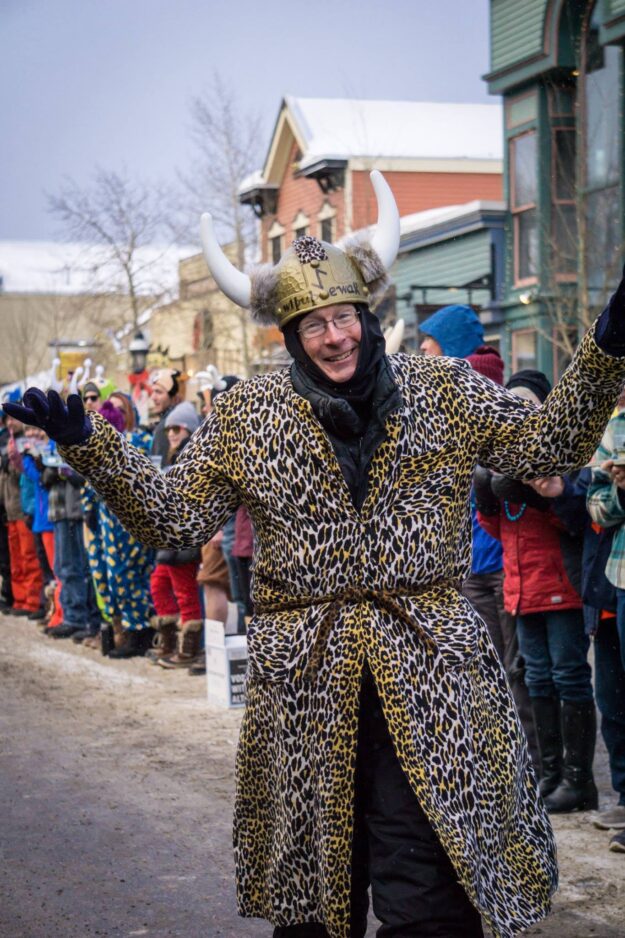 As a local celebrity, he has also served as Town Fool, Mardi Gras Rex and Ullr King, and led the Ridge Street Rowdies and Noah and the Arcs. Looking back on over five decades in Breckenridge, Mueller reiterated the fun. "I was a very lucky guy." With someone like CJ representing your town, Breckenridge has been very lucky too.
On a closing note, our publisher Holly Resignolo, would like to add, "CJ is one of the kindest and most humble people around. His enthusiasm for life and desire to ski each day is admirable. If there is a Hall of Fame for Ski Bums he most definitely needs to be one of the first to be inducted!"
Cheers CJ!
For More Stories on Colorado's mountain towns: Best Colorado Mountain Towns
Story Sponsored by Friends of CAIC

MTN Town Media Productions | Celebrating the Colorado mountain lifestyle for over 10 Years
Copyright 2023 MTN Town Media Productions all rights reserved.