Get Away With Your Dog to Mesa Verde Country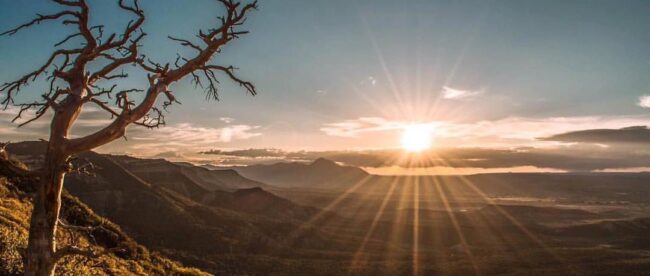 Get Away With Your Dog to Mesa Verde Country a great place for you and your best friend
Southwest Colorado's Mesa Verde Country is a great place to bring your good boy or girl. Pet-friendly lodging – like Retro Inn, White Eagle Inn, and Best Western Turquoise Inn & Suites to name just a few – abounds. As for what adventures await, furry travelers – and their humans we have some trail suggestions, ice cream not included, but we think you can find that yourself ; )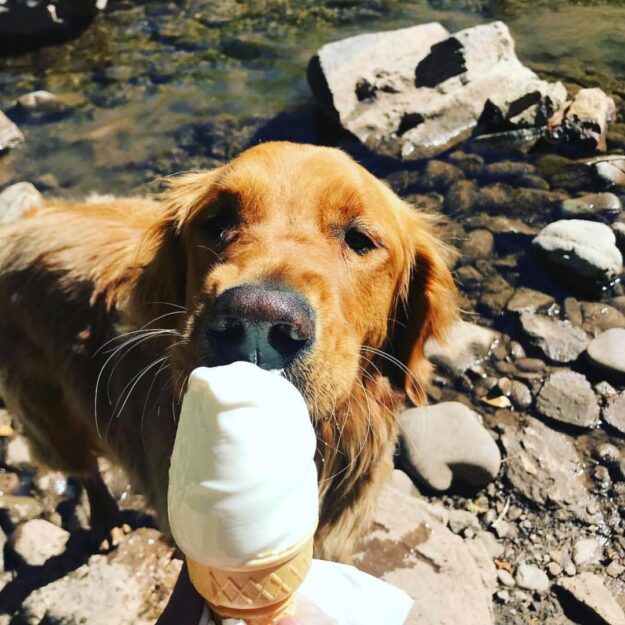 Here are four of our favorite hikes to enjoy away from the snow:
Bear Creek Trail/Dolores: 
For those looking for a longer hike with op- tions for overnight backpacking, Bear Creek Trail is a highly rated option in Mesa Verde Country. This 27.6-mile hike climbs over 4,000 feet in elevation alongside its namesake, Bear Creek, and offers stunning views of classic SW Colorado mountainscapes. The singletrack is especially scenic in the fall, when the many aspen groves that line it morph into a mosaic of shimmering yellows, oranges, and reds. Day hikers need not be dismayed by the length of this trail; Bear Creek is an out-and-back and can be enjoyed at any length. Keep an eye out for colorful butterflies, mule deer, and cheerful western tanagers along the way!
McPhee Overlook Trail at McPhee Reservoir: 
Also called Trail #155, this trek is 8.9 miles each direction and features a plethora of access points from the Boggy Draw Trail system, House Creek Campground, and downtown Dolores. The uncrowded singletrack meanders along mesa tops that overlook scenic McPhee Reservoir below. A little known fact is that a ghost town is submerged beneath the surface of the reservoir! In 1927, the town processed half of Colorado's lumber and housed as many as 1,500 employees. Today it is fodder for our imaginations to reflect on what life must have been like back in those frontier days.
Geyser Spring Trail/San Juan National Forest: 
You don't need to go to Wyoming to see geysers erupting like clockwork. Southwestern Colo- rado is home to Colorado's only true geyser. Nestled into the San Juan National Forest near the abandoned mining town of Dunton, this three- mile out-and-back trail receives light foot traffic and is a great alpine escape on a hot day. After a moderate climb through aspen groves, you'll find the geyser along a creekside. Its milky blue color is interrupted by a series of gurgles and bubbles every 30-40 minutes, so take your time to make sure you witness this small but reliable eruption.
Ledges Loop/Phil's World Trail System: 
Phil's World is known through- out the southwest as being a premier mountain bike destination, but that doesn't mean you can't hike there, too. Less than 10 minutes from downtown Cortez, Phil's World boasts 27 miles of trail and there is something for every type of user. We recommend the 4.8-mile Ledges Loop, which winds its way through sagebrush, piñon, and juniper
trees with stunning views of Mesa Verde Country. With only 369 feet of elevation gain, this is a moderate trail with technical features that are a hallmark of southwestern hiking. Note that mountain bikes are limited to clockwise travel, so we suggest hiking in a counterclockwise direction and always keeping at least one ear headphone-free for trail safety.
Please remember to Pack it In & Pack It Out, and we think you know what "It" is : )
For more information on planning a trip to Mesa Verde Country with your furry friend, call 970-565-8227 or visit
Feature Photo Credit – Lapita Arviso Photography
~ Mountain Town Magazine 10 Year Anniversary Issue

Story Sponsored by Friends of CAIC

MTN Town Media Productions | Celebrating the Colorado mountain lifestyle for over 10 Years
Copyright 2023 MTN Town Media Productions all rights reserved.