Jay Beckerman – This local restauranteur is a bright thread in the fabric of Breckenridge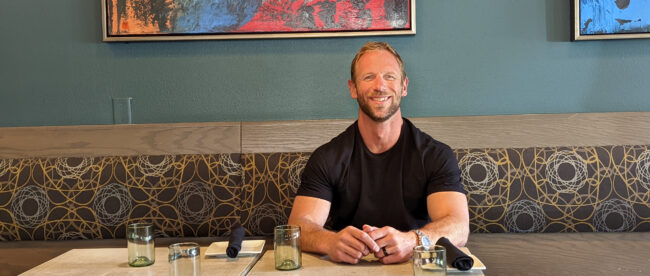 Meet Blue River Bistro owner and Breck Town Councilman Jay Beckerman
By Shauna Farnell
Jay Beckerman never dreamed that he'd end up building one of Summit County's most successful restaurants. As a college graduate, he certainly did not foresee himself becoming owner and operator of multiple restaurants and then bringing his talents for creating successful, people-first work environments into an even deeper cog of the community.
Beckerman, who was elected to the Breckenridge Town Council this spring and opened Dillon's Bistro North in Fall 202l, was 22 years old when he pulled the means and the moxie together to acquire Blue River Bistro.
It was September 2001, shortly after he graduated from the University of Colorado at Boulder.
"I got through college working at restaurants and bars. It was the only thing I knew," Beckerman says. "I found this fledgling business, an existing restaurant that wasn't doing well. It was not even a week and a half before 9-11. It was an inauspicious beginning."
While other recent college graduates cushioned their entrance into the real world with backpacking trips, seasonal jobs and ski bumming, Beckerman found himself bound to the Bistro, putting in long days doing it all.
"You see all your friends out playing, traveling the world, doing Semester at Sea, living in different countries. There you are bussing tables, working 15, 18 hours a day, seven days a week. If the chef didn't show up, you're flipping burgers. If the bar tender didn't show up, you're bartending. I was the host, busser, server, cook, expediter. We were cleaning the restaurant ourselves every morning," Beckerman recalls. "I found if you surround yourself with good people and put those people before you, good things happen. That's what got me through the first five years. At the time, it was really the transition from a five-month town to a 10-month town. Staying open 365 days a year, having the same quality of food and drink whether you came in on a Thursday night in March or October, I believe that had a lot to do with the success of the restaurant. Locals had a place to go for their graduation parties in May and their birthday parties in the fall."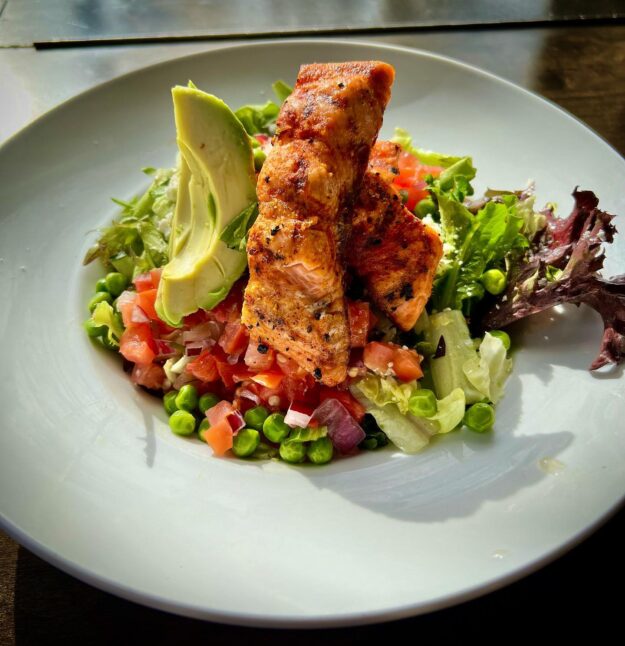 It wasn't long before the Bistro became one of the most highly touted haunts in town. The menu and offerings evolved over the years, becoming famous for its long list of creative martinis and mules as well as seasonally fresh, ever-changing salads, appetizers and European-inspired dishes. The place has become a long-time favorite for happy hour, date nights and social occasions of every ilk. It's the place for an indulgent weekend brunch of Crab Benedict and clever bubbly breakfast sipper, gourmet burger lunch any day of the week or soothing Chicken Parmesan dinner with a shockingly convincing zero-alcohol cocktail accompanied by live jazz music on a Monday or Tuesday night.
---

Story Sponsor

---
"It's not a special occasion restaurant, but a social restaurant," Beckerman says. "It's about constantly improving and staying as local as possible. We don't live in a place where you can go next door to pick up tomatoes, but we support our community as much as we can."
Blue River sources its coffee from local Mountain Dweller, its oils, spices and vinegars from Olive and Fusion, its ice cream from Higgles and honey from Bjorn's.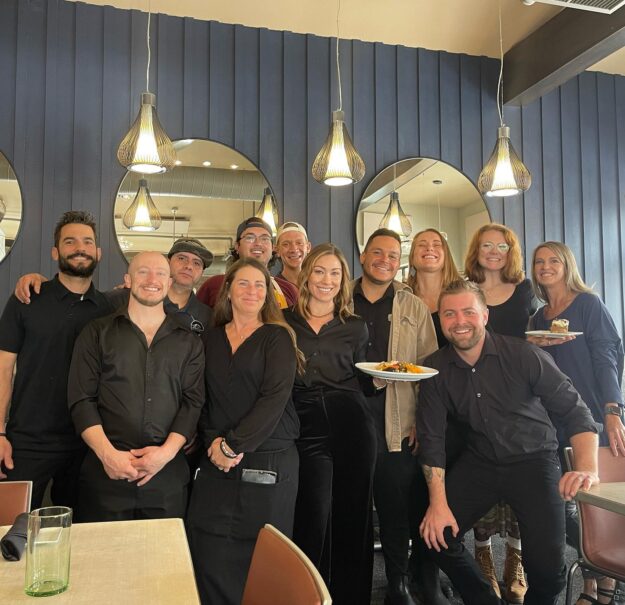 The Bistro has also maintained much of its same staff for 10-plus years. According to bartender Eddie Bartnick, who's been part of the team from the beginning, that is a testament to Beckerman's leadership.
"It starts with Jay," says Bartnick, whose wife Renée has also worked at the Bistro for 16 years. "Jay has always set the tone for a great environment, positive, fun and supportive vibe. He promotes from within, wants to give the best opportunities to people who have been there a while. I'm so fortunate to be where I'm at in Summit County, where I found my niche and was able to raise a family. It's largely due to Jay."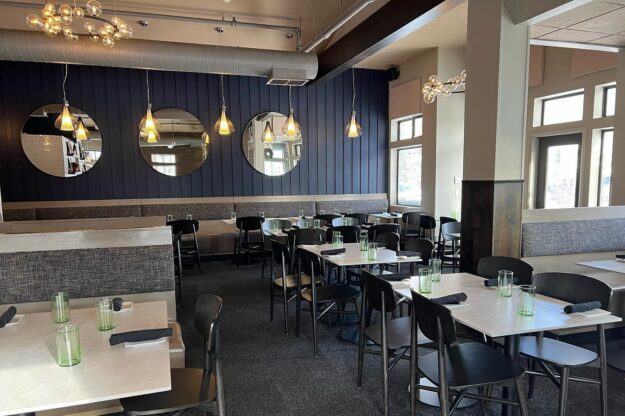 An avid skier and mountain biker Beckerman and his wife, Dr. Erin Beckerman have two elementary-aged daughters. Beyond restaurants, he has been hugely involved in the community over the years, co-founding the Summit Lacrosse Program, Breckenridge Tourism Office board treasurer, member of the Summit School District Finance Committee as well as the Summit County and Upper Blue Planning commissions. As a newly elected Breckenridge Town Council member, Beckerman plans to bring the same heart, compassion and value he places on the people who make his restaurants special to the broader swath of individuals that make Breckenridge special.
"With 150 employees, people who are so dear to me, listening to their trials and tribulations, especially as housing has become more expensive and unattainable, I thought, we can do better than this," he says. "Shelter is such a primary concern, not being able to provide that for people who make this town run. I find it so critical to support the new wave of people coming in. I want a town that my girls will return to after some life experiences, wanting to raise families and create a life here themselves."
Blue River Bistro
305 North Main Street
Breckenridge, CO 80424
Head to Mountain Town: Breckenridge for everything you need to know about Breckenridge and more: www.mountaintownbreckenridge.com
To learn about Colorado's mountain town restaurants head to our Dine Local Guide – Colorado Mountain Towns: www.dinelocalguide.com

Story Sponsor

MTN Town Media Productions | Celebrating the Colorado mountain lifestyle for over 10 Years
Copyright 2023 MTN Town Media Productions all rights reserved.