Gina Cucina Organic Soups- Love In a Jar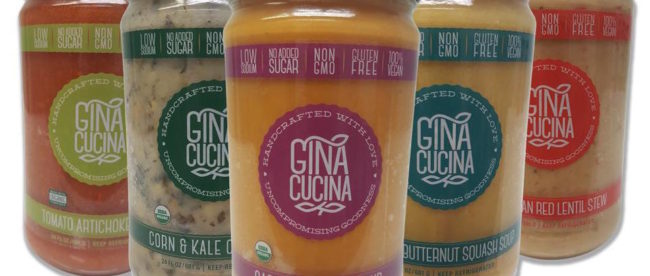 Gina D'Orazio Stryker, founder and recipe artist behind Gina Cucina organic soups, is a tiny, ebullient whirlwind with a gale force vision. The first time I reached out to try to schedule an interview, she was jetting off to a meeting with a major chain to discuss a future launch of Gina Cucina in their stores –– significant when you consider that D'Orazio-Stryker started the business a mere three years ago with 100 jars of soup at her local farmer's market. The second time I emailed, she was on a plane again, this time headed out to FedEx HQ in Memphis in her role as a member of their Entrepreneur Advisory Board. While there, she planned to raise awareness about a humanitarian issue she's deeply passionate about: human trafficking. The goal? Nothing less than to partner their entire fleet of drivers with Truckers Against Trafficking to teach them to recognize signs of human trafficking in order to help stop it.


D'Orazio-Stryker's dreams have always been big, the kind of big that extends exponentially past the limitations that geography and convention might otherwise create. She grew up in a tiny mountain town in Idaho but knew early on that something bigger was in store. So just after high school, she jumped on a plane and took off for culinary school in Florence, Italy. With that brave teenage step, she became the first in her family to have a passport –– or fly internationally. Describing the experience on her website, she recalls how the culinary school she attended was all about "creating and exploring your talents as a chef. I had none. I was eighteen. I was terrified. I faked it. I had the time of my life."

The same exuberant desire for adventure has directed her life choices ever since. After two years in Italy, she returned to the U.S, landed in New York City, and took jobs backstage in the theater district, then relocated to Los Angeles to work in the film industry. That's where she met her husband, renowned yoga instructor, Rod Stryker, and had her first two sets of twins. The two decided to move to Carbondale to find a healthier place to raise and family.

Throughout the career change from food to film and the joyful family chaos of four children, D'Orazio-Stryker's passion to cook never waned. During her film years, she regularly cooked expansive meals for film crews and kept cooking through early motherhood, sometimes bringing the twins' entire kindergarten class home to her house to teach them the basics of creating good, clean food.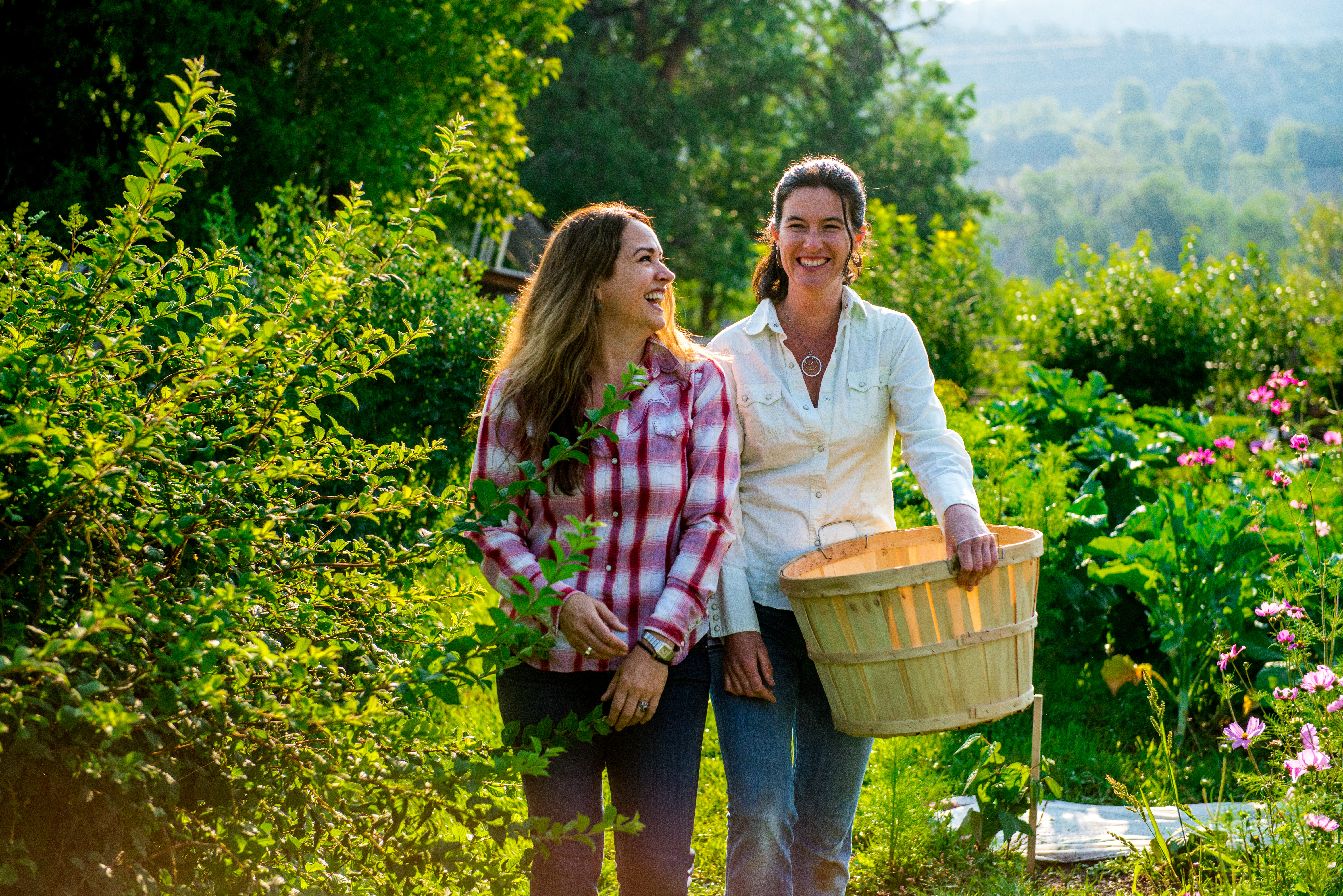 Gina Cucina's start was modest: after her second set of twins reached school age, D'Orazio-Stryker started seriously experimenting in the kitchen again, crafting soups at home and later, in a friend's commercial kitchen. One summer day in 2014, she packed up her car with one hundred jars of the final product –– soups created from all non-GMO, organic ingredients –– and carted them off to the Aspen farmer's market, coercing one of her then-13-year-old twins to help her. The soup sold out in one hour. The next week, after she brought 165 jars and sold out in three hours, she knew she was onto something. She decided to make it a full-time venture.

Gina Cucina's success has surpassed D'Orazio-Stryer's wildest dreams. She's been able to create a seed-to-shelf business that supports local communities by purchasing from local and regional organic growers. She's also able to use her business to support humanitarian causes she is passionate about: the companies "Bowls for Souls" program donates a portion of every sale toward organizations that support childhood nutrition and ending human trafficking. The product is increasingly available in regional stores and is about to launch in Whole Foods in early fall. Through it all, D'Orazio-Stryker has maintained her passion for crafting good, healthy food sourced from organic, local ingredients -–– and feeding it to others.
"I am a caretaker by nature," says Stryker. "I grew up in a conventional family.  The truth is I flourish when I am giving to others, it's what makes me tick. Food is a huge part of nurturing: some of my earliest memories are in my maternal grandmother's massive garden, eating whatever I could off the vine.  She also had an orchard with plums, apricots, apples –– one of my favorite places to relax to this day.

"The closer to your source of food, the healthier it is for you and the environment. I understand how hard it can be to feed your family well with all the directions we are pulled.  I have four children and a traveling husband.  Time is short and better spent with your loved ones.  If cooking seems like a huge chore, start simply – pick up some fresh veggies at your farmers market, toss them in a little olive oil, salt and pepper and roast. Alternately go to ginacucina.com for some ideas or order something from our kitchen!"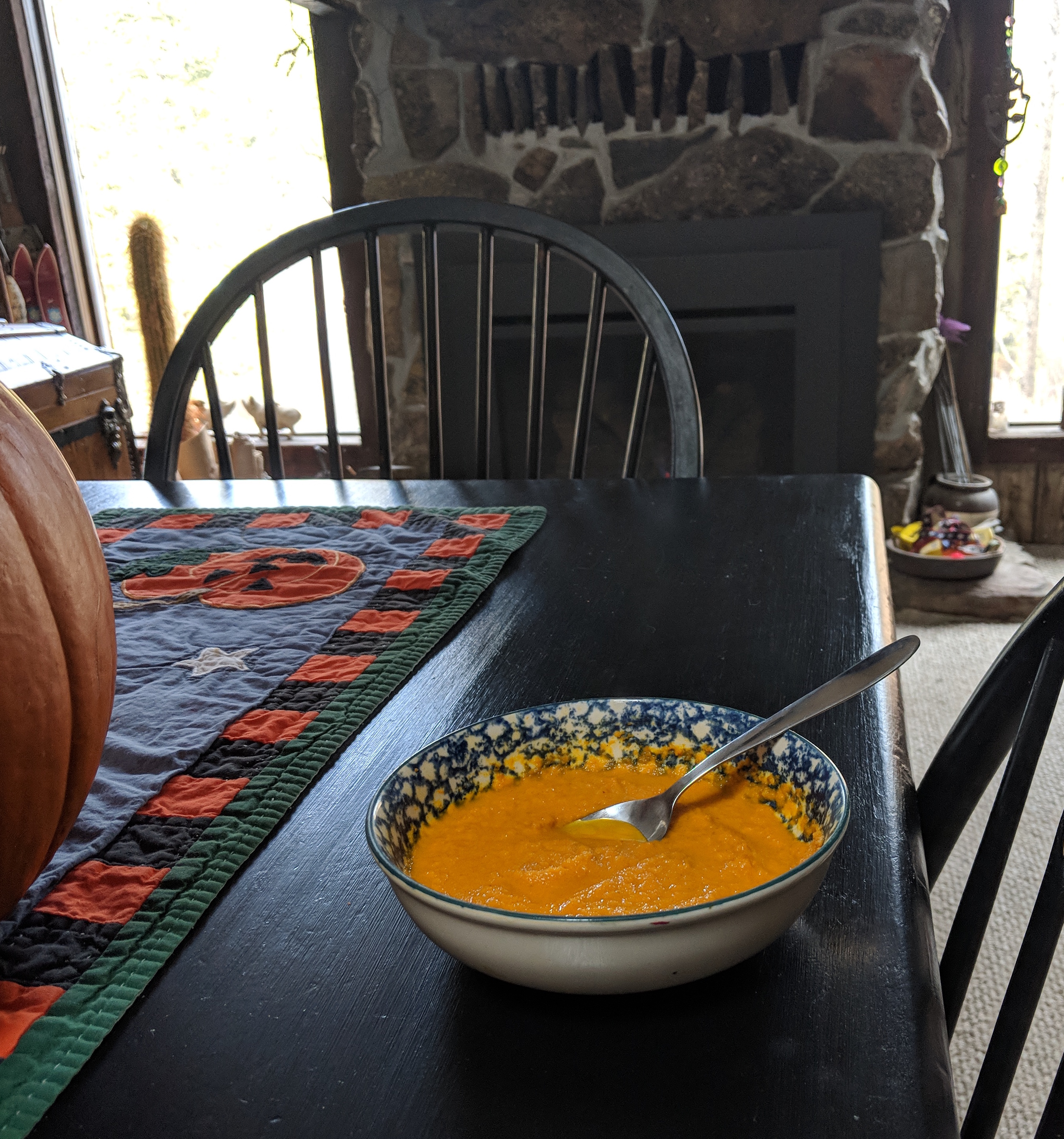 When you do pick up one of those beautiful jars of Gina Cucina's soups on a busy day, be sure to look closely at the label. The first ingredient is always "love." Stryker wholeheartedly believes that the love and passion she brings to her cooking shows up in the soup.

"That's why Love is our first ingredient," says D'Orazio-Stryker.  "Love makes everything taste better."

Story Crafted by Kate Lapides
MTN Town Magazine | We are Colorado's Mountain Town Magazine
Copyright © 2018 MTN Town Magazine all rights reserved.