Fairplay – The funky, fun, charming next-door neighbor of Breckenridge
Don't tell the other towns, but Fairplay could be Breckenridge's favorite neighbor. We love the calm vibe, the funky charm of new and old, the massive mountains surrounding their wide-open valley, and activity options different from Breckenridge. Come explore Fairplay, our near and dear neighbor just over the pass.
Breckenridge and Fairplay share a similar origination history. Both were founded in 1859 in the early gold rush era. The discovery of gold in Fairplay's branch of the South Platte River quickly established the community as a mining destination. The founders wished to offer the opportunity for fair play, in contrast to the greed and claim-grabbing of other early mining camps.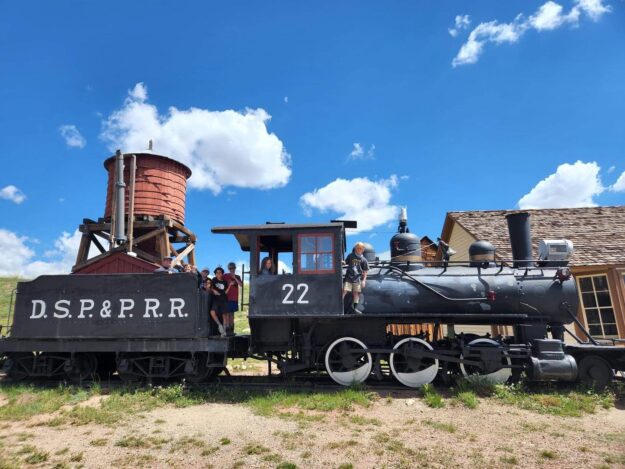 Historic buildings in both towns reflect the Victorian-era aesthetic emulated by miners and their wives who pined for their homes "back East." Breckenridge's churches look a lot like Fairplay's, and that's no coincidence. The towns also share the influence of Father John L. Dyer, snow-shoe itinerant preacher who brought the Methodist gospel to the high mountain mining camps. Unlike the prospectors who came for only for wealth, Dyer came to create communities.
Thanks to efforts of men like Dyer, Breckenridge and Fairplay endured as many nearby ghost towns faded away. Today each town serves as the seat of government for their respective counties and anchors for surrounding residents.
The separation created by the towering Continental Divide hasn't dampened the towns' fondness for each other over the years. Breckenridge and Fairplay historically cooperated on religious teachings, educational opportunities, and law enforcement. Most recently, a 40-year-old cold case was solved when the murderer of two women abducted in Breckenridge was found guilty by a Fairplay jury.
Today the towns still enjoy close relationships on housing, transportation, and most importantly, people. Many of Breckenridge's workers live in the more-affordable Fairplay vicinity.
Fairplay honors its history with one of the best frontier museums in the state: South Park City.  Because it's only open during summer months, plan a return trip to see the accurate representation of a Colorado mining community from the 1860-1900 period. Over forty buildings represent every type of service needed on the frontier, from mercantile to blacksmith, dentist office to laundry,  railroads, saloons and gambling halls.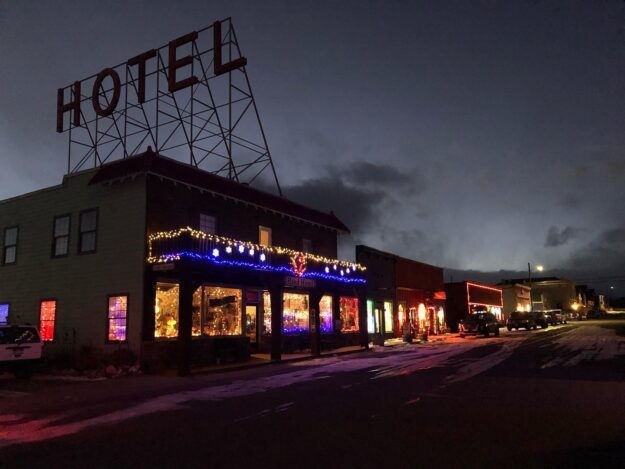 Start explorations on historic Front Street, just one block over from Highway 9 yet a hundred years away. Your attention may be grabbed by the towering "Hotel" sign hovering above the street. It marks the vintage Hand Hotel, claimed to be haunted.
Must-visit shops along Front Street include Eagle Rock Ranch Mercantile offering handsome home-goods and décor along with their local beef raised with conservation in mind. And Coyote Creek Arts representing local artisans.
More fun retail establishments are found on Main Street. Get casual duds at the Salt Licking Goat Clothing Company with the South Park cartoon characters' standee out front.
Unique to Fairplay is the Rocky Mountain Cigar Company with cigars, a golf simulator, and sipping room providing tastes from many of Colorado's distilleries. Or try fly fishing with owner Scott Gardner, a certified guide.
Fairplay is famous for fly fishing on the many miles of creeks and streams that feed into the South Platte. Public water access abounds, but the best fishing can be found on private ranches. A guide can take you to the prolific spots. Start with outfitters based in Breckenridge: Mountain Angler and Breckenridge Outfitters.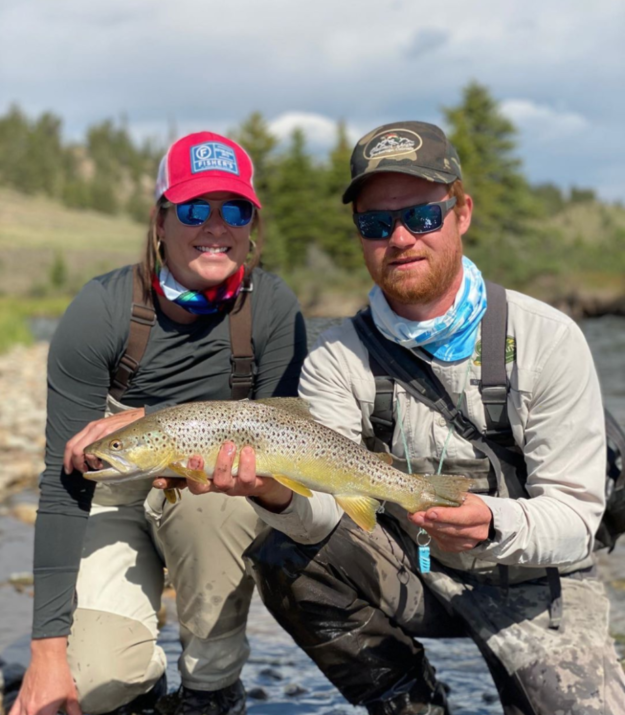 Outdoor activities entice folks from Breckenridge and beyond to enjoy in Fairplay what they can't do at home. Ice climbers flock to the fields on Mt. Lincoln just on the other side of Hoosier Pass. The famed Decalibron loop draws hearty mountain climbers to summit four peaks over 14,000' in one challenging day. And there are thousands of snow-covered acres for backcountry and cross-country skiing as well as snowmobiling. 
Fly-fishing and horseback riding may be considered summer activities, but not in Fairplay. Check out American Safari Ranch's seasonal riding offerings. Guides take guests to open fishing waters year-round.
For a refreshment break after all that excitement, Fairplay offers so many options.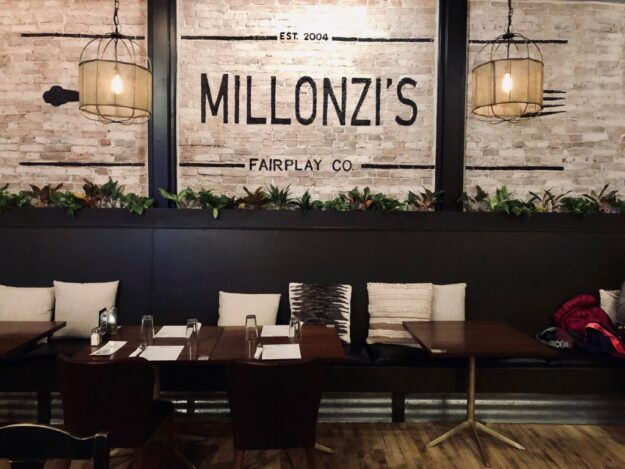 A concentration of restaurants can be found on Front Street. Try popular Italian dishes at Millonzi's, pub food at McCall's Park Bar, eclectic choices with a gourmet twist at Salado Restaurant, the old-timey feel of the Platte River Saloon, or sweet treats at Silver Spoon Creamery. 
For quick coffee and sandwiches, head to Main Street and the Java Moose. At the Highway 285 intersection, sample local favorite Dorothy's Tamales and KB Kakery. New offering Ottos brings a following from their food cart in Alma.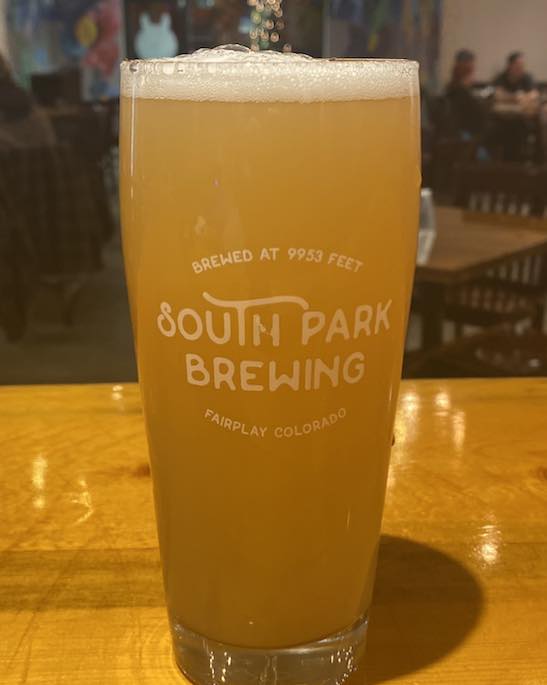 Craft liquor and beer elevates the Fairplay scene. South Park Brewing Company's beers include campfire favorite Smores Stout to accompany their popular food menu. The Snitching Lady Distillery on Front Street touts their 100-year-old family recipe and award-winning whiskey, Bourbon, and brandies. 
New to Fairplay yet familiar to Breckenridge locals is Highside Brewing. Long-time brewers at their Frisco location, Highside brings a wide variety of beers to Fairplay.
While it may be only 45 minutes away, a visit to Fairplay feels like a different world, just perfect for a day trip exploration from Breckenridge. Please tell them their neighbor Mtn Town Breckenridge sent you. 
by Leigh Girvin
---
HELPFUL LINKS

Fairplay Government
www.fairplayco.us
South Park City Museum
www.southparkcity.org
Fairplay Businesses
www.fairplayforward.com
Google Map: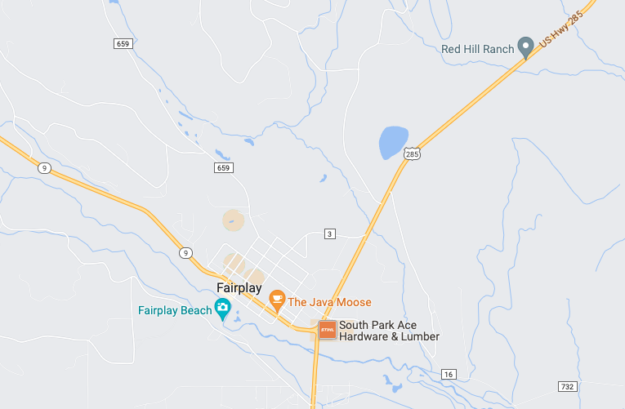 To Learn More about other Colorado Mountain Towns head to our Guide