Discovering Palisade and Grand Junction – Majestic Beauty, Delicious Foods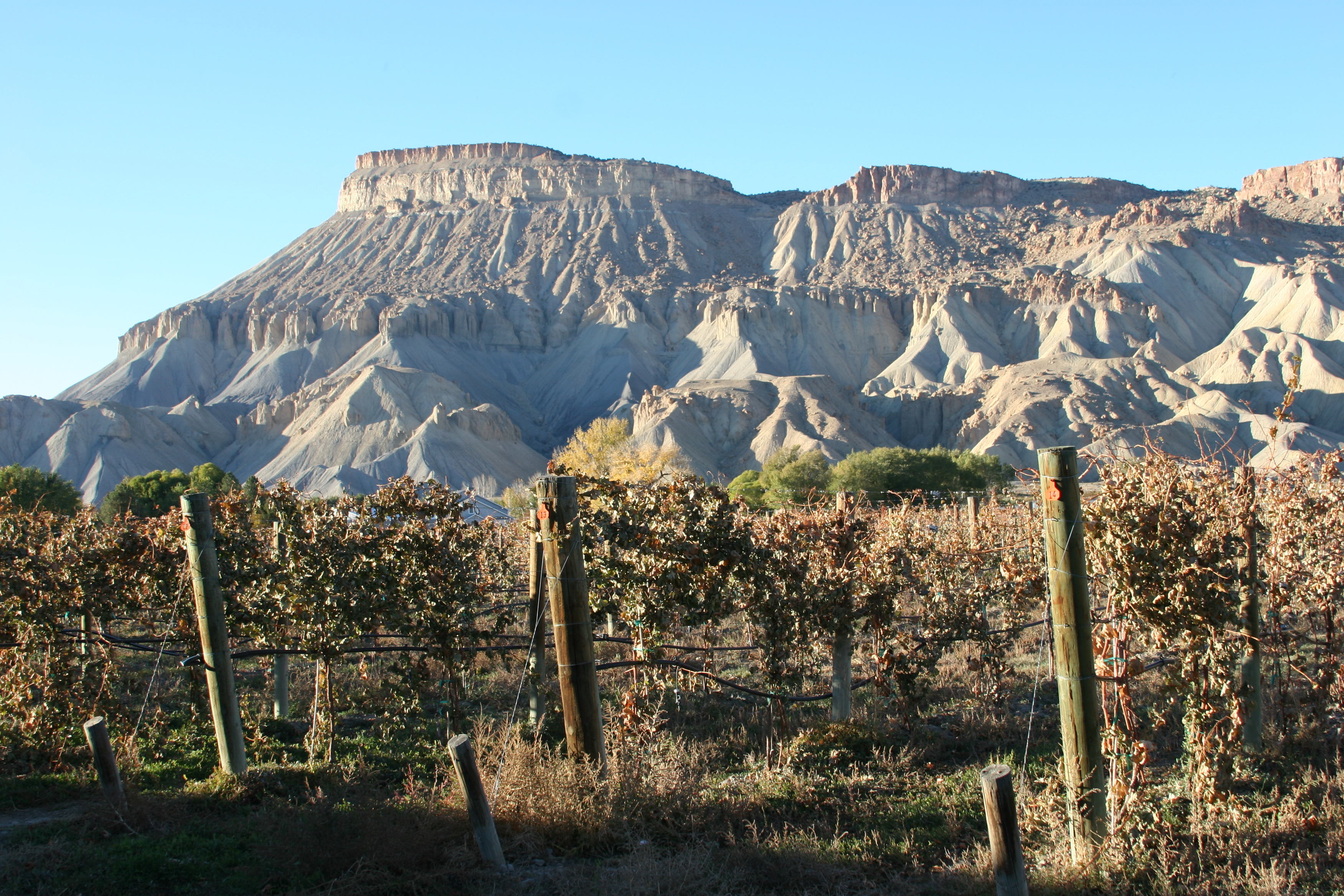 I feel like I am telling a secret. There is sincerely a part of me that does not want to even write this article! I just had a wonderful get-away with some friends to Palisade and Grand Junction. It was 28 hours of pure indulgence.
First stop, Peach Street Distillers. I first encountered this boutique distillery while sampling Vodka and Gin at the Breckenridge Craft Spirits Festival. This little distillery just won four medals and the "Distillery of The Year" Title at the 2012 American Distilling Institute Awards. A great tasting room with plenty of room for many a friend is what we encountered when we entered the establishment. We ordered ourselves a few unique libations concoqted from Goat Artisan Vodka and Jackalope and Jenny Gin.
The warm autumn air brought us out onto their spacious patio, complete with fire pit, and relaxed. This set the tone for the rest of our time on the Western Slope – a time to relax with no set itinerary. After sipping our drinks to the last drop we grabbed a few bottles of their gin and bourbon as gifts for friends for them to 'sample' too! 411: You can find Peach Street Distillers by the railroad tracks 144 S, Kluge, #2, Palisade. Give them a ring (970) 464-1128 or click: PeachStreetDistillers.com
It was decided that our next destination was Garfield Estates Vineyard & Winery. Located down the road from the Distillery we headed in to sample Garfield Estates plethora of wines. Linda, the winery's hostess, gave us the history of the Winery and let us know about their upcoming events and tours while she poured. Nine Wines were available to sample and enjoy. Her knowledge was outstanding and her presentation would make the novice of wine novices feel at home. The Estate grows 4 varieties of white grapes and 3 varieties of red. My favorites were the S2 and 2010 Malbec. My friends each had their own preferences but we all agreed, the wines are excellent.
2011 S2 (Sauvignon Blanc/Semillon)
2009 Fume Blanc
2010 Viognier (Special limited bottling)
2009 Cabernet Franc
2009 Estate Syrah
2010 Malbec
2009 Vin de Glace (Icewine)
Vin de Chocolat (Chocolat infused Port Wine)
Harvest was complete but there were still a few grape bunches hanging on the vines. What a beautiful establishement. What beautiful wine. We too stocked up on a few of their bottles. 411: You can find the winery at 3572 G Road, Palisade, CO 81526. Call them for hours (tel) 970.464.0941 or check their website: GarfieldEstates.com
That evening I found myself utterly surprised and delighted by Bin 707 Food Bar in Downtown Grand Junction. I will no longer view Horizon Drive as Grand Junctions food destination. Bin 707 Food Bar is a comfortable and unique contemporary bistro with terrific service and over the top delicious food.
The menu is a study of culinary creativity and each plates presentation is a feast for the eyes. Charcuterie and Artisan Cheese Selections, Fried Artichoke Hearts, Roasted Beet Salad, Grilled Broccolini Salad and an entree of Lobster and Grits were shared by all of us rather then each of us selecting or own dinner. Fresh, local, seasonal ingredients made up the entire menu and made me proud to call Colorado home. Another MUST! 411: 225 N 5th St. #105 , Grand Junction, (970) 243-4543 Bin707.com
The next morning we were greeted with beautiful views and another fabulous day!
After a crisp morning walk we headed back into Palisade to find coffee and breakfast. There greeting us was the Slice O' Life Bakery. The aroma from the back envelopes you as you walk in letting you know this is a real bakery, no trucked in product here. Mary Lincoln has been baking breads and pastries since 1980 and the down home atmosphere of her establishment evoked memories of the past. You will walk away with a satisfied sweet tooth and most likely an additional favorite pastry, cookie, or pie in hand. I had a full bag! 411: 105 W 3rd, Palisade (970) 464-0577 here is a link to their Facebook page: Slice O' Life Bakery
From there we headed back up I-70 to find our running shoes so we could work all those yummy calories off. I will be back. There is a lot more to explore in the Grand Valley and I look forward to spending more time there.
~MTN Town Magazine
Photo Credits: MTN Town Magazine

MtnTownViews.com is MTN Town Magazine's daily journal blogging about Colorado's mountain towns. Like them on Facebook and Follow on Twitter.
© 2012, MTN Town Magazine. All rights reserved. Republication, in part or entirety, requires permission.